SmartGate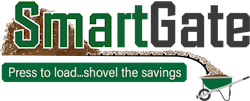 Using the SmartGate Conveyor tailgate replacement  units, landscapers can unload products from the back of their truck into a wheelbarrow or curbside with a touch of a button. The unit handles a wide variety of products that range in size from screened topsoil and compost, all the way up to 3" x 5" decorative gravel. Additional features:
Replaces and functions as a regular tailgate, it allows for bulk, dump off use and does not hinder towing a trailer.
Can be installed on electric over hydraulic or fully hydraulic dump trucks
No retrofitting to most dump bodies.
Attaches/detaches in minutes, however there is no need to attach and detach for every job.
Does not hinder bulk deliveries.
Unloads out either side.
Eliminates one laborer
All functions remote controlled
Designed and fabricated in the U.S.
Request More Information
Fill out the form below to request more information about
SmartGate Conveyor Tailgate Replacement Units