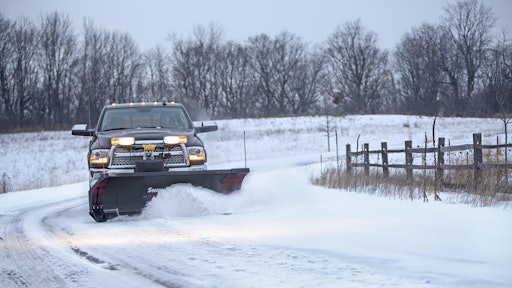 If you're in the Northeast, or more specifically, New England, you and your snowplow(s) likely took a pretty good beating last winter. If you're located elsewhere in the Snowbelt, last year was probably pretty average. "An average season is still a good season," reminds Mark Klossner, marketing director for Boss Snowplow.
That's why snowplow gurus like Klossner are feeling pretty optimistic about the coming winter. Snow removal contractors are expected to be in a buying mood, and snowplow manufacturers have been improving and expanding their lineups to give contractors more choices to satisfy their increasingly diverse plowing needs.
Boss has a new boss
The coming winter will mark the first full season that Boss Snowplow is under the ownership of The Toro Company. Toro closed on its acquisition of Boss last November for approximately $227 million.
"It really is just business as usual for us (Boss Snowplow), as far as the product and our internal processes are concerned," Klossner relates. "Our commitment to quality, reliability and durability are well-established, and will naturally continue to be our priorities in both the near-term and long-term."
That makes perfect sense, because Toro has its own well-established commitment to those same hallmarks in industries like landscaping and groundskeeping. "I think that's what attracted Toro to us as a company," Klossner says. "It's that reputation our brands have in the field. So, as far as Toro is concerned, I believe, they simply want us to continue doing what we've been doing."
That said, in looking a little further down the road, Klossner believes that Boss Snowplow's new, developing relationship with Toro can help Boss capitalize on Toro's unique, long-standing relationships with contractors—particularly landscape contractors who spend a lot of time plowing snow during the winter.
Product distribution is another thing to think about, as some Toro commercial mowing equipment dealers might see a real opportunity in taking on the Boss lineup of snow removal equipment. "Boss already has well-established distributors across the country," Klossner points out. "But there could be holes in different areas where no distributor currently exists, or some dynamic in the market is changing. In general, though, we plan to continue working with the current Boss distribution network already in place."
That distribution network is once again getting some new Boss products to sell this coming season. "On the plow side of our business, we're introducing a new family of plows, the HTX family, designed for half-ton trucks and smaller," Klossner says. "We're seeing a little more use of half-ton trucks out in the market, so we wanted a plow family with just the right amount of weight and steel for durability and reliability, but could still be used on smaller vehicles that don't quite have the capacity of a 3/4-ton truck. The HTX family is offered in two sizes, 7' and 7'6", in stainless steel, poly and mild steel—so there are some blade material choices that weren't available before in this category."
Bye-bye Blizzard, hello SnowEx
A little over two years ago, Douglas Dynamics—manufacturer of the Western, Fisher, Blizzard and Henderson brands of snow removal equipment—acquired TrynEx International, manufacturer of the SnowEx brand of spreaders and sprayers. Now two years later, SnowEx is rolling out its first-ever line of snowplows. Roughly 20 new models from six model types are being introduced, including four truck-mounted model types, a pusher for skid steers and a light-duty plow for UTVs.
The new SnowEx line is helping to fill a void left by the Blizzard brand, which Douglas Dynamics has decided to take off of the market. Blizzard dealers continue to sell existing inventory and support already-sold equipment with parts and service.
SnowEx officials say the company's new line of plows has been a long time coming, having started with a clean sheet to develop a product offering unlike anything else out there. "We are constantly conducting research, gathering feedback and looking for opportunities to innovate," says Michael Frank, product marketing manager for SnowEx. "We had gathered many years of Blizzard customer and end-user feedback prior to the acquisition. And on top of that, we added the many years of customer feedback that SnowEx had accumulated through the years."
Independent thinking aside, SnowEx is also making sure it capitalizes on the 65-plus years of plow design, development and manufacturing expertise that Douglas Dynamics brings to the table. "As part of the Douglas organization, the launch of the SnowEx plow line followed new product development processes that have been proven and refined over time," Frank points out.
SnowEx plow assemblies and components are manufactured throughout Douglas Dynamics' facilities. "We aim to leverage our core competencies and expertise across all facilities to produce the highest-quality products," Frank adds.
One feature that sets SnowEx plows apart is the Automatixx powered attachment system, which is designed to lessen the physical requirements of attaching a plow. "The largest innovation was creating a linkage where during the attachment and detachment functions, the plow stand automatically goes up and down," Frank explains.
Aside from the unique Automatixx system, Frank says SnowEx overall focused on providing a level of distinction in the mature snowplow marketplace. "There was emphasis placed on the overall look, lines and color of the product. There is no mistaking it for anything else on the market," Frank says.
Fisher straight on the attack
There's also no mistaking another established Douglas Dynamics brand, Fisher. Engineers have been busy designing the brand's first-ever straight-blade adjustable attack-angle plow for added versatility in more conditions and on more surfaces, along with the next generation of its most popular straight-blade snowplow.
"Our new HDX is the only pickup truck-mounted snowplow in the contractor-grade snowplow market that has an adjustable attack angle feature," says Andy McArdle, senior product manager for Fisher Engineering. "This feature allows the user to customize the blade's angle of attack to 55°, 65° or 75° to accommodate different plowing surfaces, weather conditions or operator preferences—maximizing the blade's performance in any situation."
McArdle says the new HDX is the most versatile straight blade in the Fisher lineup, combining the best features of Fisher's already popular HD Series and XBlade plows. Then, McArdle points out, the HDX takes it one step further by adding not only the adjustable attack angle, but an articulating A-frame to enhance scraping performance. Additionally, the HDX features a premium corrosion-resistant stainless steel moldboard, along with a full line of accessories. "Simply put, you can't get this versatility or all of those performance features on the HD Series or XBlade, or any other plow on the market," McArdle says.
Speaking of the HD Series, though, Fisher has introduced the next generation of this popular straight-blade plow, the HD2. The HD Series itself has been around for 15-plus years. "The HD Series was so well-engineered and dependable that we based the new HD2 snowplow design off of the HD Series platform," McArdle says.
The big improvement is that the new HD2 allows owners to add on a number of accessories. "Adding accessories to a snowplow is no easy task," McArdle points out. "There is considerable design and engineering and extensive testing that are required to ensure that the accessories perform as required without altering the performance or integrity of the snowplow."
More than a dozen accessories are available, including blade wings and cutting edges. "The blade wings are always a popular accessory for operators looking to increase the carrying capacity of their straight blades without having to make the financial commitment to a larger straight blade or wing plow," McArdle explains. "In addition to wings, cutting edges are also very popular. With four different cutting edges available (poly, rubber, steel or carbide), we have a cutting edge to match any customer's application."
Aside from the ability to add accessories, the HD2 also features 10 vertical ribs and a standard steel cutting edge. "When you combine that with the most accessory-friendly plow in the Fisher lineup, customers will truly be able to customize and maximize their plow's performance and profitability," McArdle says.
Hiniker torsion-trip V-plow
Hiniker is introducing a new torsion-trip V-plow this season. "There are reasons to look at a V-plow in general," says Mark Miller, marketing manager for Hiniker. "V-plows are versatile and can be used in the 'back' position to break through deep snow, in the 'forward' position when plowing parking lots to capture and move more snow, and also full right or left to plow snow in the traditional sense.
"The torsion-trip spring, then, is a new design for us this year," Miller continues. "There's a simplified trip mechanism, which takes a little weight out of the plow because certain elements such as spring towers aren't necessary anymore. Weight is an important consideration these days; you won't find a commercial-quality V-plow you can put on half-ton trucks. Even on 3/4-ton trucks, you obviously want to stay within the recommendations of the truck manufacturers."
Miller says this new design has been showing improved tripping action during tests, as the plow is less likely to pop on a rough surface. "The plow strength hasn't been reduced either," Miller points out.
The simplified trip mechanism also takes some cost out of the plow. "This type of plow is several hundred dollars less expensive than a traditional compression or extension-trip spring plow," Miller adds. The new 9200 Series Torsion-Trip V-plow is available in either an 8.5- or 9.5-foot width, weighing in at 772 or 805 pounds, respectively.