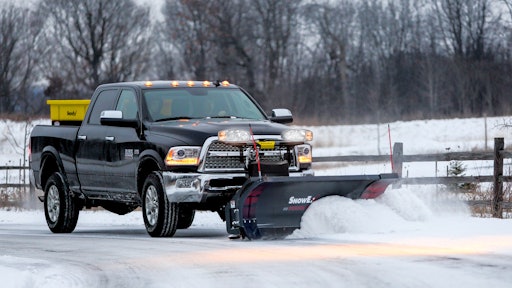 SnowEX
A wing plow is a straight blade-style plow, but also has individual extending wings on each side. Those wings are hydraulically controlled from the truck cab, either individually or in tandem. As a result, an operator essentially gets four blades in one: straight blade, expanded straight blade, scoop and windrow.
"When it comes to total versatility for all snowplowing conditions or applications—or simply moving the most amount of snow—the adjustable-wing plow is unmatched," says Tyler Jones, Fisher product manager.
One way to look at a wing plow is as a hybrid between a straight blade and the scoop functionality of a V-plow.
"If the application calls for the abilities of a straight blade, the winged plow can be adjusted to accommodate," says Bob Iverson, SnowEx product manager. "If the job calls for more snow-carrying capacity, the blade wings can be angled forward into scoop mode. Furthermore, the width of the snowplow can be increased by expanding the blade wings outward."
Ideal applications for a wing plow
There are two main types of job sites that clearly illustrate the value of an adjustable-wing plow: larger areas that require more clearance and areas with widely varying operating room.
"With larger areas, you not only want to be able to push a lot of snow with one pass, but also likely need to move snow around on the site," Jones says. "This is where an adjustable-wing plow really shines as you're able to expand the wings to move larger volumes of snow, but you can also use the scoop mode to push piles of snow around the site. Also, you can put the wings in a windrow position, with the leading wing moved forward and the trailing wing straight, so the leading wing directs snow into the moldboard. That allows the operator to take bigger cuts on every pass."
The larger the area, the more useful an adjustable-wing plow can be. Why? Jones says it can typically cut 30% of the time needed to clear an area compared to other types of plows. Of course, if it only takes a few minutes to clear a site, that 30% time savings isn't very significant. "But if you're on a site that takes 45 to 60 minutes, the time savings can really make a difference in your overall operation," Jones says.
A large parking lot is a great example of where a wing plow can be a good match. Jen Strelcheck, a product manager with Boss Snowplow, says that since a wing plow can be configured to operate like a box plow—with the wings pitched forward—it can handle a lot of volume.
"The snow won't roll off like it would with a typical straight blade,"  she adds. At the same time, it is still a straight blade, giving contractors a little more plowing width than, say, a V-plow.
For example:
The Boss EXT dedicated wing plow extends from 8 to 10 feet. Boss' V-plow offering ranges from 7'6" to 9'2".
Western's Prodigy wing plow extends from 8'7" to 9'8", and the company's new Wide-Out and Wide-Out XL extend from either 8 to 10 feet or 8'6" to 11 feet. Western's widest V-plow is 9'6".
Fisher's XLS wing plow is offered in two versions expanding from 8 to 10 feet and 8'6" to 11 feet. The company's widest V-plow is 9'6".
The SnowEx Power Plow is also offered in two versions expanding from 8 to 10 feet and 8'6" to 11 feet. The company's widest V-plow is 9'6".
In addition to big, open spaces, adjustable-wing plows are also ideal for areas that have widely varying operating room. Why? The plow can be adjusted on the fly to accommodate whatever the circumstance dictates.
"The versatility of a wing plow really comes into play when you can pull those extendable wings back right from the cab," Strelcheck says. "You don't have to get out of the truck and physically remove the wings. Say you're plowing a bank parking lot. You eventually have to plow the drive-thru lanes. You can simply retract the wings right from the truck cab."
In addition to its EXT dedicated wing plow, Boss also offers wing extensions for use with its 9'2" V-plow. But with that plow in the V position, the plow is slightly narrowed.
"Most contractors will want the V-plow in the V position in order to get that box plow-like carrying capacity," Strelcheck said.
Nonetheless, a slightly narrower V-plow with wing extensions can still be just what a snow contractor needs. A good example is when servicing contracts like a shopping mall with connecting roads where exceptional windrowing capability is desired.
"The Boss EXT wing plow can also windrow, just not as well as a V-plow because a V-plow has that slight curl on each end of the blade," Strelcheck said.
Contractors in markets that tend to get really heavy snow events could also benefit from a V-plow with wing extensions.
"It's always nice to have a V-plow to cut through really deep snow," Strelcheck said.
With wing extensions, the operator is simply getting that extra productivity-enhancing plow width. Again, that can come in handy on big properties. The bottom line is that when it comes to wing plows, it's all about flexibility.
"A wing plow is adjustable on the fly, both in terms of blade width and angling," Fisher's Jones reminds. "Yes, you can add wing extensions to a straight blade in order to increase the plow width or achieve scoop ability. But if you want to adjust the current mode, you need to get out and manually remove or adjust the wings. A V-plow is a great tool for contractors, especially with its ability to break open lots on that first pass in the V position. But to achieve angling requires reconfiguring the wings instead of just angling left or right."
What to look for when comparing plows
According to Doug Clark, Western product manager, adjustable-wing plows have become very popular recently, which has led to many more models being introduced to the market.
"Because efficiency and flexibility are the main reasons to use adjustable-wing plows, a snow removal contractor should look for features that enhance these abilities," Clark advises. "With the most advanced winged plows, you can control each wing independently, providing the ability to switch from a straight blade to expanded straight blade to a windrow mode and to a scoop. These adjustments allow you to either maximize snow carrying capacity (i.e. efficiency) and allow you to achieve the most possible plow configurations (i.e. flexibility)."
When comparing one adjustable-wing plow to another, bear in mind that some have fixed wing angles, meaning they are locked in scoop mode and only allow for the ability to slide the wing out or in. "So just because they are all technically in the same adjustable-wing category, flexibility isn't always an apples-to-apples comparison," Clark says.
Operation and maintenance
According to Boss' Strelcheck, operation of a winged plow is fairly simple.
"The controller is very similar to the controller for our V-blade plow," she explains. "With a V-blade, you're either going forward or back on the wings. With a wing plow, you're either going in or out."There are also two additional buttons that allow the wings to either extend or retract. Still, the simple push-button operation is intuitive and easy for most operators to grasp.
SnowEx's Iverson agrees that wing plow operation is rather straightforward.
"Like a traditional straight blade, you have a simple control to move it up, down, left and right," he says. "The difference is you have buttons to control the wings. There's a left button to extend/retract the left wing, right button to extend/retract the right wing, a 'scoop' button to move the wings forward together, and an overall 'retract' button to move both wings together out of 'scoop' mode back to a straight blade. All of these are simple one-touch operation. Essentially, if you can operate a V-plow, you can operate an adjustable-wing plow."
And if you can maintain a V-plow—or any snowplow for that matter—you can maintain a wing plow. Western's Clark says that just like with any snowplow, a contractor should adhere to a regular maintenance schedule. This will help ensure ongoing peak performance and maximum service life.
"An adjustable-wing plow does have at least two more hydraulic cylinders and some additional moving parts, but the type of maintenance needed is comparable to other plow types," Clark says.
Boss' Strelcheck says it is a good idea to wash everything down at the end of the year. Contractors should also re-grease all electrical connections with dielectric grease.
"Change the hydraulic fluid once per year," Strelcheck adds. The plow itself is pretty maintenance-free during the season, though. Of course, you can never rule out the possibility of a spring or hose failure. "It's a good idea to keep an extra spring with you in the cab," she said.