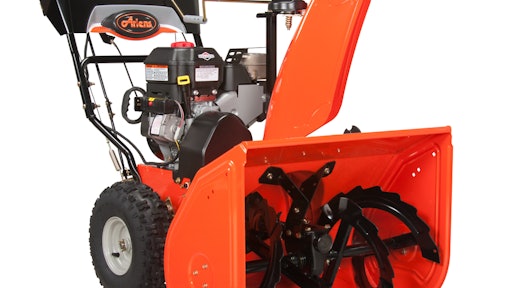 Ariens Company is introducing updates for its 2011-2012 lineup of Sno-Thro models, integrating more operator-friendly features, upgrading all models to a cast-iron gear case and backing the products with a five-year warranty.
The Compact, Deluxe, Platinum and Pro Series Sno-Thro models feature new dash panels with a high-powered, blue-tinted LED halogen headlight for optimal visibility in snowy conditions. The steel-constructed machines also include new controls and touch points. Ergonomic joystick-style knobs on the Quick Turn feature and tapered clutch paddles enhance user comfort. The gray-colored touch points are easier to see, enhancing usability, and soft-touch knobs on the chute deflector and speed control are also more user friendly.
A new commercial-duty cast-iron gear case for the entire lineup provides durability and strength to withstand harsh conditions during winter storms. The case includes a top-fill feature which lengthens lubrication life and protects against leakage. Industry-leading L-3 Synthetic gear lubricant gives superior film strength and reduces maintenance. The heavy-duty case does not contain a center split, preventing lubrication leakage.
The Compact, Deluxe and Platinum Sno-Thro model gear cases are covered by a five-year limited warranty and the entire units are covered by a three-year limited consumer warranty and a one-year limited commercial warranty. The Professional Sno-Thro models feature a five-year limited gear case warranty and a three-year limited consumer and commercial warranty.
Additional updates include:
Compact Series:
Remote chute deflector on Compact 24 model
Compact 22 includes 208cc Ariens OHV engine by LCT
Compact 24 includes 205cc Ariens Polar Force engine by Briggs & Stratton
Deluxe Series:
All new Deluxe 24 model with 249cc Ariens Polar Force engine by Briggs & Stratton
Handwarmers on Deluxe 30 model
Platinum Series:
Joystick-style Quick Turn knob
Professional Series:
120v Professional models include 420cc Ariens Polar Force Pro engine by Briggs & Stratton
Two 12v models include 342cc Ariens Polar Force engine
Joystick-style Quick Turn knob
Track Series:
Includes two models – Deluxe Track 28 and Pro Track 28
Pro Track 28 model includes 420cc Ariens Polar Force Pro engine by Briggs & Stratton