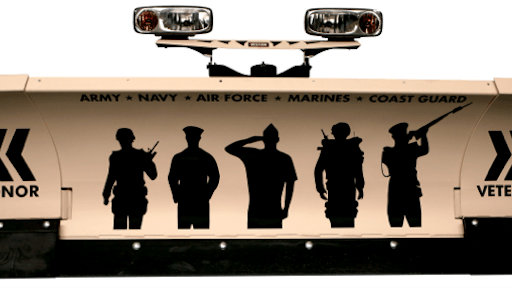 Western Products, manufacturer of Western snow removal and ice control equipment, is donating a military-themed Wide-Out snowplow to a raffle benefiting the nonprofit arm of the American Veterans Traveling Tribute (AVTT). The raffle drawing will be held Friday, June 20, at noon during the 17th annual Snow and Ice Management Association (SIMA) Snow and Ice Symposium.
"This raffle is a great way for Western Products and SIMA to join forces on a great cause benefiting veterans and their families," explains Don Allen, an LTC ARMY veteran with the AVTT. "The funds earned from the raffle will be used to support veterans that don't have the means to travel to war memorials, as well as scholarship funds for veterans' family members."
Along with its snow contractor partner company, Rich Arlington & Associates, Western has designed a one-of-a-kind plow commemorating each of the five branches of the U.S. military and their veterans. PPG Industrial Coatings donated the paint for this project, and ICAFe, Inc. donated the custom paint job. Raffle tickets can be purchased for $5 each or five tickets for $20. SIMA attendees who purchase at least $20 in raffle tickets will receive a Western camouflage baseball cap while supplies last.
"Giving back to veterans is an important cause," says Patrick Dietz, director of marketing at Douglas Dynamics. "Seeing all of these great organizations come together and contribute their resources to help out veterans and their families has been an inspiring and uplifting experience. We thank them for helping us to make the military plow raffle possible."
SIMA, a nonprofit professional trade association for snow and ice management, will be holding the 17th annual Snow and Ice Symposium in Columbus, OH, June 18-21. SIMA donated booth #859 for this event and raffle tickets can be purchased at the booth June 19 from 1 p.m. to 6 p.m. and June 20 from 9:30 a.m. to noon. Those who cannot attend the SIMA Snow and Ice Symposium and would like to participate in the raffle may call 866-454-0948 between 9 a.m. and 4 p.m. CST June 9-13 to purchase raffle tickets. The drawing will take place at noon on June 20. Those entered need not be present to win. 
For more information on the American Veterans Traveling Tribute Mission, visit http://www.avtt.org.