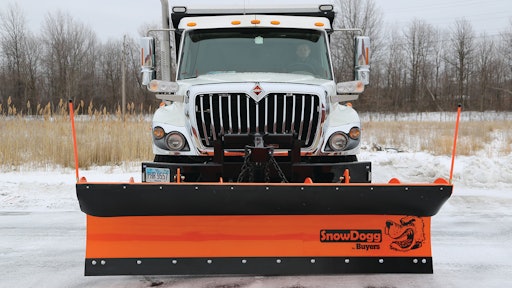 Buyers Products, a manufacturer of work truck equipment based in Mentor, Ohio,  has made a series of donations to area non-profit organizations out of concern of the most vulnerable in the community.
The company offered donations to organizations that will help keep people fed and supplied throughout the crisis.
Buyers wants to make sure the funds go as far as they can to help the people most in need in the community. The company gave $10,000 to the United Way of Lake County Relief Fund, $5,000 to St. Gabriel Food Pantry, $3,000 to the McKinley Outreach Center, as well as donations to the Madison Food Center and the Perry Center of Lake County.
"Our number one concern during this pandemic is our employees, their families, and the place they call home," says Mark Saltzman, President and CEO of Buyers Products. "Lake County is an extended part of the Buyers family. We'd encourage all businesses in the area to support the community in any way they can."
Saltzman noted that Buyers Products parts and products all over fire trucks, ambulances, municipal trucks, refuse collection trucks, and utility service fleets across the country.
"The work that the people of Lake, Geauga, Ashtabula, and surrounding counties do keeps America running," he said. "We have to do our best to give back in times of great need." 
About the recipients
United Way of Lake County United Way of Lake County is a local, independent organization dedicated to building a stronger community and changing the odds for Lake County's most vulnerable residents by fighting for the health, education and financial stability of those in need. In partnership with nonprofit agencies, local businesses, community leaders and citizens, United Way is improving the lives of individuals and families in Lake County.
The St. Gabriel Food Pantry is located on the parish campus and provides food to families in need in the communities of: Concord Township, Mentor, Painesville, and Painesville Township.
The McKinely Outreach Center opened in 2013 at the former McKinley Elementary School at 1200 Lost Nation Road, Willoughby. It serves the unemployed, underemployed, elderly, veterans and the disabled in western Lake County. The center operates a food pantry, and has taxable, furniture and household goods distributions.
The Madison Food Center provides a five-day supply of emergency food to qualified individuals and families that reside in Madison, Ohio.
The Perry Center provides charitable services within the Perry Community and to families and individuals. Assistance provided includes: A one-week supply of food, monthly; Help with rent after an eviction notice, annually; Help with utility payment with a disconnect notice, annually.