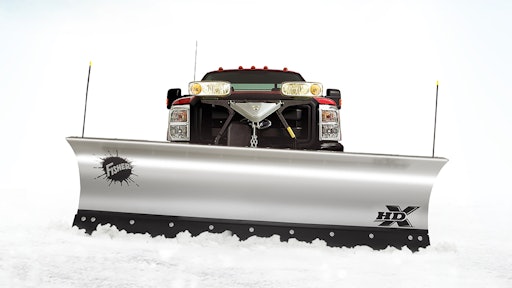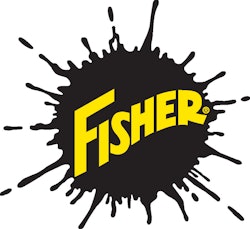 The stainless steel HDX snowplow from Fisher features an adjustable attack angle that allows the operator to set the blade's attack angle to one that is best suited for plowing surfaces, weather conditions or the operator's plowing style. The attack angle can be set the following ways:
55° for unpaved or gravel surfaces and for scooping heavy snow
75° for plowing paved surfaces and asphalt, and for scraping up ice and hard packed snow
65° for all-around plowing surfaces and conditions.
The snowplow's articulating A-frame, with integrated leaf spring, gives the stainless steel HDX blade the ability to follow any type of plowing surface. This feature allows for a cleaner scrape even on the most uneven ground and allows for more even wear on the plow's cutting edge. The leaf spring also makes it easier for the operator to line up the truck during mounting.
"We've combined the best parts of the HD Series and XBlade snowplows and added revolutionary features to create the HDX snowplow," says Andrew McArdle, CSP, senior product manager at Fisher Engineering. "The A-frame's pivot bolt is a robust one inch in diameter, adding to the HDX blade's rugged reliability."
The HDX snowplow comes in 8- and 9-foot blade widths, and also features a stainless steel moldboard, four trip springs and eight vertical ribs.
Optional accessories available on the HDX plow include:
Trip-Edge Blade Wings
Back Drag Edge
Rubber Deflector
Steel Deflector
Steel SnoFoil Deflector
Heavy-Duty Lift Ram
Curb Guards
Adjustable Wear Shoes
36-inch Commercial Blade Guides
Rubber Cutting Edge
Poly Cutting Edge
5/8-inch Steel Cutting Edge
Carbide Cutting Edge
Request More Information
Fill out the form below to request more information about
Stainless Steel HDX Snowplow