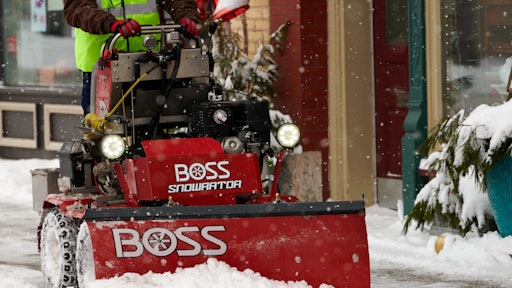 BOSS Snowplow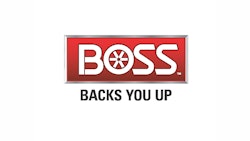 BOSS Products has re-engineered the Snowrator to maximize performance and reliability of the machine. The Snowrator deploys to plow and de-ice sidewalks and walkways, allowing the operator to brine, spread and plow at the same time to maximize on-the-job productivity and profitability. BOSS-designed features and improvements include the following:
4' hydraulic snowplow with 20" polyethylene skin
Improved electrical and plow attachment systems that are more weather-resistant.
Responsive hydraulic lever turn control operations offer ease of maneuverability with zero turn radius and four-wheel drive for traction in any conditions.
Accepts all BOSS ATV plow accessories and common parts.
Pre-treatment and de-icing capabilities with a standard 20-gallon pre-treatment brine system, available optional auxiliary brine tank and two de-icing solid material spreaders. EXACT PATH 1.5 cubic foot drop spreader with a BOSS-exclusive salt chute precisely distributes salt at the optimum width and pattern, minimizing damage to turf while reducing salt contact with the plow attachment system.
LED worklights provide clear visibility on the job.
Available accessories for the Snowrator include a 20-gallon auxiliary tank, plow wing extensions, material carrying trays, broadcast spreader, plow box wings, shovel mounting brackets, EXACT PATH drop spreader, urethane cutting edge and 5-gallon bucket mounts.
Additional information on the Snowrator can be found at https://www.bossplow.com/en/products/snowrator/snowrator. To purchase a new and improved Snowrator or access parts and service, find an authorized dealer https://www.bossplow.com/en/snowrator-locations-list
Request More Information
Fill out the form below to request more information about
BOSS Snowplow Snowrator