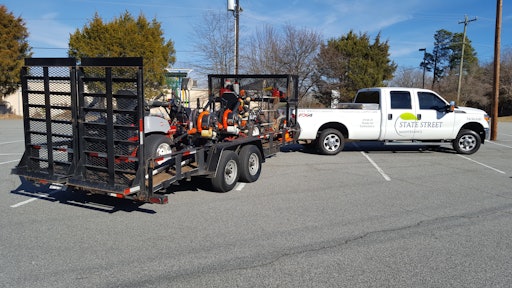 Company Name: State Street Maintenance
Owner: Craig Gatewood
Location: Greensboro, North Carolina
Years in Business: 32 years
Geographical Coverage: Central North Carolina, including Charlotte, Raleigh, Greensboro and all areas in between
Type of Clients: Commercial, residential, medical and retail facilities, and multi-family housing
Services Rendered: Lawn mowing and maintenance, minor landscape installations and replacements, and snow removal
State Street Maintenance, a company providing lawn maintenance, landscaping and snow removal services, promises to preserve the details of its customers' properties, so they don't have to. Owner Craig Gatewood admits that the same level of detail the company practices in its landscaping work also applies to its trailer and equipment organization.
"First, I like to organize my open and enclosed trailers with Buyers Products' landscape trailer racks for safety, security and organization," says Gatewood. "This ensures that our workday runs smoothly." This consistency not only saves time as employees know where to look for specific tools on each trailer, but also increases personnel and equipment safety by securing everything in place while the trucks and trailers are on the move.
Speaking of consistency, Gatewood likes to outfit each trailer with the following musts to cover all his customers' needs during peak season:
An Exmark 60-inch rider and Exmark 60-inch Turf Tracer.
Three Echo 770T blowers.
Two Echo string trimmers.
Echo hedge trimmers.
An Echo edger.
Because Gatewood prides himself on the well-grooming of the landscapes and properties his company services, he considers the Echo 770T blower his most critical piece of equipment. He says, "It has so many uses. We can roll pine needles, blow leaves. No matter the job, it helps us maintain a clean and neat appearance, which is always so important."
During the winter months, however, Gatewood relies on Buyers Products' SnowDogg snow plows and SaltDogg spreaders. Although snowfall rates vary in the state, it's safe to say that, when the skies open in winter, State Street Maintenance is prepared and ready to go with this lineup.
With all of this equipment aboard his trailers and representing his company, how does Gatewood vet his dealers and investments? "I like to go through a reputable dealer that is familiar with the equipment it sells. I've been working with Sedgefield Outdoor Equipment for over 20 years. The staff keeps me informed and my equipment well-maintained. I want quality, reliable equipment that, with appropriate maintenance, is going to perform well and last the longest."