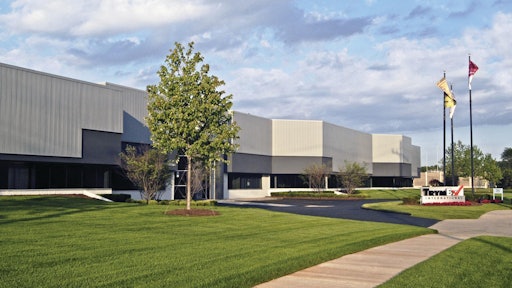 The recently announced acquisition of TrynEx assets by Douglas Dynamics brings the snow and ice control equipment manufacturer to a new region with an expanded product offering. TrynEx manufactures truck-mounted salt and sand spreader equipment under the brand name SnowEx. TrynEx also provides turf application and industrial attachment products under the brand names TurfEx and SweepEx.
"The acquisition of TrynEx strengthens our position as a market leader in snow and ice control solutions and supplements our growth prospects," says Jim Janik, president and chief executive officer of Douglas Dynamics. "Specifically, it provides us with a complementary product portfolio that will expand the depth and breadth of our industry-leading offering, as well as new distribution channels to accelerate growth, and it expands our reach to new geographies."
Expanded product offering
Douglas Dynamics will continue their strong focus on the snow and ice control product lines and will be able to grow their offering in that segment further with the help of the acquisition. According to Janik, the acquisition will also allow them to expand into adjacent market segments that can help offset the seasonality of the business.
"Snow and ice control will remain an important part of our business, and the addition of the SnowEx products will only serve to accelerate growth," says Janik. "However, we are excited about the opportunities the other side of the TrynEx business brings us. The TurfEx and SweepEx brands will diversify our revenue stream which will help to mitigate the seasonality of our traditional snow and ice control equipment business."
Greater reach
With the acquisition, Douglas Dynamics has access to new markets with 1,500 TrynEx dealers and distributors. The manufacturer hopes this will help them to grow and expand their business further. Before the acquisition, Douglas Dynamics had 720 direct distributors of their own.
"We benefit from having the most extensive North American direct distributor network in the industry, providing a significant competitive advantage over our peers," shares Janik. "We will continue to provide the highest-quality products and services to our distributors and the end customers that value and rely on Douglas Dynamics and TrynEx products. Longer-term, we're in the early stages of accessing opportunities to strengthen our relationship with dealers and customers, and potentially provide new avenues to expand our relationship."
The manufacturer's reach will expand both in North America and internationally. The SnowEx product offering extends farther south into regions with light snowfall but a need for ice control products in the winter months. The TurfEx and SweepEx products allow them to reach markets that do not have a need for snow removal and ice control products.
"Opportunities also exist to leverage TrynEx's success across international markets, particularly in Europe, which today generate approximately 20% of revenues," says Janik.
Companies in this article