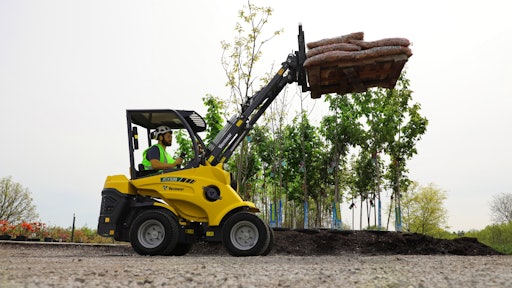 Vermeer Corp.
For some landscaping or tree care contractors, a mini skid-steer is the ideal tool. For others, a compact articulated loader is a perfect fit.
The machines both help contractors maximize productivity and are in many ways similar in capabilities and function. But there are differences; both have unique characteristics that, depending on jobsite working conditions, might make one a more functional option than the other. Here are a few things to consider in deciding which machine will have the greatest positive impact on your jobsite productivity and broader business.
Lift capacity
Both compact articulated loaders and mini skid-steers offer major upgrades to manual work when it comes to capacity. Based on lift capacity alone, mini skid-steers offer a lifting capacity and horsepower of up to 1,600 pounds and 40 hp, respectively. Compact articulated loaders have comparable or larger capacity, but as it grows, so do the machines' footprints.
Mini skid-steers allow contractors to get that lift capacity and horsepower still fit through a 3- or 4-foot-wide gate, depending on the model and configuration.
Speed and maneuverability
Compact articulated loaders are designed for speed and maneuverability. That makes these units an ideal choice if you work in a lot of tight spaces where the compact articulated loader's articulated steering and telescopic boom can help you get in and out of a jobsite.
The articulation of the compact articulated loader and the way the ground drive is set up will minimize turf disturbance, and operators can maneuver around tight corners. And compact articulated loaders all have telescopic booms. Operators also have extended reach and can place things in areas without even needing to get the machine there. It opens up a lot of opportunity to complete jobs you wouldn't be able to do without the telescoping boom.
Your work style
The big difference between mini skid-steers and compact articulated loaders is the positioning of the operator. The right machine for you may be influenced by how you or the operator prefers to operate the machine on the jobsite.
On the tree care or landscape side, it's all about how much the operator is involved with what's going on around the jobsite. On a mini skid-steer, it's not a seated position, and there's no cab to get in and out of. The operator can hop on or off the machine to help with labor, move something or maybe jump in as part of the rigging crew taking down a tree. Then, when the limb's on the ground, he or she can hop on the machine and drag it to the chipper to be chipped.
An compact articulated loader may be more suited to a jobsite where a contractor is going to be on that machine all day long. That makes the comfort of the seated position much more important. If contractors want to have an operator on the machine doing a job the entire time, like hauling limbs or unloading sod from a truck, then go on to the next jobsite to start on a similar job, a compact articulated loader might be ideal.
Your specific needs
No two tree care or landscaping jobsites are alike, but there are definite trends in the work every contractor does based on location and type of job, whether commercial or residential, for example.
Account for your specific working conditions as well as your current and projected future jobs in making the right choice. One thing is certain: Both mini skid-steers and compact articulated loaders can help deliver maximum productivity on the jobsite.
Ultimately, both machines are going to help maximize productivity for tree care and landscaping contractors. Both are going to help minimize labor on the jobsite. Labor is a huge issue, and in many cases, these machines can overcome the challenge of finding and retaining skilled, qualified labor. These machines show up for work every day and perform. Both machines foot the labor bill. Ask yourself, 'How do I want to set up my jobsites to use the equipment to my best ability?'"