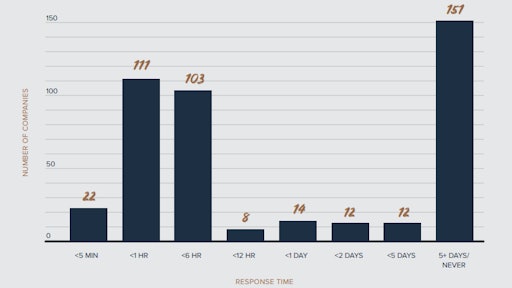 When it comes to shopping for lawn care or maintenance providers, customers are often looking to quickly compare services and costs, then decide which company best meets their needs and budget. But all too often, during that research phase, homeowners are not receiving prompt call-backs—or worse, they are not receiving any call back. Ultimately, the lack of quick response by companies means a loss in business and any future business from this customer. Unfortunately, this scenario is all too familiar in home services industries like lawn care and landscaping.
Research just released from marketing agency Valve+Meter indicates that as many as 40 percent of outdoor services companies are not responding to customer inquiries within five days of receipt, essentially ignoring the potential customer. As part of the study, Valve+Meter contacted more than 450 home services companies (including lawn care professionals, plumbers, electricians and more) via forms on the companies' websites. Response times were tracked. Only 60 percent of contractors responded to the inquiries and 55 percent of those that responded did so after at least one full day.
Many landscaping companies are investing significant dollars to generate leads through sales and marketing efforts. The fact is, when a potential customer reaches out only to not be promptly responded to, that spend is essentially wasted due to poor lead management. Lawn care companies must improve their lead management efforts in order to see a full return on marketing spend. Aside from making financial sense, managing leads better also helps companies bolster a positive reputation through word of mouth and online forums.
There are several considerations and best practices landscaping companies must look at when developing a lead management protocol that fits the size and scope of the company, as well as the budget. Here are some top considerations to ensure no lead goes cold:
1. Determine a Standardized Lead Response Cadence
Lead responses should happen within five minutes of the submission. This aggressive benchmark ensures your competition doesn't gain potential business due to your sluggish lead response time. Different industries require different cadences when it comes to lead response times and which mediums should be used (phone, email, text, etc.).
In the residential lawn care, landscaping and irrigation industry, an aggressive approach to response is vital. There is often a lot of competition in any given market and customers are likely looking to make decisions about which providers to utilize quickly. The most successful lead response cadence would include multiple attempts to connect with leads, through multiple channels, and across multiple days until contact is made.
2. Introduce New Technology into Lead Response Strategies
Sales teams shouldn't rely on old means of tracking and responding to new leads. According to The Bridge Group, companies in 2018 are spending $371 per representative per month on sales acceleration technologies. Modern lawn and landscaping companies are implementing call-tracking software, email automation software, call recording and conversation analytics, and more to track and report on the performance of their dispatchers and sales teams.
Being able to quickly answer questions, schedule appointments or provide quotes may prove pivotal to winning the business of someone who is researching a competing lawn care company on another website tab. That means home services companies need to make it simple for consumers to engage online, plus they need to be ready to respond quickly to their website form submissions. A website chatbot is a great option for lawn care leaders who don't want to keep would-be customers waiting for a call-back.
3. Automate Lead Responses
When new inbound leads are received, they should be routed directly to dispatchers and sales representatives through an automated process—not a general email inbox. According to Aberdeen, companies that implemented an automated lead follow-up process saw more than a 25 percent jump in their lead-to-sales conversion rate, year over year.
In addition, a customer relationship management (CRM) system enables companies to create a lead distribution system and assign new contacts to a specific team member. On the other hand, outsourcing a sales development team can also be an efficient option for companies wanting to capitalize on every potential customer. No matter how a company manages leads, the process should be automated and consistent to reduce the risk of leaking leads.
4. Incorporate Best Practices on Your Company Website
Google now warns its Internet users if a website doesn't have a secure sockets layer (SSL) certificate. A prominent warning may affect how secure users feel and cause some visitors to leave a site. Over 50 percent of Internet browsers worldwide are using Chrome 6, meaning this change may negatively impact a site's bounce rate and keep lawn care companies from generating online leads at all.
Another aspect that can turn a potential customer off of a company's website is the requirement to fill out too many fields in a contact form. Make the important fields required, like name, email address and phone number. Other fields can be optional, and left up to the lead to fill in or not.
Home services customers are expecting more out of their contractors than ever before. And the competition in the landscaping field can be fierce, meaning customers have the advantage. Outdoor services leaders must be prepared to offer nearly instantaneous responses in order to see the most value in marketing spend, increase sales, and not lose out on business to a competitor who more quickly and fully replies to a customer's inquiry.