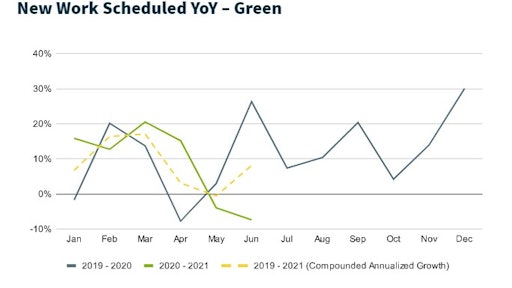 Data from Jobber's Home Service Economic Report Mid-Year Review suggests that although the green industry has seen consistent revenue increases in 2021, the ongoing labor and supply shortages will continue to impact the demand for such services.
The analysis includes expert insights and proprietary data collected from over 100,000 landscapers, plumbers, window washers and other home service professionals.
"This report uncovered new dynamics that are affecting home service businesses this year, such as booming residential housing market, long waits for construction projects due to supply chain issues, and a shortage of skilled labor," says Abheek Dhawan's, VP of Business Operations at Jobber. "Despite some of these challenges, consumer spending on home services recovered faster than all other major categories during this time."
Some of the key findings specific to the green industry revealed that, except for a couple of months, new work scheduled has seen consistent growth throughout 2020 and remained positive in Q1 2021. Similarly, median revenue growth remained remarkably consistent and positive throughout 2020 and in the first half of 2021.
"The green segment was not as impacted by the pandemic last year, and actually saw extremely high growth in the second half of the year," Dhawan says. "We believe this is because social distancing measures didn't really impact these businesses as much as others, due to the work being outdoors, and because people were spending more time at home and choosing to invest in home renovation projects."
According to the report, this past quarter has seen a slowdown in this trend but appeared to be heading back in the right direction as of June.
"There are a variety of macro-economic factors that are resulting in more uncertainty for the future; interest rates, inflation, unemployment rate etc.," Dhawan says.
Ripe for New Entrepreneurs
Originally, Jobber produced these economic reports to illustrate how home service businesses were being impacted by the pandemic as well as highlighting trends that surfaced as a result. Positive feedback prompted the company to continue to produce the reports. Additionally, the reports provide valuable findings for entrepreneurs who are looking to enter home service.
For example, Dhawan notes that lawn care, landscaping, and tree care businesses have proven to be resilient during a time of profound economic uncertainty. "This stability, combined with increased consumer demand and the need for more workers, reveals an attractive market for entrepreneurship in the green industry," he says. Now is the time to pursue a career in the green industry if there ever was a time.
While the pandemic threatened to close the doors of many companies, it also served as a springboard for entrepreneurs who turned to home service to start their own businesses.
Positive Signs for Long-Term Growth
Consumer spending on services such as lawn care recovered faster than all other categories, such as clothing and footwear, food services and accommodations, and health care, and has exceeded pre-pandemic levels since June 2020. Trends indicating long-term sustainable growth for the category include:
Desire For Home Improvement Projects Is Strong: Annual growth in home renovation and repair expenditure reached 6.1% year-over-year in Q2 2021 and is expected to grow by 7.6% by the end of 2021.
Real Estate Boom Enduring: The sale of new and existing homes reached record levels in the second half of 2020 and into Q1 of 2021.
New Builds Gaining Momentum: There is significant growth in new building permits issued, which in the last quarter have surpassed pre-pandemic levels.
Emerging Challenges
While the initial impact of the ongoing pandemic is not directly hampering the growth, new challenges have surfaced, specifically for contractors:
A Broken Supply Chain: A spike in home improvement projects alongside unprecedented disruption of the global supply chain due to the pandemic has severely impacted the construction and other related industries..
Long Waits for Construction Projects: Average wait time for the overall construction industry to start a project was up by almost four weeks in Q2 2021 compared with the same period last year.
Demand for Contractors Exceeds Availability: Contractors are getting more job requests than they're able to fulfill, leading to mixed results for the construction industry.
Dhawan says in addition to labor shortages, Producer Price Index (PPI) for construction related goods has soared because of scarcity in the face of increased demand.
The PPI for lumber and wood soared 50% by June 2021 compared to January 2020, while PPI for steel mill products increased by 82% during the same period. He says the impact of these higher material costs is reflected in the invoice size of construction and contracting projects, with the median invoice size growing by 14% in Q2 2021 compared to the pre-pandemic levels of Q1 2020.
"The impact of these higher material costs is reflected in the invoice size of construction and contracting projects, with the median invoice size growing by 14% in Q2 2021 compared to the pre-pandemic levels of Q1 2020," Dhawan says. "If consumer demand keeps up, the biggest challenge for home service businesses will be hiring enough employees to keep up. It's more important than ever for businesses to embrace technology to better manage jobs, improve communication with customers, and make their existing teams more efficient."
To download the Home Service Economic Report: 2021 Mid-Year Review, visit: https://getjobber.com/home-service-reports/august-2021/