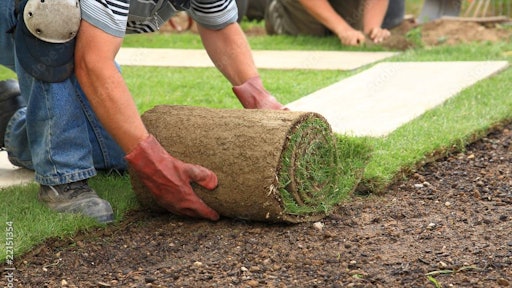 ©Brebca – stock.adobe.com
Growing a business is hard work. No matter how big or small your company is in the green industry, it takes passion, energy, and commitment to get you where you want to be. Part of that growth starts with investing in your future.
These investments can be anything from equipment, crews and supplies. The only catch is they require either the available cash within the business, or contractors need to go out and find lending options.
This entire process can be daunting for most. Contractors and business owners often find themselves asking:
What will my interest rate be?
Is this the right time to borrow money?
What types of lending vehicles are available?
Can I afford it?
These are just some of the many questions we hear from business owners. Each one of these important questions require a deeper dive into lending fundamentals and what contractors should avoid when looking for funding. Follow these four steps as you pursue lending options.
Step 1: Start with An Assessment
The first step in looking at whether you should seek funding is assessing your business. There are some key foundational questions to ask yourself.
What's your current monthly cash flow from a revenue and expense standpoint?
What returns will the business earn if I had funds to invest?
Is there seasonality with your business or are you steady throughout the year?
These types of assessments will help you and lending partners determine how much you may qualify for and how quickly and effectively you'll be able to pay back the investment. Steady and predictable cash flows are the most desirable qualities lenders look for in an application.
Step 2: Understand What's Coming
A second part of the lending process is understanding not only your current clients and cash flow, but what's ahead.
Businesses should do a personal audit of the quality of their clients, how big those clients are, and when the payments should be received by your business.
Upselling, cross-selling and generating leads are also essential in understanding what the future cash flow can look like for your business.
Understanding that and having strong relationships with prospects also helps conversations with company lenders.
If they can understand you have $50,000 in business lined up over the next three months but need a $10,000 loan for cash flow or new equipment, it makes lending easier for both parties.
Step 3: Know Your Lending Options (and what to avoid)
This step is where the financing process ups the difficulty level. It used to be that you went to your local bank, took out a loan with the banker you knew, and you paid it back. It goes to show times have truly changed.
Today, there are hundreds of lending options available to you, none of which are easy to understand. Three common ones we see in the landscape industry are merchant cash advances, lines of credit and term loans. Each option has different requirements, and upsides and downsides that contractors should consider. A little bit of education and financing know-how can go a long way as you look at options.
● Merchant Cash Advance: MCAs are probably one of the fastest and also more costly options for contractors depending on the company size.
They work by analyzing your prior cash flow and predicting what it will look like going forward.
Based on these factors, you can be approved rather quickly with cash in advance to take on new business. Payments on a MCA are made when you get paid, not on a predetermined frequency like a term loan. The catch? They usually come with higher rates because access to cash is fast, requires less personal information and is provided without you needing to secure the funds with nothing more than a clear plan to deliver an ROI.
But if you have an opportunity at a $100,000 job to start in 10 days and need supplies and equipment now, this might be a valid financing option to pursue for your landscaping business.
● Lines of Credit: Most of us are familiar with lines of credit from a personal level. This is where a lending institution gives you access to a cash up to a specific amount based on your size and revenue, and you can draw from it. Whatever you use, you pay interest on. Rates will vary. These can require more business or personal information and take longer than a MCA to process. Commercial lines of credit are great for managing cash flow for your business and dealing with the uncertainties that can arise.
● Term Loan: Term loans are used for cars, homes, other personal investments, and on equipment. Term loans can even start at as low as 3% on equipment and can be much higher when provided as open ended funds for the business. These usually take longer to process, and require the most rigor with financial statements including tax returns, banking history and more. The catch: depending on your business size, results and personal credit these will offer the best rates.
There are other financing avenues like loaning from a friend or giving away equity to an investor, but these aren't traditional ways that you should look towards as a first option. Understanding these common loans and how they can help you so you can stay focused on delighting your clients are important.
Step 4: Turn to a Trusted Partner Who Gets You
Online lending is easier than ever. But do lenders really know you and your company? How will they stack up against local banks?
It's important to develop relationships when you're seeking funding and it's even more important to work with a lender that understands you and your business.
Vet your options and get to know what's accessible to you. Maybe it's the lender in a small town that knows everyone and will fight for what's best for you, or a company that lends specifically in your industry.
Don't be fooled, there are a lot of lenders out there that will sell you on the "you've been approved" message and all they want is the commission. Once they get it, they move on. A trusted lender will walk you through different options. They'll help you understand what each may mean, and how they can help your business today and tomorrow.
Investing Today to Fuel Tomorrow's Growth
As you consider lending options to grow, it's important to understand how it all works. It's critical to understand the differences between consumer and commercial lending choices. Making the decision to add to your company is a big one that shouldn't be taken lightly.
If you do your homework, you'll understand your options and how it can help fuel your company, better equipping you to understand the impact of investing or not investing, and making the right decision that can fuel your growth.