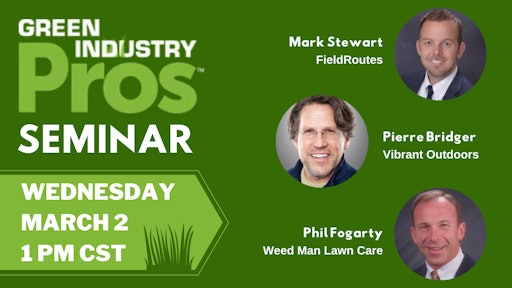 It's no secret that even before the pandemic, green industry companies struggled with finding enough labor to be able to service their customers and expand their businesses.
That's why the topic of Green Industry Pros' latest webinar, How to Service More Customers With Fewer Employees, presented by FieldRoutes and hosted by Green Industry Pros magazine, was spot on.
Throughout the hourlong webinar, Mark Stewart, key account manager at FieldRoutes, Phil Fogarty, master franchiser for Weed Man Lawn Care, and Pierre Bridger, director of operations at Vibrant Outdoors, touched on overall labor challenges, creating operational efficiency, keeping employees engaged, incorporating technology to make employees' lives easier and investing time and money to boost the bottom line.
A few highlights of the webinar included Stewart discussing how companies implementing technology and software into their everyday operations are the ones with happier and more engaged employees; Fogarty explaining how new innovations such as robotic mowers and battery-powered equipment may help ease the labor strain; and Bridger describing his company's top recruiting methods and how they've panned out for the company.
If you didn't have the chance to watch the webinar live, it's not too late to view the archived version.