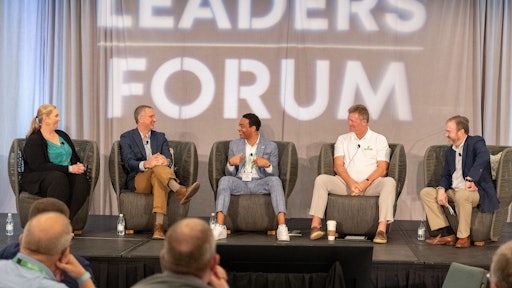 NALP/Philippe Nobile Photography
While the acronym DEI gets tossed around a lot, the actual implementation of diversity, equity and inclusion (DEI) efforts should be anything but flippant. DEI initiatives seek to promote the fair treatment and full participation of all people, particularly groups who may have been historically underrepresented or discriminated against.
Industry experts including Jenn Myers, executive director of the National Association of Landscape Professionals Foundation (NALPF); Erin Barr, owner of Erin Barr Consulting; Ashley Nyen, officer manager at Crimson Valley Landscaping in Rockford, Ill.; and Mike Sanders, owner of Crimson Valley Landscaping, discuss the steps companies can take to implement meaningful DEI initiatives.
Green Industry Pros: How can companies set up DEI initiatives?
Sanders: As a company, we want to look like our community and be a reflection of where we live. If you look around, and your company is completely a reflection of its owner—which, in a lot of cases is a white male—then there's probably a flaw in the building of your company.
Promote internally and also be sure to let your crew know to bring in anyone who could be a fit. Promote job openings externally, through TV advertising or multicultural newspapers or social media.
Choose uniforms that all employees feel comfortable in and allow them to submit sizing discretely.
Finally, treat everyone with respect. If there's ever someone who doesn't treat everyone with respect, they can't work at our company.
Nyen: It even comes down to including everyone at events, regardless of gender or background. We do our best to make sure everyone's included in all the things we do here.
Barr: Understanding your company culture is important to identify how you're going to change the culture if needed.
Do some internal housekeeping. Make sure you have set pay ranges and that everyone is being paid fairly across the board. Make sure you don't have any internal policies that inadvertently impact diverse communities. Would any policies you have be a barrier to entry for a female or a person of color?
If you set up a DEI committee, make sure there are diverse perspectives and that there are different levels of management. It's also important that initiatives have the support of leadership.
Green Industry Pros

: What resources can companies lean on?

Myers: The NALP Foundation released a workforce demographic study to identify room for improvement. The NALPF also released three toolkits: build a diverse workforce, retain a diverse workforce and cultivating growth, a collection of resources to support advancement of underrepresented workers into leadership roles.
Green Industry Pros

: How can these types of initiatives move the industry forward?

Barr: Across the green industry, we've seen thousands of positions going unfilled. So, if we can attract more talent, that continues to be important to get the work done. However, it's also thinking about innovation and maintaining the future of our companies—you need diverse perspectives to do that. We're not going to get there doing the same old thing. We've got to be more modern and innovative in our approach.

Myers: When you have a wide variety of people contributing, you can move forward. If you're in a room with only people who think, look, act, speak and experience things the same way you do, you're not representing the true population, and you're going to get stuck.
Green Industry Pros

: What other advice do you have for landscape companies looking to ramp up their DEI efforts?

Barr: Setting realistic expectations is key. It's great to have big picture goals, but understand that those need to be made up of smaller goals. If you start something and drop it halfway through or back off, you can negatively impact employees' perceptions.

Myers: Take a step back and consider how you support different types of people to join your organization and the industry. Look at your website, your facilities, your staff, and make sure there's equal representation.

You can also do your own workforce demographic study to figure out where you are and identify gaps. From there, you can set goals for where you want to be in three years, five years, etc. You can also talk to diverse populations in other industries and ask why they continue to work where they do and what's important to them.