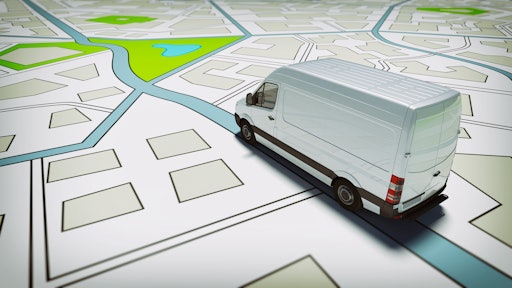 stock.adobe.com - alphaspirit
In today's rapidly growing and evolving landscaping industry, businesses are continually looking for new ways to stay ahead of the competition. Embraced by many companies already, GPS fleet tracking and management is an invaluable technology that provides landscaping companies with many benefits, including improved efficiency, cost savings and enhanced customer satisfaction.
As a landscape business owner, acquiring and retaining skilled workers and securing your fleet vehicles are two of your biggest challenges. Unfortunately, labor market woes and rising costs of wages, vehicle maintenance, fuel, raw materials and auto insurance have made these challenges even more difficult to overcome. In addition to lowering the cost of doing business, innovative fleet management tech can help keep landscape companies' valuable workers loyal and on the job.
Let's delve deeper into how GPS fleet tracking and fleet management can address these problems and help your business grow.
Protect your investments by creating a safety culture
If one of your workers is in an accident, you're out of a truck that day, perhaps for several days or weeks while it's getting repaired or replaced. At best, your tech is sitting on the side of the road waiting for a tow truck if not injured. Regardless of the accident's severity, their day will be very unproductive. Depending on the time of day, several appointments may still need to be completed, forcing your office staff to shift other workers' schedules around.
According to Work Truck Online, vehicle downtime costs an average of $624 per vehicle per day. This takes into account jobs not completed and high emergency repair costs.
In a recent study, the Federal Motor Carrier Safety Administration found that with injuries, a vehicle accident can cost as much as $331,000. In the event of a fatality, it can cost $7.2 million.
At scale, these events can lead to you losing your business. These losses are preventable, and it starts with identifying risky driving behavior, changing that behavior and empowering your workforce with positive reinforcement for good behavior. If your workforce drives aggressively, they are 66 percent more likely to crash. You can't change what you can't measure, which makes monitoring driving behavior crucial.
Core vehicle and driver factors to measure include:
Detection of driving safety events, including speeding, sudden acceleration, hard and harsh braking and cornering
Time of day and weather conditions at each safety event
The severity and duration of driving safety events
Crash impact detection
Fleet management tech for driver retention
It is estimated that by 2023, the driver shortage is going to shoot to 100,000-plus from its current 60,000 shortage, according to the American Trucking Associations. Over the next decade, industries with vehicles will need to hire roughly 1.1 million new drivers, or an average of nearly 110,000 per year. The tactics below can help.
1. Create a safety culture. With the help of modern GPS tracking and a fleet management system, introduce score-based driver reward and gamification.
2. Make their jobs easier. GPS fleet tracking and fleet management can streamline your workers' day to day, creating a happier workforce, increased customer satisfaction and efficient and cost-effective operations.
3. Improve communication. Allow your workforce to chat with you about matters of immediate concern quickly and easily.
Watching your back with smart safety cameras
Even if your drivers are perfect, you are still vulnerable to losses that stem from accidents. Every day, service vehicles are a target for frivolous lawsuits. This is a disturbing trend that can cripple your landscaping business. Did you know that 70 percent of accidents involving commercial fleets are not the fault of the worker?
A picture paints a thousand words, but a video tells the truth. Protect yourself from frivolous lawsuits and exonerate your drivers with the use of smart safety cams.
Minimizing unscheduled downtime with proactive maintenance
We've already discussed how much it can cost you if one of your vehicles breaks down unexpectedly. This makes regular preventive maintenance on your fleet a must.
Optimizing your approach to scheduled maintenance, especially with larger fleets, can be daunting. GPS fleet management can help by providing automated reports detailing maintenance tasks and tracking which vehicles require assistance soon. You can set up alerts and reminders based on the odometer and fault codes for services due, such as oil changes, brake jobs, tire rotations and vehicle inspections.
By shifting from reactive to proactive maintenance, you can reduce your operational costs and increase the overall efficiency of your landscaping business. Proper maintenance can improve fuel economy by up to 40 percent, and proper tire pressure can improve gas mileage by up to 3 percent in some cases. Additionally, by identifying and addressing potential issues before they become significant problems, you can minimize unscheduled downtime, keep your technicians working efficiently and ultimately, avoid ultracostly unscheduled repairs.
Theft prevention
Vehicle theft is a growing concern for everyone who owns a vehicle. From your home to your business, vehicles are necessary and assets that are at risk of theft. More so, however, is the risk of theft to commercial fleets. Commercial fleet vehicles are hard to come by, especially since supply chain disruptions have worsened during the past few years. Vehicle theft totals more than $6 billion per year in losses, with the average cost per vehicle theft totaling over $8,800. This is clearly devastating to any landscaping business. While GPS tracking devices can't prevent theft, they can certainly help you recover your vehicle quickly.
Why now? GPS fleet tracking is an invaluable tool for landscaping businesses who want to protect their valuable assets, minimize liability and reduce costs associated with their fleet. By incentivizing safe driving behaviors, installing smart safety cameras and implementing proactive maintenance strategies, you can improve the efficiency and profitability of your service business while keeping your technicians and trucks safe on the road.