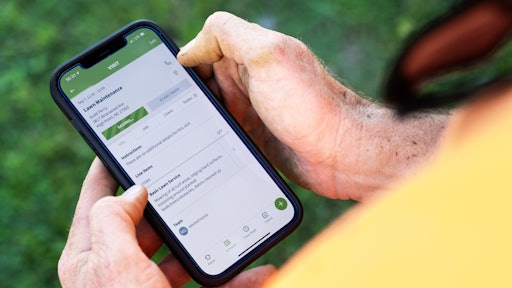 Jobber
According to a report published on Statista.com, there were more than 200 billion mobile app downloads throughout the year 2020. What does this mean for your business? If you're not using mobile apps already, it's time to start.
There are several apps available to help your lawncare business run more efficiently with features designed to improve payroll, office-to-field communications and client relationships.
For example, some apps keep you informed of weather events that could impact planning for your crews, while hardscape apps allow you to preview your landscape and hardscape options before working on a jobsite. Calculator apps offer time, materials and expense calculations. The list doesn't stop there, but knowing what is available is essential for the growth and development of your business.
"Before Jobber, many of our customers relied solely on pen and paper to keep track of everything," says Moly Milosovic, head of community at Jobber. "They realized they needed a solution to help save them time and improve customer experience. It's nearly impossible for businesses to scale without having foundational software in place to ensure consistency in processes and to eliminate timely admin work."
Your Dollar's Worth
Some app functions help connect the office to the worksite, such as billing and invoicing functionality, customer service support and branding through social media.
Many apps allow you to generate invoices and purchase orders. Seeing those transactions in real-time makes for an easy, more efficient process, not only for you but for your clients, as well.
During your downtime, whether you're in the office or on the go, apps like Google My Business allow you to answer client's questions and reviews to encourage a better customer experience. Any good reviews of your service can potentially lead to new clients and projects.
To reach new clients, you will have to expand your brand awareness. Get on social media and promote. Platforms like TikTok, Facebook, Twitter and Instagram are used more and more as networking platforms, much like LinkedIn. This way, you can reach your targeted audiences and provide the services they need.
The functionality doesn't stop there. Many mobile apps are designed to manage finances and fleet management. Digital payroll capabilities keep your crews happy and online fleet management helps you track maintenance for your equipment.
Some functions keep you up to date with industry news. For instance, if you live in California, then you should know that the sale of equipment powered by small off-road engines will be regulated by 2024 to reduce emissions. But there are also virtual design apps that allow you and your client to decide what work should be done and how it'll look. That leaves room for very few surprises, assuring your client they are getting their money's worth with your services.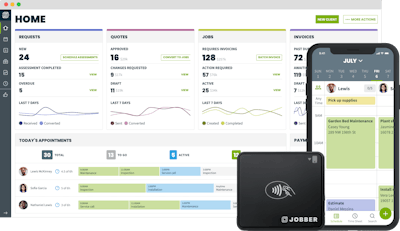 Does it Help?
For starters, any time you spend working in the field is more money you can collect for your business. When you're spending time in the office trying to manage paperwork, that's time you could be spending contracting another project. Mobile apps better streamline the process of payments, financing, payroll, connecting with clients and field-to-office communications. To top it off, many apps are cloud-based, securely storing client information and payments.
"Jobber manages your customer's full life cycle - from tracking leads and sending quotes to scheduling crews, dispatching jobs, invoicing customers and accepting payments in-person or online," Milosovic says. "It can be extremely annoying to have to hop from app to app throughout the day. When this happens, data can get lost, and there can be inconsistencies in job information."
Adding business management apps and functionality to your daily routine can help increase revenue while saving time and money. Through these apps, you can communicate with your crews and clients and have access to their files and data. With functions such as design layout, you can view what your clients are seeing on the site and what they may need that was not initially in the conversation. That is your opportunity to suggest add-ons.
"Quote totals automatically increase as customers accept your recommended add-ons, boosting your revenue by an average of 35%. In addition, service providers who added images to quotes saw nearly two times more revenue than those who didn't use images," Milosovic continues.
Everybody's Doing It
There is no doubt that apps help grow businesses. Your competitors may already be growing their businesses with these apps, and yes, that includes social media.
According to businessofapps, as of 2020:
TikTok: 850 million downloads
WhatsApp: 600 million downloads
Facebook: 540 million downloads
Instagram: 503 million downloads
A survey by AppAnnie estimates that annual mobile app downloads will reach 258 billion by the end of this year.
So once you have and use the business management apps, how often should you be connecting with your clients and targeted audience?
Recent surveys and mobile app use statistics show that 51% of mobile apps users check their apps anywhere up to 10 times a day. About 25% of users check their apps between 11 and 20 times per day, while 2% admit to opening apps over 100 times in a single day, according to The Manifest. Most social media experts suggest businesses should post three times a week. Not everyone can take on that workload, though. If you feel too busy to post that often, set a reminder to post once a month or even once a quarter. Customers often check business social media channels to see if that company is still open and operational before calling.
Some profitable apps to invest in to grow your business should feature the following services:
Sales/customer communication
Service functions/reviews
Fleet management/managing inventory and materials
Scheduling
Billing/invoice
Financing/payroll
Virtual vision/design
Industry news
Marketing help
Social networking
Weather updates
Milosovic says, "On-the-go green industry professionals need a mobile app that is easy to use, and easy for their teams to adopt."