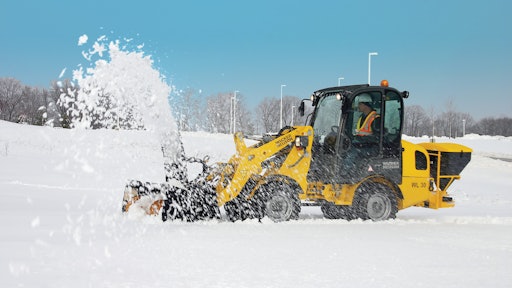 There are dozens of benefits relating to economics, performance and operator comfort that make compact, articulated wheel loaders an increasingly popular tool in a snow removal contractor's arsenal.
According to compact equipment manufacturer Wacker Neuson, wheel loaders are more economical to operate than skid steers—offering up to 30% fuel savings and up to 75% tire savings.
Compact models such as Wacker Neuson's WL 30 are narrow enough to fit on sidewalks, making them useful in a variety of commercial and residential snow removal applications. They are best suited to smaller, confined areas including malls, walkways, commercial parking lots and general municipal applications.
Another plus is the excellent visibility wheel loaders provide. A 360° view plus working lights make them ideal in low-light situations. Since snow removal often takes place before sunrise and during the night, adequate lighting is essential—especially in parking lots where there is the threat of hitting parked cars. Speaking of parking lots, the maneuverability of an articulated, compact wheel loader makes it ideal in this setting.
Obviously, traction is also important in a snow and ice situation. Wacker Neuson wheel loaders, for example, have an on-demand differential lock providing excellent traction, while the four-wheel-drive articulated steering offers outstanding maneuverability, especially in confined areas.
Operator comfort is another consideration. Wheel loaders have heated cabs. They offer plenty of legroom, adjustable seats, ergonomic controls and excellent visibility—all of which contribute to a comfortable working environment and the ability for the operator to work for longer periods of time, increasing productivity.
Operator safety is a final concern. Features such as a wheel loader's side door allow the operator to enter and exit the unit easily. Operators must climb over the bucket on most skid steers, which may become slippery in the snow and ice.