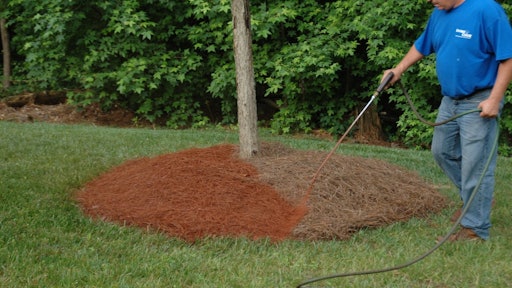 Russell Landscape in Dacula, GA
Every business has its necessary evils. In landscaping, figuring out what to do with stale, ugly mulch is one of them. A growing number of contractors in the Southeast are beginning to find a more effective, profitable solution. Could it catch on elsewhere around the country as well?
"We started using EnviroColor about five years ago," says Teddy Russell, president of Russell Landscape, a multi-branch, full-service company based in Dacula, GA, with annual sales in excess of $20 million. "It's been working very well. It's still a newer concept, so it takes a bit of education. But clients are starting to see the real added value in this."
EnviroColor is a color concentrate you can spray onto mulch, pine straw or even turf. It is water-based and free from chemicals that could harm plants, grass and hardscapes. That said, users likely want to keep those items from staining, so EnviroColor simply recommends spraying them down with water before spraying EnviroColor to surrounding mulch, pine straw or turf. EnviroColor is also safe for pets.
"The first thing clients want to know is that it is environmentally safe," Russell points out. "EnviroColor is. Plus, we're finding that EnviroColor can extend the life of pine straw from six months to nine, helping it keep its color and prevent it from decomposing. It's sort of like staining a deck."
EnviroColor sells and distributes its product from its Cumming, GA, headquarters. EnviroColor is also available to retailers from coast to coast, which currently include Amazon, HomeDepot.com and John Deere Landscapes. "We're really hoping to expand our distribution more nationally," says EnviroColor's Peter Heidenreich. "John Deere Landscapes was a big win for us. We're also talking with Menards and Gempler's."
EnviroColor is currently offered in five colors: Pine Straw, Red Mulch, Black Mulch, Brown Mulch and Grass. Learn more here: http://www.greenindustrypros.com/company/12049364/envirocolor
Incorporating into your service mix
Russell Landscape has incorporated EnviroColor into its service offering a couple of ways. First, it buys colorant from EnviroColor and has its existing lawn care spray techs apply it. Sometimes, though, Russell Landscape subcontracts to EnviroColor, which sends out its own spray trucks to perform the applications.
"It really depends on the time of year and size of the job," Russell explains. "If we're right in the middle of a fertility round, for instance, we probably don't have the capacity to also be spraying EnviroColor at that time. So we typically sub it out. Also, if it's a really large job, we probably don't want to tie up one of our spray crews for that long, so we'll just have EnviroColor come out. They've been very reliable as a subcontractor."
Scheduling issues aside, EnviroColor is an easy service to provide in-house, Russell points out. Brett Kelley of Bella Color in Bluffton, SC, totally agrees. His entire business is based on the EnviroColor concept. He was looking for a business to buy a few years ago when a friend hired a contractor to spray-color pine straw at his home. "I thought that was really interesting," Kelley says. Turns out, that contractor was looking to sell his business. Kelley jumped.
"He was just starting out and had only a few accounts," Kelley says. "I bought my own equipment, which included a trailer and skid sprayer with 250-gallon tank, which I've now modified to include two spray guns for larger jobs. I also did all the marketing and sales to get the business growing. We've grown twentyfold, but still have a ways to go. I'm really the only company in the area offering this type of service, so it's a great opportunity as more people hear about it."
A 30-second video demonstration has been an invaluable sales tool, Kelley points out. "This is such a visual product and service," he says. "If the client sees it, you can sell it. The other thing is direct sales. It's a lot of cold calling, seeking out the types of customers that are good prospects for this type of service. We want bigger work such as apartment complexes."
Russell Landscape has also focused on commercial clientele, including office parks, retail centers, hotels and condos. The company typically sells the spray-coloring service as an add-on to mulch or pine straw installation in maintenance contracts.
That's not to say residential customers are out of the question by any means. Any customer looking to freshen up their landscape is good prospect. Even residents in California have been using EnviroColor's "green grass" pigment to brighten up their drought-stricken lawns these past couple of summers. "The drought out in California certainly has kept us busy, and customers are loving our Grass color for its durability and color match so closely to Mother Nature," says Peter Heidenreich, a spokesperson for EnviroColor.
"The color is always really, really good," Russell says about EnviroColor products in general. "This is so much better than piling new pine straw or mulch on top of old. Plus, it helps extend the mulch or pine straw's life."
Russell has found that spray-coloring just a few weeks after installing new mulch or pine straw is a good approach. "We used to apply EnviroColor several months later after the pine straw started to fade," Russell says. "But now, by applying EnviroColor sooner, the pine straw really keeps its color for a lot longer."
"It's a very reliable product, and I've been using it for three years," Kelley adds. "If I can get a customer to try it once, they usually do it again every six months. And they stick with me as their contractor. So the biggest thing is getting customers to try it. I often 'test spray' just a small part of their property, like a tree ring, and then tell the customer to keep an eye on it and see the difference in a few months. When they see how what I'd sprayed looks a lot better than everything else, it usually convinces them."
Russell Landscape fully expects this new line of business to continue growing. The company also expects to face more competition. "We're starting to see more companies offering this—including large national landscaping companies and also smaller, local companies," Russell says.
That stands to reason. New, valuable services like this typically represent substantial growth opportunities for contractors—especially when there's good margin in it. And there is. "If I could spray-color properties all day long, I would," Kelley says. "Right now, I just need to continue educating and building my market."