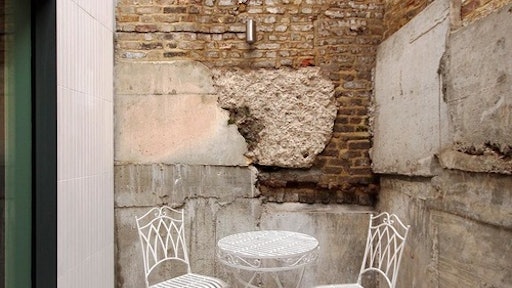 HOUZZ INSIGHTS from Fisher Tomlin & Bowyer London Garden Designers
Courtyard gardens — defined as those enclosed on at least three sides by walls – are often the most difficult spaces to get right. They can be dark and damp, tiny and uninviting. But it doesn't have to be that way. Borrow these ideas that range from inexpensive wall treatments to simple lighting to put your courtyard head and shoulders above the rest.
1. Lighten up for daytime sun. Get right on-trend by copying this great idea to take the walls back to the original plaster and brickwork. Old brickwork can look amazing and is much lighter than you might think, especially if it's been covered with a layer of render, as in this simple, small courtyard.
You can't get away from those double-height walls, which could easily be overwhelming. However, by reflecting the natural light off simple white walls and large, pale porcelain tiles, the homeowner has maximized light in this tiny space.
You can repeat this idea easily by choosing paler colors for all your materials and chalky paint colors for your walls.
2. Illuminate for night time. A large courtyard can still suffer from very high walls, and this garden — which is enclosed on all sides by two walls and two buildings —has one at the rear, which is slowly being covered with evergreen climbers.
It's at night, however, when this courtyard comes alive, thanks to some simple rope lights under the wall coping (top layer of the wall), and uplights set into the paving to highlight the cool tones and produce a inviting nighttime mood.
Horizontal lines in the walls and arbor mean the eye is brought down into the space rather than being led up to those tall walls, so think about using this trick to divert the eye when planning your own garden.
3. Perfect a plant paradise. Big double doors lead out onto this long, narrow courtyard packed with plants. The length of the courtyard is accentuated by "pinching" the access at certain points, so it feels as if the view goes over and under plants and trees to create a plant lover's paradise.
Larger pots containing trees are placed to the right to create some screening, but also to give a focus from the left-hand windows. The view then carries on down to the extension to create the perfect space for having a coffee.
You can achieve the same effect yourself by using lots of different-size pots containing different plants to take the eye through your courtyard.
4. Go up the wall. In a courtyard, green walls not only look stunning, they can cover stark surfaces and save on precious space. Having all your plants on the wall means you can keep the floor area for dining and lounging, while still having the benefit of a living garden.
Planting Ideas: Life in the Crevices
You don't even have to have an enormous wall; you could easily create much smaller "pictures" of plants within frames. Simple drought-resistant plants, such as sedum, make for easy maintenance as well.
5. Set up a sun trap. We love this totally enclosed space, because the architect has created a sun trap with great old walls and a new glass addition that links two buildings. From the glass room, you look directly onto a raised water feature with a wide surround perfect for informal sitting and great for parties.
If you're fortunate enough to have a sunny courtyard, do as this garden designer has done and use plants sparingly, but make each one count. Exotic palms and olive trees are ideal for this sort of sun-drenched space.