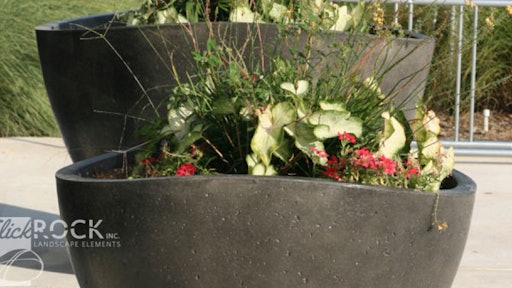 Designing the architectural landscape of a commercial space such as a shopping center, multi-family complex or retail center can be an overwhelming project, to say the least. Picking and choosing which architectural elements to use can mean the difference between a beautifully landscaped design and a total disaster.
Take a look at these four best landscaping elements that are sure to make a concrete impression for not only the project owners, but for the everyday people that will be walking though.
Concrete planters
No commercial space is complete without a collection of commercial concrete planters. Coming in a variety of shapes and sizes, concrete planters can help you add character to space in a way that adds depth, color and perception. Whether you're looking to give your space a traditional atmosphere, a contemporary look, or anything in between, planters are the way to go.
Water features
There's nothing more soothing when you're window shopping through an outdoor mall than doing so while listening to the gentle flow of water as it trickles down the face of a concrete water feature. Truth be told, the same goes for corporate office centers, too, as it helps the employees clear their minds in a neutral environment.
A variety of water features can help you accomplish this in any commercial space. Whether you choose to install a variety of concrete spills, fountains or soak tubs, you'll give a concrete impression that will have people coming back for more.
Fire bowls
If you're putting together the architectural landscaping plan for a commercial shopping space that is primarily outdoors, you'd be smart to take into consideration seasonal weather changes when picking out your landscaping elements. Particularly for places around the United States that tend to get cold, you should consider installing a few concrete fire bowls.
People passing by will not only enjoy the visual stimulation of a flame in the background but if it get's cold outside, they'll have an excellent place to warm their hands and continue shopping. The same goes for shopping areas that are designed to host multiple restaurants with outdoor dining space.
Bollards & benches
Concrete bollards can serve multiple roles in a shopping center, multi-family complex, retail center and more. Serving trifold as a bench for pedestrians, planter for flowers as well as a safety device from ongoing traffic, concrete bollards and benches are a great, economical way to both add a landscaping element while at the same time improving the function of your commercial space. However, when installing concrete bollards, you'd be smart to install ones that pass regulations as they are set by large security venues across the nation to increase the safety of the pedestrians.
At the end of the day, concrete landscaping elements can serve multiple purposes, while both increasing the security of your commercial space and providing a pleasant, yet concrete impression.