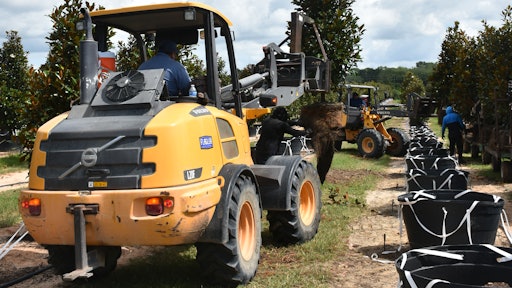 Cherrylake is one of the largest producers of ornamental trees in the state of Florida, growing over one million trees a year on its 1,800-acre farm in Groveland. It grows a select mix of shrubs, palms and trees in containers up to 300 gal. in size, some of which can take 14 years to reach maturity for market. Customers are wholesale commercial landscape contractors, theme parks and PGA golf courses.
The plants at Cherrylake are zealously consistent in color, size, shape and fullness. It's the result of lean production transplanted into a nursery operation. This starts, quite literally, at the roots, in the greenhouse, where employees hand plant thousands of cuttings and saplings per day. Over the next weeks, months and years they are repotted into larger containers and moved across the campus, undergoing exacting quality controls including precision pruning and targeted irrigation, before being selected for their end destinations.
Flexible, Maneuverable Machines
Lean production extends to the farm's footprint. To maximize growing space, the entire tract is subdivided by plant type and age, with each compact section separated by narrow rows.
Since 2004, Cherrylake has relied on a stable of Volvo L20 and L25 loaders (37 in total) to handle virtually all aspects of the plant life cycle. Some of the first L20B loaders purchased are still working with over 13,000 hours.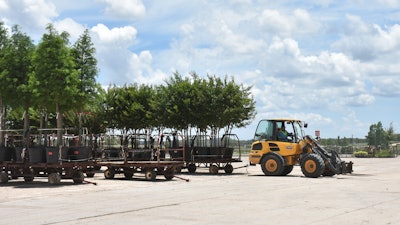 The L20s are fitted with forks and used at the loading dock to load product onto trucks. "We also use them to pull trailers loaded with containerized trees or plant material, sometimes up to six trailers at once, several miles up and down sandy hills," notes Herman Van den Bogaert, Cherrylake fleet manager. "With the customized tree boom attachment, we can transplant trees to larger containers. And with the auger attachment we can drill post holes for our trellis irrigation system."
Both the L20 and L25 are compatible with skid-steer attachments, one of the big selling points for Cherrylake. And at less than 6 ft. wide, they can fit completely inside a tractor trailer to load trees for shipping.
"When we choose equipment, there are three things we look for. No. 1 one is quality," says Herman. "Second is serviceability. It's the serviceability for us to maintain it, and then the service of the dealer or manufacturer if we have issues beyond our mechanic's ability. And the third factor is obviously the cost. We're a business; cost is big."
Speed is another reason. The L20H travels at 19 mph, enabling them to move around the farm quickly. The center oscillation joint also provides added stability over rough terrain when carrying heavier, unusual loads.
The loaders have two separate hydraulic systems - one for steering and one for work hydraulics. This ensure sufficient oil flow needed to move and maneuver through the rows of trees and articulate or steer while lifting out tree boxes.
Eric Beer, account manager with local Volvo dealer Flagler Construction Equipment, has worked with Cherrylake for a dozen years. In that time, he has seen an uptick in compact wheel loader acceptance with clients in other segments across Central Florida.
"The applications where they are a perfect fit are smaller jobsites to shuttle dirt, or residential areas with limited space but where you need lift and dump capacity to load into a truck," he comments. "For landscaping contractors, these are the ideal machines to move mulch and small aggregate. Waste and scrap contractors are also adding more compact loaders into their fleets, equipped with a grapple bucket."
Companies in this article