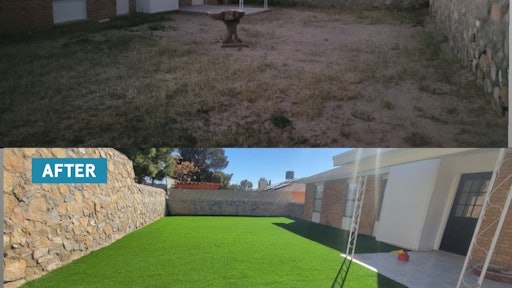 El Paso Artificial Grass and Turf
The green industry is more than just mowing lawns and eliminating weeds. Landscaping can be a form of art, and El Paso Artificial Grass and Turf was able to transform a client's lawn from "a graveyard-looking backyard" to a bright green and lush paradise.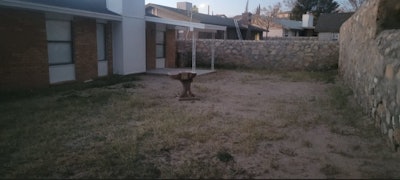 El Paso Artificial Grass and Turf is owned and operated in El Paso, Texas. The business is run by Travis Boyle and was founded in 2012. The company has installed artificial grass for hundreds of projects now: residential lawns and putting greens in large commercial spaces. Crew members have more than 50-plus years of combined industry experience and are very passionate about installing quality, durable and beautiful artificial turf surfaces.
The goal for this project was to create a landscape that was both functional and beautiful. This client has children and a dog, and he wanted an area where his kids could run around and enjoy the outdoors in a safe environment. He also wanted something low maintenance so that he wouldn't have to stress over the care of the lawn.
El Paso is a desert landscape, and water costs can be expensive, and yet, the client decided that he did not want to xeriscape (a style of landscape design that requires little or no irrigation) with rocks because that wouldn't allow his lawn to be a functional area for his children to play.
El Paso Artificial Grass and Turf won the job by strategizing its use of social media with an ad campaign it ran on Facebook. The client then visited the company's website and commented on its page about how professional the artificial grass installments looked in comparison to other grass installers in El Paso. The client also liked that the estimation process was fairly simple and that his initial contact with the team was friendly and professional.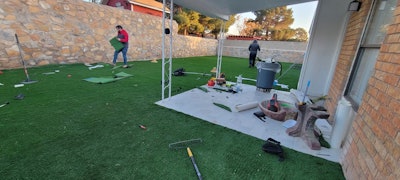 Three crew members worked on this project, and they had a three-day timeline to complete it. The five steps to completing this job included:
1. Crews prepared the 1,610-square-foot surface of the lawn, which required the use of an excavator and digging 4 inches deep into the ground.
2. Crews added 20 tons of aggregate to the surface of the lawn and used a compactor tool to create an even surface for the artificial grass.
3. The team laid down a weed barrier to prevent weeds from reaching through the surface.
4. The crew laid down 1,600 square feet of artificial grass on top of the properly prepared surface.
5. Finally, for the final touches, the team added infill to the artificial grass using a power brush.
One of the biggest challenges with this project was that originally, the client had picked a style of turf based on samples available during the estimate, but in the middle of the project, Boyle realized that the company's local supplier was out of stock of the sample his client wanted. So, Boyle called around to see if a different supplier had a similar sample of turf, and he was able to find one. This supplier was able to express ship the turf to the jobsite within two days, which helped the team stay on the previously proposed schedule.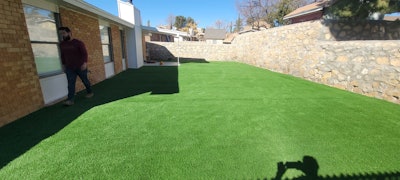 The client was also worried about the artificial grass having visual seams. To address this potential issue, El Paso Artificial Grass and Turf used a plasticfex seaming tool from Superseam.
Another unexpected issue crews ran into during the project was their sub-base compactor becoming inoperable. They had to find a last-minute rental at a local supplier. Boyle noted that this was a lesson in always having a backup option for critical tools that are needed on the job. Now, El Paso Artificial Grass and Turf has a relationship with a local tool rental company and a better sense of its equipment and tool options in case this issue happens again.
El Paso Artificial Grass and Turf plans to work with this client again in the future.
"The client loved the outcome so much that he has hired us again to add artificial grass to the front yard next month," Boyle says. "Also, one of his neighbors has also asked us to help them with their backyard after seeing the outcome we had for our client."
Overall, Boyle's favorite part of this project was the inspection process. In this process, the client gets to inspect the company's work and make sure he or she is 100 percent happy with the job. During this particular inspection, the client and his kids were stunned at how natural the artificial grass felt. They were excited about being able to play with their dog in the backyard.
"This was a very satisfying experience knowing that we were able to help the family make more use of their property," Boyle says.