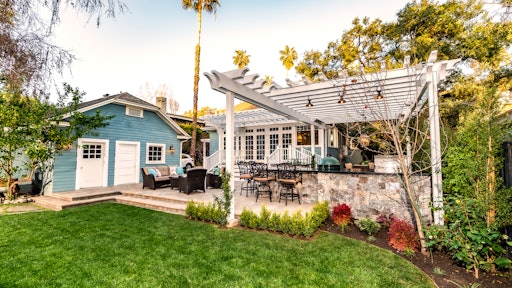 System Pavers
Joe Davis, American television sportscaster, sought a backyard space for hosting family and friends and enjoying the outdoors.
Davis had a few goals for the backyard space: a bigger area for entertainment when he has large groups of people over and a space to relax when he wants to be alone.
"You want to make sure there are areas where you can throw a paper airplane between the two, but still give them enough space where it feels like enough room to just sit and relax along with everything else," says Shane Stevens, vice president of operations at System Pavers.
To knock the project out of the park, Stevens had a few different issues to tackle.
First, Stevens had to make sure the land was flat and level. From a simple glance at the land, he could tell there would be an elevation issue. The detached garage was 12 inches higher than the rest of the landings that were already established. Therefore, the crew had to raise a large area up and create stairs back down to the other area to make it functional.
The crew added Belgard pavers, two different barbecue islands and incorporated the smoker that Davis already had. They also added a shelf into the barbecue build, a sink, a refrigerator, storage drawers, a trash drawer and a frame for the second island.
The crew also coordinated with the pavement installer and included an extra entrance to the deck. The team finally added drainage to make sure water would drain properly and Kichler landscape lights to brighten up the space and create a cozy atmosphere for the night.
Stevens was even able to get hot water for Davis' backyard, which isn't always possible for every backyard.
"That's kind of a trick thing. You can't always accomplish it because you can't get the hot water sometimes, but we had the perfect setup for that," Stevens says. "It's all over the home, so everything comes from the outside house; nothing comes up from underneath of it. So, we were able to get to everything pretty easily."
Additionally, Stevens provided the yard with a retreat area off to the side while also making the backyard feel bigger overall by opening it up.
Overall, four to six crew members worked on the project, and it took them a little more than a month to complete the job. The challenges the crew encountered included hardscaping in an area that never had been hardscaped and ensuring that everything drained properly.
The final reveal of the backyard impressed Davis, and he was very satisfied with the finished product.
Stevens says his favorite part of every project he works on is getting to do the full reveal of the backyard because most clients can't visualize what the final project look will be like.
"It was very cool to see (Davis) doing his thing and cooking some ribs on the island," Stevens says. "I remember when there was nothing there but an old broken-down fire pit, and now he's cooking on this 14-foot giant barbecue island."