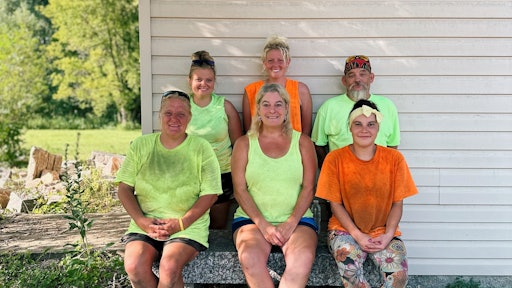 Creative Landscaping
Shelly Fjelstad, owner-operator of Creative Landscaping in Darwin, Minn.
Shelly Fjelstad: We have really grown in our services. We started with just a plant base, but now we do trees, we grade and boulder shorelines. We do everything but irrigation, but I have a networking system where I can find people to do that, and I act as the general contractor. We also have 10 rock bins at our company where people can come get sand, gravel and rock.
I had the company licensed in 2009, but it was official in 2013 when I bought the property. My husband died of cancer in 2016, and so I started doing it by myself. Last year, my son moved home, and he was helping in and out, but he now runs the office and helps the customers so that I can keep driving and doing deliveries and doing the billing and estimates.
Green Industry Pros

: Talk to me about the challenges and successes you've encountered since being in business.

Fjelstad: The challenges are always there. There are not a lot of people who want to work and do hard labor, so that's always been a challenge, but we've also had wonderful experiences—kids coming from high school and teaching them skills they could learn for the rest of their life.
Green Industry Pros

: How did you initially become interested in the industry?

Fjelstad: In high school, I was a hard worker, and my days were mostly filled with athletics and working. I started helping out with miscellaneous work with a landscaping company and with farming when I was 12 years old. As I got older, I had different jobs, but everything veered toward the outdoors, and I love project-oriented jobs. I went to college to do business management, and I like to bounce around and do projects outside, so that's what steered me into landscaping.

Back in 2004, I ended up in a snowmobile accident, and I got spinal stenosis. I do have a disability, and I'm kind of a miracle recovery story from this injury, but I'm very successful in what I do because of the high demand. Even in COVID and through 2008-2009, we were out there working, doing our thing and serving our customers.
Green Industry Pros

: Through all that, what's been your favorite part of the industry as a whole?

Fjelstad: My favorite part is that my choices were correct in staying with it even through the tough days. I also started three or four years ago doing networking. We also have a very customer-oriented setup.
Green Industry Pros

: What's your advice for other women in the green industry?

Fjelstad: For anyone, the customer wants attention and to have their project needs met. So, even if you can't do it, find another person who can because that helps the customer get what they want. That's what my business is about, and that's why we're successful. I often pat myself on the back because I am a woman in the industry, and I am disabled with limitations, but I still go out there and do my best to make it happen for the customer.
Green Industry Pros

: What types of things do you like to do outside of work?

Fjelstad: I like to play Bingo and cards. I like to go on outings with family and friends. I love being at work too because it's so much fun visiting with all the customers and to be able to transition their spaces and help do whatever they need.