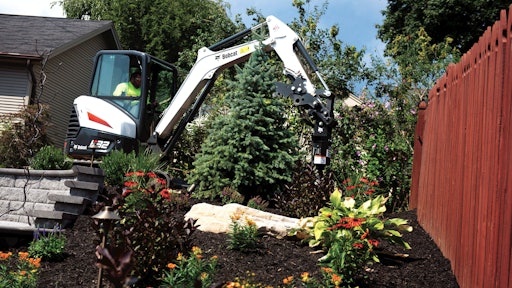 Bobcat Co.
For contractors, adding attachments to a machine transforms it from a one-and-done piece of equipment to multifunctional tool—a Swiss Army knife of sorts.
"One of the sayings we had years ago was that a skid-steer without an attachment is nothing more than a rough ride," says Shane Reardon, national account sales manager at Bobcat Co. "Attachments can be something as simple as a bucket or a set of pallet forks, but you can't really accomplish much without the attachments on the machine."
Experts from John Deere, Bobcat Co. and Case Construction Equipment discuss what landscapers should consider so that they're hooked in and ready to go when they arrive at a jobsite.
The opportunities
Increasing contractors' ability to complete more jobs is one plus of rental companies offering an assortment of attachments.
"Having a variety of attachments for a given machine will increase revenue because contractors can bid different jobs without having that out-of-pocket expense of buying that attachment," says Gustav Krejcha, product manager, construction attachments, Case Construction Equipment. "With the labor market right now, one or two attachments might replace a handful of people. That attachment doesn't call in sick. That attachment doesn't take breaks. It's about the versatility of that one machine."
What to consider
Before deciding on what attachments to include in the operation, landscapers should consider items such as the warranty offerings to ensure they protect their investment, seasonal needs and regional requirements, according to Reardon.
"If you're living in a climate with a lot of snow, for example, using snowblowers or snow blades may boost revenue," Reardon says.
Having a full grasp on what the jobsite entails will help contractors determine which type of attachment attachment would best suit their needs.
To do so, landscapers can consider questions such as:
What will the job entail? What needs to be accomplished?
What type of equipment will be used?
What functions will the machine perform?
What's the horsepower on the machine?
What sizes of the attachment are needed?
What's the hydraulic flow of the machine?
What kind of hitch is used?
What class machine is being used?
The original version of the article was published in Rental magazine, Green Industry Pros' sister publication.