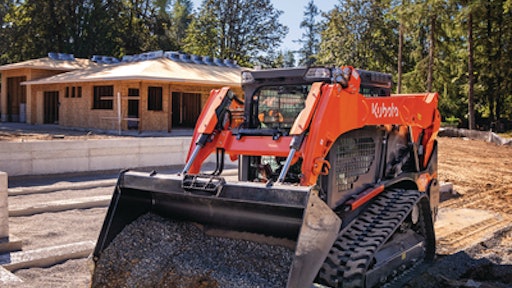 Kubota Tractor Corp.
Including site prep, irrigation and electrical system installation, hardscaping projects are often integrated into both the landscaping and onsite infrastructure. Whether it's a large commercial project or a residential backyard, there is a vast supply of equipment and attachments on the market to help get the job done. Selecting correctly sized and most efficient attachments for your hardscape job is key to optimizing investment.
Before choosing attachments, contractors need to assess the jobsite and identify what limitations it may impose on the power units you choose. For example, how will you load in your equipment? Do you need to account for narrow gates, or will you be working against a wall or foundation? Also, what tasks in the project will be conducted one time and which ones will you need to do repeatedly? A mix of compact excavators, compact track loaders and stand-on track loaders should be considered as should renting or purchasing equipment, based on how often you'll need to use it.
Compact equipment is often the best choice for landscaping and hardscaping projects because it is powerful enough to get the job done, yet small enough to easily maneuver in tight working spaces. Plus, there are a host of attachments that make compact excavators and loaders multifunctional workhorses on any jobsite.
Speaking from an attachment investment standpoint, a combo bucket and a set of pallet forks will get you further than you think and that's a good place to start. A compact track loader with a combo bucket might just be the most capable and versatile option, meeting several needs on a hardscape job. This combination will deliver a solution for a host of applications; it is the holy grail of versatility from both a power unit and attachment standpoint. A combination bucket does everything a standard bucket can do; plus, it can grade, doze, rake, carry, dig and dump. The combination bucket allows the operator to perform multiple functions with the same attachment.
In addition, a set of pallet forks can make all the difference in jobsite efficiency; they are irreplaceable for quickly handling and moving landscaping and hardscaping materials. Pallet forks can be attached to a compact track loader or a stand-on tracker loader. Most people immediately picture them transporting landscaping materials such as pallets of stone, pavers and sod, but they also manage long loads such as rebar, irrigation pipe and other long or awkwardly shaped material. Having a set of pallet forks can make all the difference.
Of course, every project has its specific needs. While the possibilities are endless, here is a mix-and-match approach to selecting the right machine and the right attachments to tackle your next hardscaping job:
Standard bucket: a bucket is the single-most important attachment. Applications include digging, grading and lifting materials.
Combination bucket: the combination bucket allows the operator to perform multiple functions with the same attachment.

It serves as a standard bucket and also adds the functionality to clamp, grade, rake, dig, carry and dump.

Utility bucket: construction-grade utility buckets act as a shovel-like attachment for stump and small tree removal. They are perfect for relocating landscaping boulders and light trenching.
Pallet forks: pallet forks are used to maneuver and locate palletized material such as bags, bricks, pavers and the like.
Auger/post hole digger: an auger or post hole digger is used to drill a hole to install fencing or pour foundation footings.
Claw grapple: grapples allow users to relocate material from one location to another like a bucket, but they include a claw to grab and clamp the load in place. They can handle boulders, concrete blocks, paver sections, fence posts and other similar materials.
Rock grapple: see grapple applications above-this one is made specifically for moving rocks.
Rock bucket: rock buckets allow the operator to sift and separate material.
Skid grader: the skid grader is a dedicated grader that allows for fine grading of various aggregate, leveling sites and driveways.
Trencher: trenchers quickly dig clean trenches with flat bottoms and smooth walls to install pipes and cables. They are essential for many hardscape jobs.
Breaker: breakers are used for breaking up concrete and rock for handling or outright removal.
Power rake: power rakes are used to smooth the ground by pulverizing dirt, removing debris and leveling.
No two hardscaping jobs are alike, but using these tips and this guide can help take the guesswork out of your next job, big or small.