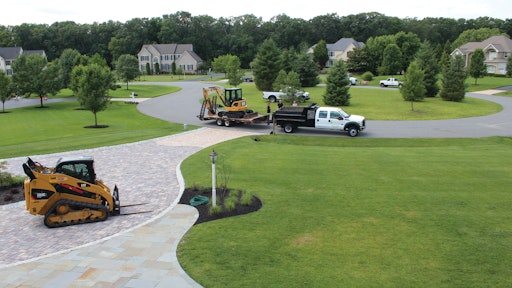 Tim Worrell is part owner and director of production at Beechwood Landscape Architecture & Construction in Southampton, NJ. He strongly believes that clients will judge his company based on its presentation and professionalism. "Our trucks are clean and new, as are our trailers," Worrell points out.
As importantly, Worrell believes that having the right equipment for each job means everything in the labor-intensive business of landscape contracting. Beechwood utilizes both compact track loaders and mini excavators from Caterpillar. "We have a model 305 (excavator) and a 289C (track loader)," Worrell says. "These machines help hasten our production in this competitive market."
The excavator and track loader make crews much more efficient. They also help keep employees healthier; no injuries as a result of having to manually move earth. "The machines are helpful for two other reasons," Worrell continues. "One, they can work easily in the mud. Two, they cause little damage to lawns."
As a result, Beechwood Landscape Architecture & Construction rarely loses production time. "Rain doesn't slow us down," Worrell says. "And since the mini excavator and compact track loader are easy on lawns, homeowners save by not having to re-sod or re-seed a larger area when we are finished with a project."
"I have used New Holland, Bobcat and John Deere in the past," Worrell relates. "Although all machines have their fair share of flaws, CAT was the quickest to respond and work with the contractor to fix or improve their machines. They also gave you a salesperson who would not lose touch and would always call just to see how things were going. They had no-hassle financing as well.
"We use our CAT machines to assist with the digging of footings which need to be three feet deep, for moving around materials for our outdoor kitchens, setting boulders around pool projects, and to lessen the physical abuse our bodies would take otherwise," Worrell adds. "We try to use the shovel a lot less than the days of the past."