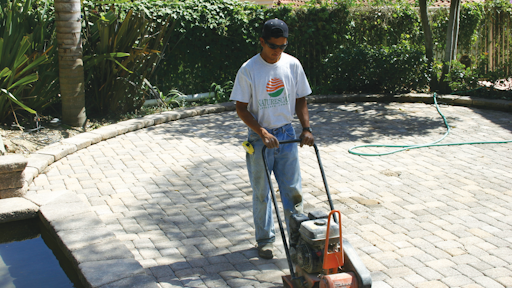 As the housing market has strengthened over the past year, demand for the already popular outdoor living space has only gotten stronger too. Many design/build contractors have reported encouraging signs already this year, citing significant interest from homeowners for things like paver patios, sidewalks and drives, along with smaller walls, fire pits and outdoor kitchens.
With the need to install things like pavers and retaining wall block comes a need for reliable compaction equipment. That's why leading equipment manufacturers are viewing the landscape market with as much interest and optimism as they have in a long while.
"The opportunity in the landscape market is excellent," says Anna Foster, rental product marketing manager at The Toro Company, which entered the hardscaping market in 2012 after acquiring Stone Construction. "Nearly all landscapers have a need for compaction equipment—whether they're installing patios, ponds, sidewalks, creating a utility trench, etc. Nowadays, when I see a truck with a landscape logo driving down the road, I look to see what's on the trailer. Many times I'm seeing a compactor."
Yes, many of today's landscape contractors need compaction equipment. But in today's market, they also have a need to be as efficient and productive as possible. That's where some contractors end up missing the mark.
Use the force, dude
A popular machine type for a landscaper is a forward plate compactor. Compared to a reversible plate compactor, they are generally lighter, more compact and less expensive. Toro's forward plate line ranges from 13 to 20 inches (plate size width). Multiquip (Mikasa brand) offers a line ranging from 14 to 20 inches. "Forward plate compactors are very popular with landscapers because they offer the right mix of dimensions and force to do pathways and paver block installations," says Stevan Garcia, compaction product manager for Multiquip.
Forward plate compactors can also be fairly powerful. Multiquip's Mikasa units generate 2,200 to 3,400 foot pounds of centrifugal force—a key measurement in identifying how powerful a machine is. Toro's line ranges from 2,200 to 4,000 foot pounds.
Is that enough power, though? Opinions vary. One opinion that matters a lot is ICPI's (Interlocking Concrete Pavement Institute). Referencing ICPI Tech Spec #2 – construction of interlocking concrete pavements, Rob Bowers, ICPI's director of engineering, offers some recommendations.
For the first steps in a paver project, compacting the excavated subgrade and then the gravel base, ICPI recommends a 7,000-pound plate compactor, likely a reversible. "You could get away with a 5,000-pound machine, but it will take a lot longer," Bowers points out.
After laying the pavers, you need to compact them. ICPI recommends a 5,000-pound machine for this step. A 7,000-pound machine could cause serious problems by damaging the pavers. Additionally, since many pavers have a certain texture to them, you want to make sure your compactor has a urethane pad so you don't scuff up the pavers.
"Serious hardscaping contractors have both a 5,000- and 7,000-pound compactor," Bowers says. "Newer guys often start with a 5,000-pound machine, but soon find that they're being inefficient during those first stages of a project—sometimes taking 40-50% longer to compact the soil."
A 7,000-pound compactor will obviously be more expensive than a 5,000-pounder. So you should look at the additional investment you'd have to make, and compare it to the labor savings you could realize over the life of the machine.
Other features to look at
Above and beyond centrifugal force, there are other things you should look at when purchasing a compactor. Toro's Foster offers the following checklist of additional specs to evaluate.
"You want to look at centrifugal force in combination with things like plate frequency, or vibrations per minute," Foster points out. "You want higher VPMs for more granular, sandy conditions, but lower VPMs when you have more moisture."
Amplitude. Distance the plate travels during the compaction process.
Machine weight. Generally range from 100 pounds for a small forward plate model to several hundred pounds for a reversible plate unit. Weight factors into overall compaction performance. But you also want to think about how easy the machine will be to transport.
Plate width. Most forward-plate units offer a width in the 12- to 24-inch range. Foster says 21-24 inches is the most productive size, generally speaking. Reversible plate machines typically provide a 30- to 35-inch plate size.
MBW Incorporated, a Wisconsin-based manufacturer of compaction equipment, provides an Amplitude Calculator on its website. This tool is designed to help contractors evaluate centrifugal force, frequency and machine weight in concert to really understand how a given machine can perform.
Finally, Foster says you should look at features that enhance machine durability, such as reinforcements that help prevent damage during operation and transport. Base-plate construction is also important. You should look for a one-piece base plate made of strong material such as carbon steel for superior strength and even compaction.
Multiquip's Garcia agrees that the trend is definitely toward one-piece base-plate construction. "The downside of having the base plate and eccentric housing as one piece is that if anything breaks, the replacement cost is more expensive," Garcia explains. "However, the benefits far outweigh the cost. Using a single base plate and eccentric housing enhances durability, serviceability and performance."
Durability – eliminates a potential source of failure such as loosening or broken bolts
Serviceability – no bolts decreases maintenance and repair time
Performance – lowers center of gravity dramatically, improving climbing characteristics, overall control and compaction speed
According to Garcia, contractors are also looking for ways to protect their equipment investments. "The use of digital displays are becoming very valuable aids to equipment owners," he says. "Many manufacturers are starting to incorporate the use of hour meters and tachometers. An hour meter tells just how many hours have been put on a machine, so there is no mistake as to when it needs to be serviced. A tachometer tells the operator or service technician what the real-time engine RPMs are, which can be very useful for troubleshooting machine issues."
Contractor Doug McDuff of Landscape America in Wrentham, MA, is a hardscaping specialist. His crews each have a 4,000-pound reversible unit from Dynapac, along with a smaller unit with neoprene pad from Wacker. As McDuff thinks about his next equipment investment, technological features such as Compatrol from Weber MT, which helps increase efficiency by measuring compaction depth, have his attention. Contractors in today's market are all about efficiency and quality control.
On that note, McDuff finds equipment rental to be a useful tool on larger jobs such as driveways. "We'll rent a vibratory roller on those jobs," McDuff relates. "They are pretty expensive and we don't use them all the time, so it wouldn't make sense for me to buy one."
For the majority of the hardscape work you do, though—like installing paver patios, sidewalks and smaller walls—a plate compactor is an important purchase. Just make sure you buy one with the right balance of power, performance and maneuverability.