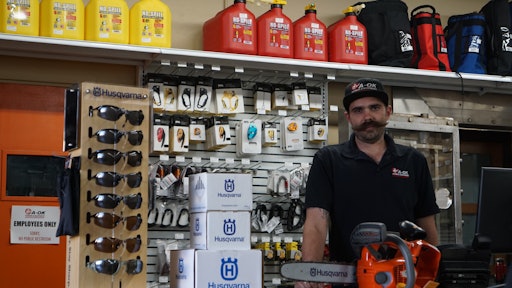 They're still selling far more gas-powered units, but advances in technology and an evolution of customer needs have one southern California dealer feeling good about the future of battery-powered lawn equipment.
Originally founded in 1978, Santa Barbara-based A-OK Power Equipment is now a five-location dealership. Jim Gally, a 30-year general contracting veteran, purchased the business in late-2012 and has proceeded to open three additional locations in Carpinteria, Solvang and Buelton. Susan Frasier serves as general manager and is stationed in Escondido. Susan's son, Matt Lebrun, also works in the business.
"I've been with the dealership for two years now," Lebrun says. "I was originally hired to help get our online business going. For the previous five years, I'd worked at a company selling performance car parts online, so I had experience in that. Now my role at A-OK Power Equipment has evolved into much more than just internet sales. I do have pretty extensive product knowledge because I grew up in a power equipment environment. My mom used to work at another dealership when I was in high school. I worked in the shop."
Due to rapid growth in the product category, some of Lebrun's product knowledge now must pertain to battery-powered equipment. The dealership sells numerous brands including Husqvarna, Stihl, Shindaiwa, Makita and Oregon on the handheld side, along with Toro on the push mower side.
Lithium-ion safari
A-OK Power Equipment has had particular success with the Husqvarna brand—namely its top-handle arborist chainsaw, the T536Li XP. The dealership made a big sale to a high-profile client, the San Diego Zoo Safari Park, which has helped shatter some of the negative stereotypes about battery-powered lawn equipment. After all, if a battery-powered chainsaw could suffice in a demanding application like the San Diego Zoo Safari Park, it could suffice just about anywhere. Additionally, the Safari Park's head arborist, Javier Quiroz, is a very well-respected arborist in the area.
It first took a couple months of convincing to get Quiroz to even try out the battery-powered saws. He'd been using gas-powered chainsaws from another brand. "This line of battery-powered products from Husqvarna is actually what got Javier to come over to the Husqvarna brand," Lebrun points out. "The Safari Park was able to replace their gas-powered top-handle saws with these battery-powered units, which have given them a lot more flexibility in their daily operations. Now they don't have to move certain animals over here to work over there because the noise will scare them."
Getting a demo in Quiroz's hands was essential. That way he could try the saws out and evaluate their performance as compared to their gas-powered counterparts. Once that happened, he was ready to make the switch.
In awe of the saw
Thus far, with respect to battery-powered equipment, the San Diego Zoo Safari Park has only purchased the top-handle saws. But as Lebrun points out, most commercial users will start out with a single product. Once they use that product for a while and grow comfortable that it will consistently deliver on performance, commercial users are inclined to buy additional products—because they've already made the upfront investment in the battery and charger, which can be used interchangeably across the entire lineup of battery-powered products.
"We usually lead with our chainsaws when pitching battery-powered equipment to commercial users," Lebrun says. The rationale? Battery-powered leaf blowers, for instance, have been around a long time. The typical consumer surmises, rightly or wrongly, that although they do a decent job, battery-powered blowers aren't especially powerful. Chainsawing is another story. If you can saw with battery power, you can definitely blow and trim.
Product adoption growing
Lebrun says the dealership has had plenty of customers who've adopted products from throughout the Husqvarna Battery Series, including blowers, trimmers and hedgetrimmers. Noise is a big reason why. Emissions is another.
"Here in the Santa Barbara region, we have some pretty high-end areas," Lebrun says. "A lot of our commercial customers are going to battery because they can run the equipment at all hours because it's much quieter. Some commercial guys come into our stores telling us they simply cannot use gas-powered equipment on certain properties anymore; they either have to get an electric or battery-powered machine or do it all by hand. Santa Barbara has had a ban on gas blowers for at least 10 years now. So that's what is driving a lot of it."
Performance has a little something to do with it as well. Case in point, Husqvarna's 436LiB Battery-Blower was just introduced this past fall. Several of A-OK's contractor customers had been running other brands of battery-powered blowers over the past few years. "With this new Husqvarna model, there is much better battery-management technology," Lebrun says. "There is more power and a longer run time on the same size battery. It's just better for professional users."
Additionally, as more of the larger, more reputable landscape companies adopt battery technology, the smaller companies tend to follow suit. "We'll often have landscape contractors come into one of our stores asking about our battery products because they saw another crew from another company out in the field using it," Lebrun relates.
This is another example of why demos are essential. "The fact is, these battery products are of great quality nowadays," Lebrun says. "Once you can get someone to try it, even a professional user, the products basically sell themselves."
With those Husqvarna top-handle chainsaws, A-OK Power Equipment placed a big order when they first came out in 2014. There was a production disruption with the batteries, though, and the chainsaws didn't sell as quickly as Lebrun had hoped. So he pulled at least a dozen units out of inventory and started giving them out as demos. "Nine out of 10 times it resulted in a sale," Lebrun says.
In more typical fashion, Lebrun relies on his rep from Husqvarna to make sure the dealership is set up with an ample supply of demo units. "We have a full lineup of backpack batteries," Lebrun points out. Still, he and the A-OK staff will get creative when necessary.
"My mother is usually down at the store in Escondido, which is the store that works with the San Diego Zoo Safari Park," Lebrun tells. "In that instance, we just pulled a for-sale unit right off the shelf to give to them to test out. We were confident it would result in a sale anyway, which it did. They came back and purchased several more saws."
Many commercial users are opting for the Husqvarna backpack battery. "You can run a blower or string trimmer for hours and hours with the big backpack battery," Lebrun points out. Two versions of the backpack battery are offered. "I'd say that roughly 20% of our customers are going for the backpack battery. These are mostly the big landscape companies that are doing huge properties like homeowner associations and schools; they are going from job to job and can't stop to charge."
For the typical landscaper, though, a typical-size battery will work. "There's been a promotion running where you get a free second battery if you buy a blower, battery and charger," Lebrun explains. "This way the contractor can charge one battery while he's using another, which will get him from property to property with no downtime."
It's all about coming up with solutions that work for the contractor—the contractor who has to think about noise and emissions regulations, performance requirements and costly downtime.
There's one more thing that today's contractors have to be thinking about: ethanol. "Out here in California, we have a high ethanol content in our gasoline," Lebrun says. "So small engine-powered equipment doesn't really run well to begin with. Good battery technology gives contractors a way around that."
These are all reasons why battery sales are trending up at A-OK Power Equipment. "About 90% of our handheld sales are still gas-powered models," Lebrun says. "But just a couple of years ago, it was just a couple percent battery. As the technology improves, adoption grows."