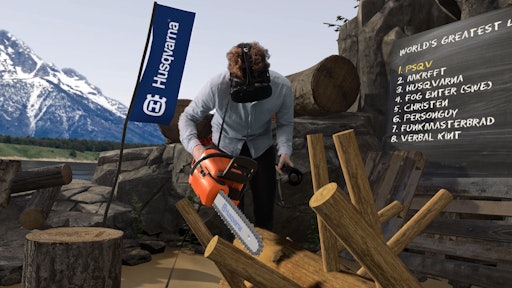 Husqvarna has released a Virtual Reality (VR) chainsaw game – Husqvarna Limberjack. Via Valve's platform Steam, the game is now available to download worldwide for anyone who wants to test their limbing skills and compete for the new world championship title.
Committed to exploring new possibilities that can help improve skills and safety within tree care, Husqvarna, a world leader in professional chainsaws, now enters the virtual world with an online VR limbing game. With the game, Husqvarna hopes to gather insights on how new technology can play a future role in educating and training users on proper product use as well as generate interest for logging.
"VR limbing combines two extremes, one of the oldest professions in the world together with the newest technology available," says Lars Strandell, multiple medallist from the bi-annual World Logging Championship. "Husqvarna Limberjack is fun and educational, and just like limbing in the real world, technique, precision and speed is crucial for productivity and a good result."
How to play. The Husqvarna VR experience brings the player to a beautiful mountainside with a lake where the player has to use a Husqvarna 359 chainsaw to remove 24 branches from a 2.7 meter long log. The player needs to pick up the chainsaw and remove the branches as accurately and quickly. Just like a professional logger, the player needs to limb fast, and with precision. If branches are not removed properly, the player will need to go back and re-do, losing time.
The exhilarating game includes a local as well as a global high-score list, making it fun to compete both in groups at home and online against other VR limberjacks around the world.
The game is optimized for HTC Vive and can be downloaded for free on Steam and also available via http://www.limberjackvr.com.
Husqvarna Limberjack VR Championship – Annual Final in Sweden. At the end of each month, Husqvarna will announce the best Limberjack player in the world for the month, and in August 2017, the 12 best Limberjack players will be invited to the world championships final in Sweden.
About limbing. Limbing is a difficult and time-consuming part of professional logging that requires good technique. It refers to the process of removing branches from a fallen tree before the log is transported away. Husqvarna Limberjack is inspired by one of the five disciplines from the World Logging Championship, a bi-annual competition that gathers the 150 best loggers from around the world. The current world record in real limbing is less than 9 seconds.