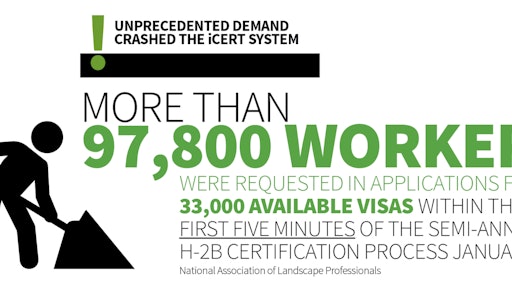 Cautious optimism seems to best sum up the sentiment from several green industry experts heading into 2019. Green Industry Pros spoke with Sabeena Hickman, former CEO of the National Association of Landscape Professionals (NALP); Don Evans, president of LandOpt; Kris Kiser, president and CEO of the Outdoor Power Equipment Institute (OPEI); and Kevin Kehoe, founder and managing partner at Aspire Software to get a pulse on what's going to drive the green industry in 2019 and beyond—whether it be economic and market influences, regulatory pressures, equipment trends, or more likely, a bit of all of the above.
Money Talks: The Economy
"The fundamentals of the economy are strong," according to Kiser. "Interest rates are good, but the uncertainty of the political environment gives me great pause. So much of where the economy's likely to head depends on the ability for our elected officials to govern. We're a regulated industry. The landscaper needs equipment, but a lot of that equipment is regulated."
Overall, the business climate is positive, although it remains to be seen whether the consumer confidence that shrunk during the recent partial government shutdown is going to bounce back. The political rift, which recently caused a regulatory stalemate on many issues facing landscape contractors and outdoor power equipment (OPE) dealers, is still standing on shaky legs.
As of press time, President Trump negotiated to temporarily reopen the government, at least until February 15, after 35 days of a partial shutdown, to reignite border wall discussions and lessen the burden for federal workers who already missed two paychecks. "But if Republicans and Democrats cannot reach agreement on wall money by the February deadline," according to The New York Times article "Trump Signs Bill Reopening Government for Three Weeks in Surprise Retreat from Wall," President Trump "indicated that he was ready to renew the confrontation, or declare a national emergency and bypass Congress altogether."
The threat of government shutdown and the labor shortage are going to continue to be prohibitive for the green industry in the upcoming year. Kiser believes that the unpredictability of the political landscape, and the resultant instability it creates for the economy, are going to dominate landscape contractors' and OPE dealers' concerns in the new year. It's difficult to strategize a business model when you're uncertain what tomorrow may bring. He asks, "Is the economy going to be strong? Is housing? Are folks going to be hiring landscapers? Are people going to be looking to buy equipment or enhance their inventory? So much of that is predicated on the economy. What are interest rates? What does the foreclosure rate look like? So much of that is driven by government policies.
"One of the critical challenges now in the landscape community—finding labor, largely rising out of the H-2B problem—is a political problem. If we can't iron out some of the instability, it's going to be an ongoing challenge. If the government, Congress and the administration can't sort these things out, we're looking at a further destabilized marketplace. Currently, there's a lot of instability and business likes stability."
While the volatile political climate may be worrisome, there are many positive trends to report as well. Kehoe reassures, "I think it's hard to ignore interest rates because they have a big effect on the housing market and I don't think that gets worse. There is a pretty big backlog of work that is waiting to be done because there is more demand than supply. My sense is the market is going to do well this year."
In fact, Kehoe predicts that, because demand for landscaping labor is outstripping supply so much, contractors are going to be able to charge more for their services. Lots of landscape contractors are not even bidding on some projects because they don't have the labor capacity to tackle them. What may seem like an exorbitant price to a contractor may seem reasonable to a determined consumer. "If you are a client, whether commercial or residential, and you want it done, you're going to pay. I don't expect a spectacular price gain, but enough to cover the cost increases incurred by labor," says Kehoe.
Evans suggests a middle-of-the-road approach to business this year, despite the strong market. "While project sales are still bullish, our coaching to the LandOpt Network focuses on proactively growing your maintenance base, your recurring revenue stream, through a targeted marketing and sales approach," he cautions. "While your project revenue typically rises and falls with the economy, a strong recurring base an sustain your business through the down cycle and position you to take early advantage on the next upswing if you are properly communicating with your clients. Pricing should be in line with the value and quality you deliver, so it should always be rising."
Evans emphasizes the cyclical nature of the economy, so although some may feel confident, riding high on the economic tide, it's only a matter of time before that wave breaks. He advises to temper confidence a bit in case the economy right-sizes itself sooner than expected. "While I am typically an optimist, we should not forget that economic corrections are as certain to happen as death and taxes. Whether that is in 2019 or later, we should manage and grow our businesses in a sustainable way to assure that we can survive and even thrive through any correction."
By the Book: Regulations to Watch
Your next zero-turn could cost more. Kiser believes this administration's trade policies, and tariffs on steel and aluminum in particular, could drive up costs in the green industry as OPE manufacturers can only absorb so many cost increases without having to pass on some of that cost to consumers. He also envisions the trend toward restricting emissions and noise as continuing in the new year—from ordinances restricting the hours of operation of OPE to all-out leaf blower bans. "The reason leaf blowers are ubiquitous is because they work well, but we are seeing equipment bans, largely along noise lines, so that's troubling. We're also coming into an emissions time of change in the regulated community on the engine side of the equation," he adds.
Kiser is referring to the California Air Resources Board's (CARB's) proposal to update emissions standards for the state's small off-road engines. According to the board, "In 2020, the CARB will consider new emission standards to achieve additional reductions from small engines to help California meet its goal of reducing smog-forming pollutant emissions from mobile sources by 80 percent in 2031. Significant emission reductions will be achieved through a combination of regulatory and incentive approaches, and a major shift to zero-emission electric equipment will be needed to meet the 80 percent reduction goal."
Kehoe is most concerned about the costs of environmental regulations for landscape contractors, especially in states like California where manual labor must substitute for banned or otherwise restricted equipment: "It adds tremendous cost if you have to substitute manual labor for machine labor. Noise regulations increase the price for your customers because it takes longer to sweep and rake than it does to use a backpack blower to blow off the property." He is concerned about restrictions on pesticides and herbicides as well, but he credits the green industry with having the ingenuity to quickly figure out organics, even if they don't perform as well as the synthetic formulations and cost more. He elaborates, "You end up paying more for [organics], but ultimately, it's just like anything else. If you can't do it anymore—you can't get H-2B labor, for example—you find another way. Likewise, if you can't use certain kinds of chemicals, you find another way, even it's a hassle form a cost point of view."
Evans' opinion is that there are many regulations on the horizon and, many times, it's better to just get ahead of them, not unlike social preferences, such as the recent demand for organic materials and products. "Organics is a hot topic—a great way to do well by doing good! Issues such as noise, emissions or chemical use will continue to be part of the agenda, whether driven by regulation or increasing social pressure. We encourage our LandOpt Network members to address these issues on a proactive basis and then shine a light on your results—it's a great way to differentiate your organization in a crowded market," he recommends.
A Labor of Love: Employee Hiring and Retention
According to a USA Today article entitled, "Five Housing Takeaways: What Should You Expect from Home Sales in 2019?," "Forget fevered bidding wars and snap home-buying decisions. Slower and steadier will characterize next year's housing market." While the market for landscaping and other home services is going to remain robust as housing continues to thrive, albeit more slowly, the green industry is still going to be hamstrung by the workforce shortage.
A business can't operate efficiently without reliable labor, but the green industry is competing with many other industries, so the workforce shortage isn't going to resolve itself any time soon. Hickman concurs, "Finding and retaining quality employees is the challenge that keeps landscape professionals up most at night because they need employees to handle their increasing workload."
How many landscape contractors do you know who turned away work last year? Prepare for more of the same in 2019 unless something drastic changes. "The critical issue that comes up in most every conversation is the shortage of labor," Evans agrees. "With unemployment at record lows, and economic growth driving more demand for project and maintenance services, our industry needs capable and willing labor to get the work done. The labor shortage is both a quantitative problem (we don't have enough warm bodies) and a qualitative issue (we don't properly train the bodies we have). Until we get a solution to the numbers problem, our focus at LandOpt is on getting the most out of our teams through clear organizational structure, systems and processes—improving the productivity of our teams allows us to get more work done with the labor resources we do have. Rising wages are inevitable as we compete for limited labor supply—but rising wages don't solve the problem."
Kehoe takes Evans' idea one step further. He thinks "the finding, acquisition and retention of labor" is the first part of a two-part problem. The second obstacle is the expense of escalating wages and more training to bring new hires up to speed, in part to help mitigate another extra cost, damage to equipment. He's not waiting on a break in the H-2B discussion that's been ongoing as part of the immigration and border security controversy. He says, "I think the tenor of the Democrats and Republicans on immigration is not even reasonable anymore. People are dug in on both sides."
So while the American population is wringing their hands over the larger immigration debate or even more hotly contested border wall, the green industry is playing the pawn in getting a response to the H-2B worker visa program to help address the labor shortage. Evans notes, "While I am extremely pleased with the advocacy work the NALP has been doing on H-2B, I caution anyone who is banking on H-2B workers in their workforce. Make sure your plan 'not-2B' is adequate to carry you through.
"If you know your margins, focus your limited resources on the higher and more sustainable accounts. And then communicate, communicate, communicate with your entire client base on what you are doing and why. Rising wages are inevitable when labor resources are tight. The critical issue is to know your pricing and your market to assure that you are passing these increased costs through instead of eroding your margins. Unlike a fuel surcharge, the labor shortage and increasing labor costs are not short-term issues. Make sure your pricing accounts for it."
That's part of why Kehoe doesn't think that the increasing of the minimum wage in some states is going to affect the green industry much. "In our experience, looking at the data, more than 90 percent are paying above minimum wage in every starting job anyway. The wages are going to continue to rise and not so much to get, but to keep, people because construction work [and other competitive industries] pays more than landscaping. I think that puts a lot of pressure on retaining people. I think we're going to see a lot more people figuring out how to live life without H-2B and, in fact, doing it fairly successfully. Like anything else in life, if something stops working, you figure out a way to work around it. You're going to have to still get the work done, so you put some more emphasis on retention and training, and paying people more."
Gearing up for 2019: Equipment Trends
Because the labor shortage is hemming in landscape contractors' ability to expand, Kiser predicts robotics and remote-control technology are going to continue to grow in popularity, while coming down farther in price. In an environment where you can't rely on a consistent and available workforce, equipment that can help keep you productive is going to look increasingly attractive. He says, "Robotics and remote-controlled units may be the next big thing, in many ways, just to deal with the workforce shortage. The robots are predictable." (Speaking of predictability, the OPEI is set to introduce its first ever robotic mower safety standard later this year, which could catalyze even further development in this space.)
"We expect robotics to become more and more interesting, especially in cases where it can supplement labor," confirms Evans. "These are good opportunities for differentiating your company from others—explaining how you are always looking for better ways of working signals that your team is capable of managing your client's property."
Hickman echoes, "Battery and alternative power-sourced equipment will continue to grow, as well as robotic mowers. Any equipment that contributes to increased efficiency and productivity in the field will trend, as well as any equipment that helps reduce the labor needed to complete the job."
Kiser acknowledges it's hard to ignore the battery trend in the marketplace with "the emergence of a wide range of consumer and commercial offerings by a wide range of manufacturers," especially considering the market was traditionally dominated by only a few companies. According to him, this battery blitz is going to further drive down prices, making them even more alluring, in addition to the fact that they're becoming lighter and ergonomically easier to handle, with more consumer options.
Utility vehicles are going to continue growing in popularity as well because of the versatility they offer landscape contractors. They have a smaller profile—not to mention a smaller price tag—than a pickup truck, so you can travel, work, haul and load in tighter spaces. Kiser summarizes, "They work, they're easy to operate and they serve all kinds of purposes, so more are finding their way into the marketplace, price points are coming down, and more options and more accessories are becoming available."
At Your Service: Technology and Service Collide
Kehoe mentions that, although approximately 95 percent of his clients service their own OPE, "the big guys are leading the charge in getting rid of the shop. That's going to be an industry trend because the shop is a black hole for most companies. They have no idea what goes on in there." Having a shop in house lures some landscape contractors into a false sense of security that, because it's under their control, it's more cost efficient than outsourcing service to a dealer, "when really, it might be more expensive to manage that shop than you think," according to him.
On that note, however, Kehoe predicts that the green industry is going to move toward smarter management of the shop by taking advantage of the opportunity that unprecedented connectivity presents when tethered to a fleet of landscape equipment. He says, while landscape contractors always seem to know where they're making and losing money on labor and materials, they turn a blind eye toward the equipment, which can be a big missed opportunity.
He elaborates, "If you look at the profit and loss statement of a typical contractor, anywhere from 13 to 14 cents of total dollar sales costs they have is related to equipment, so the cost of the mechanics, the parts, the space in the shop. It's the actual equipment and the life of it. The only way to manage that is to have the technology to drive the data so you can understand what pieces of equipment are being utilized the most. Most people have more equipment than they need just to make sure they're covered. Which pieces of equipment are breaking down the most? Which guys are breaking the equipment the most? Without the technology, most contractors are only guessing what's going on in terms of managing that 13 to 14 cents. If you could make that 12 or 10 cents, that's big. Track the data. Plug in a telematics device on a mower. Technology allows you to do 30 to 40 percent more work. I can manage more clients. I can get more done in a day."
Amongst the political turmoil, overall strong economic indicators, mounting regulatory pressures, and many captivating equipment and technology trends to monitor, 2019 may be a mixed bag. But remember, with change comes opportunity. Just approach that opportunity with a healthy dose of cautious optimism.