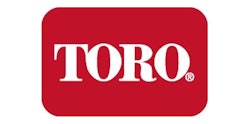 The Toro Company has reported net earnings of $129.5 million, or $2.14 per share, on a net sales increase of 4% to roughly $1.96 billion for its fiscal year ended October 31, 2012. In fiscal 2011, the company delivered net earnings of $117.7 million, or $1.85 per share, on net sales of $1.88 billion.
For the fourth quarter, however, Toro reported a net sales decrease of 7.8% to $339.3 million.
"The Toro Company completed another record year with new highs for revenues and earnings per share," said Michael J. Hoffman, Toro's chairman and chief executive officer. "While pleased with our performance, it could have been even better if not for limited snowfall around the world that reduced snowthrower sales by almost 50%. Despite the weather challenge and a continued sluggish worldwide economy, Toro made tremendous progress in 2012. New products and good execution helped grow our positions in golf equipment, landscape contractor and grounds, micro irrigation and residential mowing. Our investments in acquisitions to enter new markets and expand capacity for micro irrigation are contributing and will fuel growth into the future. And our efforts on productivity are starting to gain traction, as we delivered another significant step towards our Destination 2014 operating earnings goal of 12% by the end of fiscal 2014.
"For the quarter, retail sales activity for many of our products were strong this fall, which helped get field inventories in good shape heading into the upcoming season," Hoffman continued. "The majority of the decline in sales for the quarter resulted from the lack of snowthrower shipments due to soft preseason demand. Other major product categories showed sales growth in the quarter, with positive momentum heading into the new fiscal year.
"We are early in our fiscal 2013, and mindful of the challenging world-wide economic environment and, as always, acutely aware of the volatility of Mother Nature. Nonetheless, the outlook for our end markets appears promising. Golf rounds and revenues were up last year, housing and construction are showing signs of improvement, and the agriculture market continues to adopt more efficient methods of irrigation. While we hope for better weather for our business, that is out of our control. We will concentrate on those actions that have made us successful: developing innovative products, serving our customers, executing in the marketplace, and engaging our employees to improve profitability as we pursue our Destination 2014 goals of additional revenue growth and further operating earnings expansion."
OUTLOOK FOR 2013. The company expects revenue growth for fiscal 2013 to be about 4-5%, and net earnings to be about $2.35 to $2.40 per share. For the first quarter, the company expects net earnings to be about $0.40 to $0.45 per share, positively impacted by anticipated accelerated purchases of diesel products in advance of the Tier 4 price change.
Professional Segment Results
Professional segment net sales for fiscal 2012 totaled $1,329.5 million, up 7.3% over last year. Sales of golf equipment and irrigation were up domestically on continued demand as golf courses replaced equipment and renovated aging irrigation systems. Landscape maintenance equipment increased on the success of new products and retail demand in markets not impacted by the drought. Micro irrigation sales in the Americas increased significantly on improved capacity and dealer expansion that enabled Toro to better meet growing demand for agricultural irrigation. Recent acquisitions also contributed incremental sales for the year. International economic issues, particularly Europe, negatively impacted the sales of most professional businesses for the year. For the fourth quarter, professional segment net sales were $228.6 million, up 5.6% from the comparable fiscal 2011 period.
Residential Segment Results
Residential segment net sales for fiscal 2012 were $607.4 million, down 2.6% from $623.9 million in fiscal 2011. Snowthrower sales were down about 50% for the year due to the lack of snowfall last winter and the resulting soft preseason demand in the fourth quarter. Shipments of walk power mowers and riding products were up for the year due in part to the successful launch of the TimeMaster 30-inch walk power mower. For the fourth quarter, residential segment net sales were $102 million, down 28.9% from the comparable fiscal 2011 period due to reduced demand for snowthrowers.
Residential segment earnings for fiscal 2012 totaled $57.9 million, up $3.5 million or 6.4% from fiscal 2011, when a pre-tax charge of $4.7 million to account for one-time costs associated with a rework issue affecting walk power mowers resulted in a decline in earnings. For the fourth quarter, residential segment earnings were $6.7 million, down from $11.9 million in the comparable fiscal 2011 period.