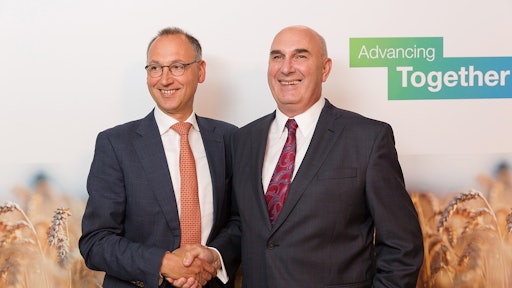 As reported by NPR, the German pharmaceutical and chemical giant Bayer says it will buy U.S. seed seller Monsanto for $66 billion in an all-cash deal that will create the world's largest supplier of seeds and agricultural chemicals.
The takeover offer, which Monsanto has accepted, is $4 billion more than Bayer had initially offered and a 44% premium over Monsanto's stock price on May 9, a day before negotiations began. Bayer says it will be taking on $57 billion in debt to finance the purchase.
The two companies have little product overlap, NPR's Jim Zarroli explained. But regulators might still be wary of the purchase, based on the combined control the company would have over agricultural products.
St. Louis-based Monsanto is the world's largest seller of seeds and the leading producer of genetically modified crops.
Bayer, meanwhile, might be familiar to many for its aspirin products — but it's also a major player in pesticides. Bayer has 102,000 employees and $41 billion in revenue last year. Like Monsanto, it sells agricultural products such as seeds and pesticides. That's in addition to a plastics business, diagnostic imaging products, health products for animals and a biotech division."
The purchase is part of "a dramatic wave of consolidation among the companies that sell seeds and pesticides to farmers," as NPR's Dan Charles puts it.
"Two other such deals are currently in the works," Dan explains. "DuPont is merging with Dow, and the China National Chemical Corp. is buying Syngenta, which is currently the world's biggest seller of agricultural chemicals."