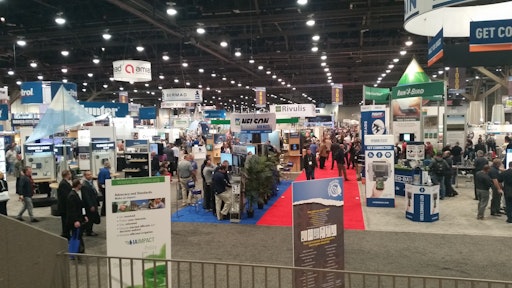 The Green Industry closed out a great 2016 with its final major event of the year, the Irrigation Show & Education Conference held December 5-9 in Las Vegas. Attendance was up double digits, exhibitor presence was strong, and new product introductions were plenty. The show was also highlighted by several firsts.
The Irrigation Show co-located with the National Ground Water Association's Ground Water Week. This first-ever co-location brought two groups of professionals—each charged with sustainably harvesting and utilizing a vital natural resource—together for a series of social, networking and educational opportunities.
"Co-locating our shows was a path we started on several years ago," says Deborah Hamlin, CEO of the Irrigation Association. "We share many common interests."
The opening keynote address was delivered by Peter McCornick, PhD, an internationally known expert on water resources and irrigation engineering. He spoke about the topic in detail, addressing the fact that global demand for water in agriculture is expected to double by the year 2050. This is creating a real need for improvements in irrigation infrastructure, along with more efficient technologies and adoptable best practices.
Another show first was the IA Pitching Mound. Modeled after the TV show "Shark Tank," minus the actual investment offers, a handful of budding inventors and entrepreneurs were each given 5-10 minutes to pitch their new product to a panel of industry experts, who then asked questions and offered feedback on the product. Many of the pitches drew shoulder-to-shoulder crowds—contractors and others who remain eager to learn about all of the products and technologies available to help them irrigate lawns and landscapes more efficiently and responsibly.
New show features aside, many perennial favorites also took place, including the Drought Summit, CAD Learning Lab, Oasis networking sessions, ARCSA Rainwater Harvesting Pavilion, Pond & Waterscape Pavilion, and technical and business education.
New technologies everywhere you turn
Another perennial show favorite is the New Product Contest. Many show attendees say the main reason they attend is to see new products. There certainly was no shortage of opportunity at the 2016 show. More than 300 exhibitors packed the exhibit hall, the majority of whom were showing new products. Dozens of those products were entered into the New Product Contest.
Hydro-Rain took top prize in the "landscape irrigation" category with its HRC 400 B-hyve Pro WiFi Controller with Smart Meter Link. Illumicare earned top honor in the "landscape lighting category with its LED MR16 Single Lens with Replaceable Optics.
The GeoRipper MiniTrencher won best new product in the "specialty landscape" category. The GeoRipper is a unique handheld, portable trencher. Similar in appearance to a chainsaw, it can dig 14 to 25 inches deep at 1.5 inches wide. The GeoRipper also features self-sharpening chains, can cut tree roots up to 3 inches in diameter, and disperses dirt on each side of the trench. Read more at greenindustrypros.com/12286769.
Here's a look at a few other notable products that were drawing big crowds on the show floor.
Ecoturf Midwest Staple Ease Irrigation Pro driver features a custom design that makes installing staples over drip line irrigation easier. The driver features an easy-load system that helps contractors get up off their knees and improve productivity and installation quality. Made entirely in the USA, the Irrigation Pro Driver works on 4-, 6- and 8-inch eleven-gauge steel staples. Read more at greenindustrypros.com/12281703.
Magnation Water Technologies says its water softening products help provide "Rainlike Water for Turfgrass" by transforming water quality to a softer, more vibrant and productive state. Bust salts improve soil infiltration, improve moisture retention and boost soil health—resulting in 20% better turf quality with 20% less water, the company assures. The improvement in soil health, along with a reduction in drift, also help contractors reduce fertilizers and pesticide inputs. Read more at greenindustrypros.com/12286856.
Rain Bird LNK WiFi Module. Rain Bird has made remote access and control available for residential and light-commercial irrigation systems with its new LNK WiFi Module, a small device that plugs into an accessory port on Rain Bird's new ESP-Me and ESP-TM2 controllers. Contractors can also install the module with existing ESP-Me installations after swapping out the controller's old front panel with the new WiFi-compatible version.
The LNK WiFi Module provides complete irrigation system management via a free downloadable mobile app. The module receives weather information from the internet, automatically adjusting system run times on a daily basis. It also provides users with notifications on their mobile devices that assist with troubleshooting, system diagnostics and operation while providing meaningful weather event alerts. Read more at greenindustrypros.com/12286870.
H2O Flow Pro. Bret Berry was one of several irrigation industry entrepreneurs who pitched a new innovation at the IA Pitching Mound. Berry has been an irrigation contractor in Tyler, TX, for more than 30 years. For the past three years, he has also been the CEO of H20 Flow Pro.
The patent pending H20 Flow Pro system uses a two-way mesh radio for real-time monitoring of an irrigation system. A wireless transmitter relays flow measurements to the flow controller. When high flow is detected in any one zone, irrigation is suspended on that zone—helping the customer to save money on wasted water, and helping the contractor to remain proactive and provide better customer service when irrigation components fail.
The H20 Flow Pro controller is designed to work with virtually any irrigation controller on the market, connecting zone by zone. When the flow controller detects high flow, it communicates with the irrigation controller to shut that zone down. The contractor then receives an immediate email or text alert.
Berry has partnered with a new product design and development firm in Texas to manufacture the H20 Flow Pro. He is also in the process of establishing product distribution.
Next year's Irrigation Show will take place in early November in Orlando, FL. Visit irrigation.org for more information.