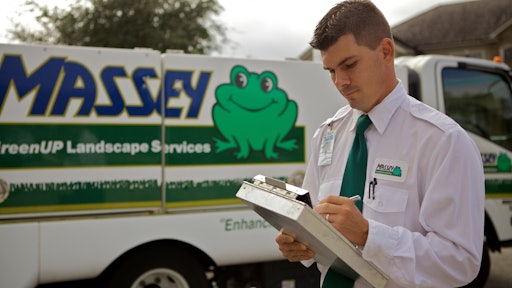 Would landscape contractors be surprised to know that 38 percent of United States homeowners confess that they never water their lawn? However, according to the article, "The Water Short List: The Most Effective Actions U.S. Households Can Take to Curb Water Use," lawn irrigation uses more water on average than any other residential water-conserving practices, such as taking shorter showers.
Landscape irrigation services not only provide customers with a healthy, lush lawn, but also help promote water conservation that reduces water waste and saves money. Massey Services recognizes the need for properly maintained irrigation systems and sustainable irrigation practices.
"Massey offers residential and commercial services of pest prevention, termite protection, landscape care, irrigation maintenance and mosquito abatement to more than 500,000 customers," says Adam Jones, vice president director of quality assurance with Massey.
"Our irrigation maintenance program became one of our primary service offerings in 2007. The program complements our landscape care service, which includes lawn, tree and shrub care," Jones notes. "Promoting the irrigation program helps improve customer retention. The diversification had a dramatic impact on the reduction in customer cancellations because it allows us to control one of the primary causes of poor landscape performance," Jones claims.
Massey Services looks to its current client base to promote its irrigation services. "We focus on communicating to our existing landscape customers the importance of irrigation maintenance," Jones says. "This includes the benefits of having a recurring irrigation maintenance service and how important it is for the health of the landscape."
Not only can current customers add irrigation maintenance services, but they can also expect an ongoing relationship with Massey Services. Jones says, "We focus on recurring service rather than just one-time revenue opportunities. The majority of irrigation companies offer repair service, but not a recurring maintenance."
Another way Massey stands out from the competition is by offering free estimates for irrigation maintenance services. "Our irrigation maintenance service begins with an inspection of the existing system. Then we provide a proposal to bring the system up to proper operating condition," according to Jones. "We believe, in order for the landscape to look its best, it's important to have an ongoing irrigation service to ensure the irrigation system is operating properly."
"Once the existing system is operating properly, Massey proposes improved system design and components for water efficiency. Our goal is to reduce wasted water, which means we only irrigate the landscape at the right depth so we don't underwater or overwater. We focus on conserving this natural resource," Jones says.
Such conservation efforts include hydrozoning, hydraulic modifications, improved controls and awareness of trends in irrigation systems. "Massey's approach to conservation is achieved through two processes—hydrozoning, meaning we separate the lawn areas from shrub areas and water them separately because their water needs are different, then developing customized landscape design plans and recommending appropriate plants that reduce water needs in the landscape," mentions Jones.
Furthermore, Jones notes the significant trends in irrigation systems. "The first trend is evapotranspiration-based (ET-based) controls, which help reduce unnecessary irrigation cycles and the amount of wasted water. The second trend is retrofitting existing systems with new nozzle technology that has significantly lower precipitation rates."
According to the article "Energy-Efficient Homes: The Irrigation System," "ET is the rate at which water may be removed from soil and plant surfaces to the atmosphere by a combination of evaporation and transpiration." In other words, ET controls allow users to adjust their irrigation system to increase or decrease the frequency of watering based on the weather and ET measurements.
Over 500,000 Satisfied Customers and Growing
Providing services to more than 500,000 customers from service centers throughout Florida, Georgia, Louisiana, Texas, South Carolina, North Carolina and Oklahoma, Massey Services improved its overall customer satisfaction rating with the irrigation program.
"When we first launched the irrigation maintenance program, our goal was to cross-sell 5 percent of our existing landscape customer base. Then we increased it to 10 percent when we saw the success of the program," Jones says. "Today we're at 19 percent customer penetration of our existing landscape customers and our plan is to continue to improve that penetration. By adding this service to our wheelhouse, it ensures we have more satisfied landscape customers."
Massey Services continues its commitment to customers through values and quality. "Massey Services is rooted in standards. In Florida, we follow the Florida Irrigation Society standards and specifications," Jones states. "We are also a proud Hunter Industries-preferred partner and the overwhelming majority of our product specifications are Hunter specifications."
Additionally, Massey Services trains its irrigation specialists to focus on the customer experience and emphasizes ongoing professional development. "We don't necessarily look for people with experience, but instead focus on image and attitude, and then train them on how to do the job," Jones says. "Our training program includes initial training, followed by ongoing team member development on a weekly, monthly and annual basis."
Jones contends that the customer experience is key to any new landscape contractor looking to work in the irrigation market. "The best advice is to focus on building a strong ongoing customer relationship with the intent of recurring service to customers," he suggests.
Customer service isn't just relegated to customer interactions either. Financial savings are also an added benefit of an efficient and upgraded irrigation system. "Energy-Efficient Homes: The Irrigation System" indicates that homeowners can spend an extra $5 to $25 per month due to a poor or leaking irrigation system because "the average residential irrigation cycle consumes several thousand gallons of water during each irrigation event."
Besides saving customers money, Massey's irrigation program intends to save water. According to its website, the irrigation service can reduce up to 30 percent of water waste. Jones reinforces Massey's commitment to conservation by stating, "We are actively working with industry experts and regulatory organizations for continued enhancements that will drive improvements in water conservation."
Whether customers are looking to save their landscape, their pocketbook, the environment or all three, an irrigation program from a trusted provider seems to be an all-around great answer.