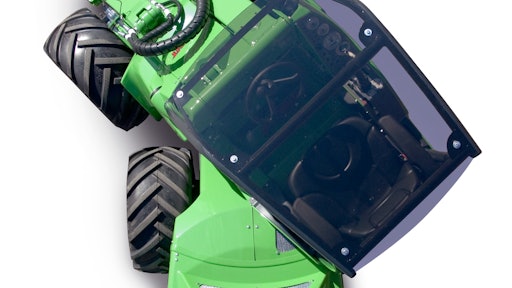 Avant Tecno, an international loader and attachment manufacturer based in Finland, established its presence in the U.S. market in 2012. It proved to be ideal timing. The landscaping industry was already showing resurgent signs of life following the 2009 recession. And as the economic recovery continued, Avant Tecno continued to grow as well.
"Avant Tecno USA started in May 2012," says Jukka Lyly-Yrjänäinen, president. "Since then, we expanded our sales and support team. A few years ago, we moved from our original facility in Elk Grove Village, Illinois, to our present facility in Arlington Heights, Illinois. We needed that larger facility to accommodate our growth."
Avant's strongest geographical areas are the Northeast and Midwest. Its presence is now strengthening in the Southeast and West, as well as Canada. "We started with one regional sales manager. Now we have five, one for each region," Lyly-Yrjänäinen says. "That helped us grow our dealer network. Our initial goal was to establish 250 to 300 dealership locations. We're about halfway there, which is right where we hoped to be at this point."
A Unique Product with Coveted Productivity Gains
The Avant product is known as an articulated compact loader. Unlike a traditional skid-steer loader, the front and rear halves are two separate pieces joined in the middle. When the operator steers the machine, the loader's body rotates on this central point. This allows the rear wheels to follow the front wheels, enhancing traction, stability and maneuverability.
There's another important benefit, Lyly-Yrjänäinen points out. "Because of their articulating design, which reduces strain on the loader body, Avant's loaders can be built much smaller and lighter."
Avant currently offers six series of loaders ranging from roughly 40 to 56 inches wide. "Our loaders can fit into tight places like backyards and walkways," Lyly-Yrjänäinen relates. "Our loaders can also use a smaller horsepower engine, which further reduces overall weight. Many loaders weigh 6,000 to 8,000 pounds. Ours weigh 1,500 to 5,000."
A smaller engine also translates into serious fuel savings—as much as 80 percent, according to Lyly-Yrjänäinen. Also as a result of the lighter overall machine weight, Avant equipment operators typically experience up to 80 percent less tire wear. "We're talking about significant savings—several thousand dollars a year in operating costs," Lyly-Yrjänäinen says.
Another benefit of articulated steering has to do with the damage done to existing lawns. With an articulated loader, it's almost non-existent, Lyly-Yrjänäinen states. This is important for landscaping or tree removal projects on existing homes and businesses. "You don't have to spend half a day laying down plywood," Lyly-Yrjänäinen says. "When the project is complete, you don't have to go back for cleanup because there's no damage to the grass. We often hear that a contractor using one of our loaders can get a three-day job done in two days, or do a job with a one or two guys instead of four."
Getting a Load of This Nimble, Yet Durable Design
A lighter weight doesn't suggest a crippling lack of power, Lyly-Yrjänäinen points out. Since the entire body on an articulated loader rotates, as opposed to just the front wheels, the front axle remains solid and can handle a heavier payload.
"Our machines can lift almost their own weight," Lyly-Yrjänäinen says. "When you're talking about the daily average load for most landscaping applications, our machines get the job done."
"Tree work can be hard and these machines help reduce the physical toll on our tree crews," according to August Hoppe, co-owner, president and general manager of Hoppe Tree Service in West Allis, Wisconsin, an Avant loader user. "They are low-impact on lawns and pick up a surprising amount of weight."
The landscape contractor who benefits the most from an articulated loader is one who performs a variety of tasks. "If all you're going to do is heavy lifting, you'd be better off with a different type of machine," Lyly-Yrjänäinen says. "Our strength is the multi-purpose approach with great maneuverability and visibility, and lower operating costs.
"Typically for most equipment manufacturers, replacements parts represent roughly a third of the business," Lyly-Yrjänäinen continues. "For Avant, it's in the 6 to 8 percent range. That says a lot about the durability of our machines, along with the maintenance needs."
Related to operating costs, the Avant articulated loader is relatively easy to learn how to operate—an important consideration in a tight labor market—Lyly-Yrjänäinen says. "You sit nice and high with great 360-degree visibility. You steer the steering wheel with your left hand and operate a joystick with your right hand. Each loader also has two pedals for forward and reverse."
Same Core Machine, but with Evolving Options
Avant's product line continues to expand with more new models on the way. "A couple of years ago, we introduced our first dual-speed units," Lyly-Yrjänäinen says. "From our 600 Series, the single-speed Model 635 can travel 9 MPH. The dual-speed Model 640 can travel 14 MPH."
Avant's biggest loader, the 700 Series, also includes a dual-speed option, enabling the operator to travel 18.5 MPH.
"This spring, we're introducing a dual-speed unit from the 500 Series," Lyly-Yrjänäinen mentions. The 500 Series represents the middle of Avant's lineup. "With this size, the operator can now travel 12 MPH as opposed to 7.5. When looking at the price difference between our 500 and 600 Series, I think a lot of snow contractors are going to love this machine. The 500 Series is already popular in many applications, including sidewalk snow removal. The addition of dual speed should attract many more end-users."
Another recent development from Avant is its foray into all-electric equipment. The company introduced its first battery-powered machine, the e5, at the Green Industry & Equipment Expo (GIE+EXPO) in October 2017. The loader is powered by a lead-acid battery and produces zero emissions.
"Our new e5 has a 1,984-pound lifting capacity. And within the next year, we'll introduce an even more powerful version with the e6, which will be powered by the latest in lithium-ion battery technology," Lyly-Yrjänäinen reveals.
As the Avant product line broadens to include bigger models, faster models and now all-electric models, the core design of the machine has not changed. That said, the company is always tweaking here and there to add value for end-users.
"We are continuously upgrading our loaders," Lyly-Yrjänäinen says. "For instance, Avant has a hydrostatic drive system. There are no axles. All four wheels have individual hydraulic drive motors. Also, all attachments are running with auxiliary hydraulics. We improved our hydraulic system, reducing the number of hoses and connections. As a result, we have better performance and less heat buildup."
With these features and capabilities, articulated loaders, pound for pound, might be worthy of your landscaping fleet.
Companies in this article