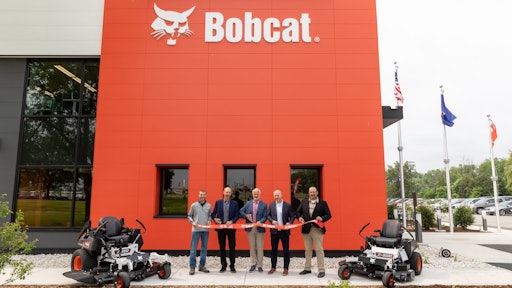 Bobcat Co.
Bobcat completes multimillion dollar renovation in Wisconsin
Bobcat Co. celebrated its $5.3 million renovation at its Johnson Creek, Wis., location.
The Johnson Creek facility manufactures mowers, turf and grounds maintenance equipment.
"We continue to make investments in our facilities and operations, as part of our commitment to support our employees with a collaborative, inspiring workplace and to serve as a strong community partner where we operate," said Mike Ballweber, president, Doosan Bobcat North America.
The investment in the Johnson Creek facility modernized the office and employee spaces with an open-concept design, which includes multiple meeting and conference rooms, updated furniture and an enhanced employee break room.
The renovations are consistent with the interior design, finishes and furnishings of other Bobcat locations throughout North America. Featuring open seating and no cubicles, the space is intended to encourage collaboration, drive innovation and support cross-functional teamwork. As an ode to its Wisconsin location, the facility's meeting rooms are named for various local wildlife such as Badger, Whitetail Deer, Red Fox, Sandhill Crane and Bald Eagle.
The renovation additionally transformed the former employee break room into a more versatile and welcoming café area. Exterior building signage also received a refresh aligned with Bobcat facility branding throughout North America.
Ewing expands in Texas
Ewing Irrigation & Landscape Supply added a new location in Hockley, Texas.
Ewing Hockley is the company's 13th location in South Texas and its 41st in the state. It's also Ewing's first superstore in the state, featuring both the branch that opened today and a bulk materials yard scheduled to open within the next three months, Central Territory President Sean Wimble said.
Ewing Hockley is well-stocked with quality irrigation, drainage, lighting, outdoor living, artificial turf, agronomics and sports fields products from such vendors as Rain Bird, Hunter, ADS, NDS, Landscape Products, FX Luminaire, Outdoor Bistro, Turf Distributors, Bonus Crop Fertilizer and Profile Products.
"We are proud to serve residential and commercial contractors in this growing area, including the Bridgeland and Towne Lake master-planned communities, as well as additional new communities being developed in Harris and Waller Counties," Ewing South Texas Regional Manager Leon Garza said.
Pursell Agri-Tech, Marion Ag Service team up
Pursell Agri-Tech and Marion Ag Service entered into a strategic marketing agreement that will extend availability of controlled-release fertilizer in the western eleven states.
The agreement encompasses market exclusivity of PurKote controlled-release fertilizers through Marion Ag agronomic distribution and blending services within the region. The two organizations have partnered to develop a predictive release software called MASterGraph, which will assist in developing custom-tailored nutrient delivery plans that improve crop, environmental and financial outcomes for agricultural, turf and ornamental customers.
"Our vision is to empower customers to succeed in feeding and beautifying the world. This partnership with Pursell brings that vision into focus and supports our strategic initiative of adding value to our products to increase our geographic reach. We have been working with Pursell controlled-release fertilizers since the mid-90s and are excited to solidify our partnership with them," said John Hockett, CEO of Marion Ag Service.
The marketing agreement will begin Summer 2023, with Marion Ag providing a full suite of Pursell products to its customers in Q3 2023.
Western Specialty Contractors hired Ashton House of Fort Worth, Texas, as regional business development manager/region 2 covering Texas, Arkansas and Oklahoma.
In her new role, House is tasked with supporting the sales staff and developing business for Western's branch offices in Dallas, Houston, San Antonio and Austin, Texas; Little Rock, Ark.; and Oklahoma City and Tulsa, Okla.
House has eight years of sales experience in modular building office space, having worked with professionals in the general contracting, healthcare, government, and oil and gas industries across parts of Dallas-Fort Worth, Texas and New Mexico.
She has a bachelor's degree from the University of Texas at Arlington and a master's of business administration from Texas A&M University-Commerce.