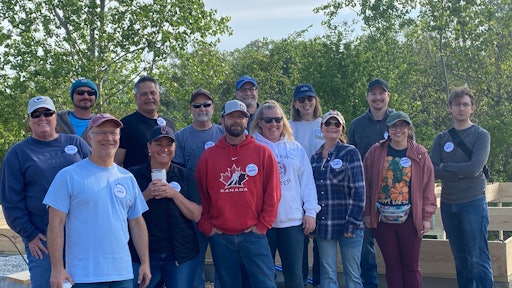 The Integra Group
Isuzu Makes Organizational Changes
Isuzu Commercial Truck of America, appointed Matthew A. Mesick as the company's first director, EV Strategies. T
"As electric vehicles will play an ever-increasing role in our future, having resources focused 100 percent in this area is necessary for our organization to support everyone's efforts properly," said Shaun C. Skinner, president of Isuzu Commercial Truck of America and Isuzu Commercial Truck of Canada. "This all-new position will focus on EV growth and supporting our dealers with necessary information concerning EV regulations, trends, subsidies and more."
Mesick has been with Isuzu Commercial Truck of America for 11 years and has held both service and sales positions. Most recently, he has served as director of western regional operations for the company.
In addition to Mesick's appointment, the company promoted other key directors to assistant vice president roles.
Ed Crawford has been promoted to the role of assistant vice president, sales operations, where he will continue to focus his energies on the areas of production, distribution and sales-related activities. Crawford has been with Isuzu for more than 24 years.
Brian Tabel has been promoted to the role of assistant vice president, marketing. In his 28 years with Isuzu, he has worked in field service and sales positions and has led the marketing team for almost 14 years. Most recently, Tabel became the first representative of an import chassis brand to be appointed to the board of NTEA, the association for the work truck industry.
Weed Man experienced 18.75 percent net system sales growth in 2022 and added 20 new agreements (six new to the system, seven existing franchises that have expanded into new territories and seven resale agreements), expanding the franchise into 29 new territories.

These agreements will bring Weed Man locations to West Orlando, Fla.; Omaha, Neb.; Wayne, N.J.; Beaumont, Texas; Fort Wayne, Ind.; Auburn, Ala.; Morgantown, W.V.; Buda, Texas; Clarksville, Tenn.; Rochester, N.Y.; Kamloops, B.C.; and St. Johns, NFLD.

"While six of our new territories will be operated by new franchisees, seven will be operated by existing franchisees who are expanding," said Jennifer Lemcke, CEO of Weed Man. "This expansion demonstrates the success of our business model, the resilience of our franchisees, and the surging demand for our exceptional services. Additionally, the recognition from Forbes further exemplifies the strength of the brand."

ManageMowed Adds Location in Georgia

ManageMowed opened its newest location in Covington, Ga.

The location is owned by local entrepreneur Tim Ryan, with Tim's son Porter working alongside him as an account manager.
Tim has more than 30 years of experience in operations and facility strategic sourcing across a variety of industries, including manufacturing, retail, aviation, banking and more. His experience makes him an ideal owner of the new location, which will be servicing the Covington-Conyers area, extending to Loganville, Social Circle and McDonough.
"Porter and I are incredibly excited to be opening our new location," said Tim. "We've been wanting to start a business for some time now, and ManageMowed provided a great opportunity to do so, while also improving the community. We love spending time in the outdoors with our family as well, so it really seemed like a no-brainer to open our own ManageMowed in the area."
Ruppert Landscape recently welcomed Eric Scheinerman as its new CFO.
He brings more than30 years of experience spanning the technology, life sciences, manufacturing and travel industries with a proven track record of growing complex enterprises of all sizes and developing high-performance teams.
He holds a bachelor's degree in finance and accounting from The Wharton School of the University of Pennsylvania.
In this role, he will be responsible for planning, implementing, managing and controlling all financial related activities of the company. As a member of the executive committee, he will partner with the senior leadership team to execute the company's strategic imperatives, drive continuous improvement, enhance financial and operating performance and play an important role in all aspects of mergers and acquisitions.
The Integra Group Partners with Habitat for Humanity
Employees at The Integra Group, the creator of Boss Software, put their time and talents to build the exterior framing on the ranch-style home in St. Louis' Riverview/Glasgow Village neighborhood. A typical Habitat home is in the range of 1,200 to 1,500 square feet and features three to four bedrooms and one to two bathrooms. In most cases, homes also have a full, unfinished basement and either a driveway or parking pad.
This project sustains The Integra Group's mission of community service through both time and treasure, with an eye toward long-term sustainable results. In addition to Habitat for Humanity, the company also works with Give Hope Global, Midwest Food Bank, and the Jackie Joyner-Kersee Foundation.
"Partnering with Habitat for Humanity provides families the opportunity and possibility that decent, affordable housing represents, and we are proud to participate in such a worthy cause," said Mike Cossins, president and founder of The Integra Group. "By coming together toward a common goal, we were able to make a tangible difference in the lives of others."