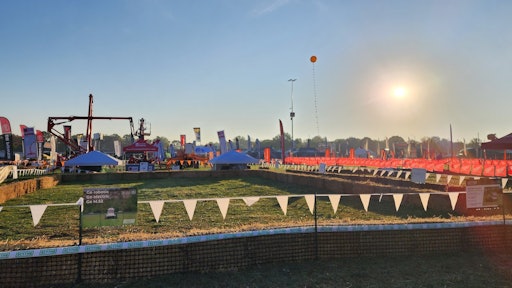 Green Industry Pros Staff
Electrification, autonomous equipment, efficiency-enhancing machines—all of these trends and more were emphasized at Equip Expo 2023, held Oct. 18-20 in Louisville, Ky.
Below are a few of the top trends that the Green Industry Pros team encountered at the show.
Battery power:
Manufacturers from various segments of the green industry demonstrated the capabilities of their battery-powered equipment, making electrification one of the most popular trends at this year's EquipExpo.
"The EV journey will open up the industry to a different way of operation," said Jerry Hutkowski, product manager at CNH Industrial, as he discussed Case Construction Equipment's CX23EV mini excavator.
Another large manufacturer showcasing battery-powered equipment was Takeuchi-U.S. with its TB20e Electric Compact Excavator.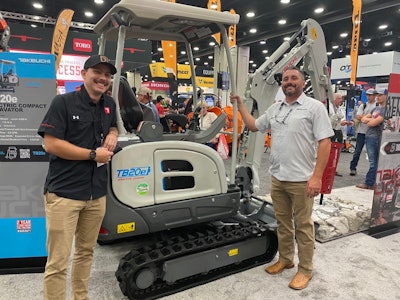 Elliot Zimmer, CEO of Oregon Tool, acknowledged that the industry has experienced a lot of shifts when it comes to battery-powered technology.
"There are a lot of changes in technology due to regulations," Zimmer said. "Ten years from now, the industry will be completely different."
The company demonstrated its Speed Cut Nano system, which was designed with battery power in mind.
At its press conference, The Toro Co. also turned its focus to electrified options.
"At the show so far, we're seeing resistance to battery power turn to a curiosity about battery power," said Tom Werner, senior director of marketing for Toro.
Additionally, some manufacturers are addressing the labor issue with battery power. For example, Lee Withers, regional sales manager at Kress Outdoor Power, noted that landscape companies may use battery power as a way to entice new workers to come on board.
What's more, Withers noted that less labor is required to service battery-powered machines.
"The mechanic becomes a different role entirely because there are no gas components," Withers said, adding that often, the battery-powered machines offer diagnostics as to what the issue is before the mower even enters the shop.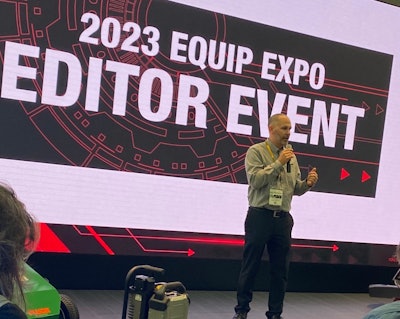 David Bush, assistant manager, shows, events and sponsorships, powersports and products division at Honda, added that many people are interested in battery power, but there are a lot of factors that go into the decision to purchase that equipment.
"Size and run time are a few factors holding people back on larger products," Bush said. "It also comes down to price, and some people are waiting until battery-powered products come down more in price before they purchase. However, for smaller machines right now, it's a good solution."
Some manufacturers such as Briggs & Stratton have dedicated themselves to helping landscape pros make the switch.
"We want to be there as a partner to help electrify equipment," said Nick Moore, director of product management for electrification at Briggs & Stratton. "We've heard that people would love to integrate but that they need help. This is the way to bring it all together."
Autonomy:
Smaller autonomous mowers have been displayed at Equip Expo before, but this year, more manufacturers are taking the leap into larger autonomous machines.
For example, Greenzie's self-driving mowing technology incorporates on mowers from Wright Manufacturing, Bobcat Co., Scag Power Equipment and Mean Green Mowers.
This year, additional manufacturers such as Honda displayed their autonomous mower prototypes.
"People see the value of autonomy in a business. Mowing isn't what's making money—it's the add-ons and things people can do while the machine is mowing," said Jason Van Buren, manager and principal engineer at Honda. "Plus, the mower shows up to work every day."
He emphasized that autonomous mowers are not designed to replace the human element, but rather enhance it.
"We're not looking to take jobs (with the autonomous machines)," he said. "It's about learning how to work with them. If one machine mows, another person can do the trimming."
Software and connectivity:
Software capabilities have advanced far beyond simply routing and scheduling purposes, though those types of systems still exist to help landscape pros within the industry.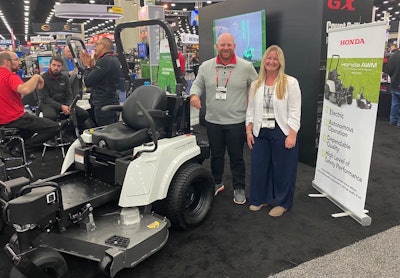 For example Aimee Rametta, chief marketing officer at WorkWave, discussed how automated software solutions can help landscape companies on many fronts.
"Everyone is feeling what's happening in the economy and that combined with how hard it is to get and retain labor—we have to help landscapers be more efficient," Rametta said. "If you automate as much as you can for your business, you don't have to hire as many people, which saves on cost. On average, by using the software, you can add 20 more jobs per week without adding another employee."
What's more, design software solutions such as Vectorworks have incorporated various AI capabilities to help make designers' lives easier and allow their customers to see a design take shape before the work even begins.
In another effort to make crews more productive and streamline operations, many manufacturers have engineered connected solutions so that landscape pros have more insight into the status of their machines.
Productivity, versatility and efficiency:
As is already evident in the landscaping industry, efficiency is key.
So, it came as no surprise that machines enabling landscape pros to get more done faster were also stars of the show at Equip Expo.
"It's all about productivity and professionalism, especially as labor is harder to get and more expensive," said Werner of Toro when discussing Toro's Grandstand mower lineup.
Additionally, heavy-duty compact machines that can fit through a gated backyard are also gaining traction within the industry, as are machines that can make the transition from season to season, enabling landscape pros to become more versatile as they make the switch from mowing to fall cleanups to snow clearing.