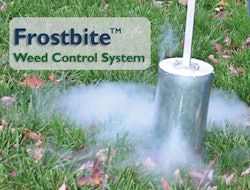 Arctic Inc., developer of the Frostbite Weed Control System, has announced that the organic landscaping firm Pleasant Green Grass of Durham will be the first North Carolina landscaping contractor to offer the Frostbite System as part of its organic lawn care programs. The Frostbite System provides selective post-emergent control for broadleaf and grassy weeds without using conventional chemical herbicides.
"Organic lawn care has become increasingly important for homeowners, especially those with children and pets, who are concerned about potentially harmful chemical products that are widely used today," said Scott Walker, founder of Pleasant Green Grass. "Frostbite represents an all-natural solution for post-emergent weed control that complements my service offerings to provide customers with a truly organic path to a healthier, more natural lawn."
The Frostbite System uses man-made frost to control weeds naturally without the use of chemicals. Through the controlled expansion of compressed air, the system kills any frost-susceptible weeds while leaving cool-season grasses unharmed. Frostbite is effective with a single application and can be used in hot (85° C or higher) or cold temperatures, and in wet or rainy conditions. Results are visible within an hour, and full weed control is typically achieved within three days, the company says.
Gina Stewart, PhD, co-founder of Arctic Inc., said, "We welcome the opportunity to work with conscientious environmental stewards like Scott Walker. Pleasant Green Grass is committed to using minimal-impact products for turf care, and we are happy to provide a novel solution for post-emergent weed control."