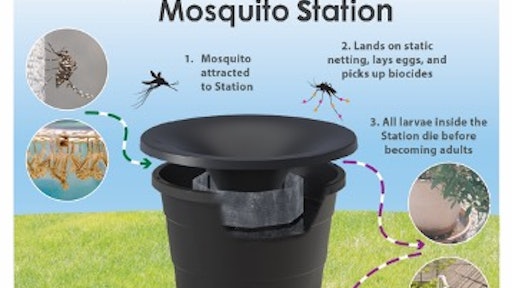 SiteOne Landscape Supply
SiteOne Landscape Supply will now provide In2Care products through its partnership with the sustainable pest control products manufacturer. Pest management professionals can purchase the In2Care Mosquito System online on SiteOne's website.
"We are excited to now offer the In2Care Mosquito Station and refill packs, adding to our comprehensive selection of pest management supplies," said Scott Sickora, SiteOne category manager of agronomics. "Our customers now have another tool in their kit to deliver excellent pest management services."
The In2Care Mosquito System uses the female mosquito to spread a potent larvicide to cryptic breeding sites. From there, mosquito larvae in and around the In2Care Station are prevented from emerging as adults.
The In2Care Mosquito Station is EPA approved and registered in all states except Alaska. It uses two bioactives to effectively kill larvae and adults of Aedes and Culex mosquitoes. It is made of recyclable plastic and can be used as a standalone or in combination with other mosquito control methods.
In2Care products are restricted to licensed pest management and lawn care operators. Licensed professionals need to complete training through SiteOne or In2Care in order to be certified to purchase the product. If customers would like to become certified to install the system, they can speak with their local SiteOne branch to set up training.