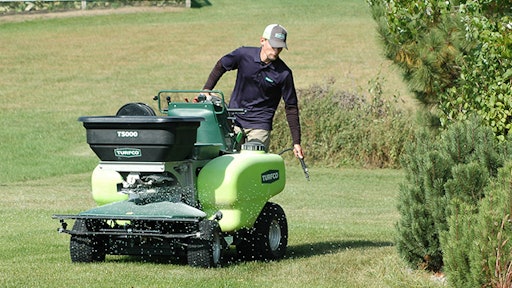 Turfco
From fertilizer to herbicide, the most efficient way to distribute liquid or granular material in the green industry is with increasingly sophisticated spray or spreader systems or machines.
While productivity is critical to consider when purchasing a stand-on sprayer/spreader or truck-mounted unit to complete more jobs in a day, it doesn't amount to much without ease of use to reduce operator training and error, comfort to retain employees and ensure their safety, and precision to cut wasted product and time.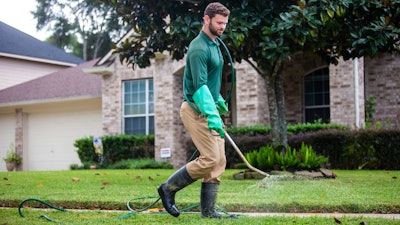 There's no question, landscape and lawn care professionals are all about hard work. You're not doing this unless, unless you're up for hard work. However, there's no reason that you need to make it harder than it is.
"That's our mantra, how do we help you grow your business profitably and that's about being more productive, but also enjoying it," says Scott Kinkead, executive vice president, Turfco. "Right now, a lot of landscaping companies have great opportunities for growth, and we hear more companies trying to figure out how to grow their business profitably and find the staff to run their equipment."
For lawn care operators, one of those key pieces of equipment is sprayers. There are several key features when looking at a sprayer and most of them come from how you plan on operating your lawn care business.
The underlying issue within the green industry is labor.
"We're in this great position in our industry right now where it's not, is there organic growth, it's how do I grow my business and how do I grow it profitably?" Kinkead says, noting that he is excited to help contractors that are looking to figure out how to grow and what to invest in.
"It's no different than in our factory. We're not doing everything just with wrenches, we're using lasers and computer-controlled machining centers, it's a natural progression," he says.
In a general sense, Kinkead says it's important for contractors to consider how easy it will be to train the next employee on a new machine. Many have machines for small properties and another machine for larger properties and the operator is unable to move between the two so there is no or limited cross functionality.
"We have two machines, one is the largest capacity applicator that will fit through a 36-inch gate and then I also have a unit on a similar platform which holds 60 gallons and 326 pounds of granular for larger properties," he says. "A guy can step off that one machine and step on the other machine if somebody doesn't show up to work that day, all your employees can easily run both. That's one of the things that we've heard out in the field."
"I think that training piece is a crucial piece for what they're looking at," Kinkead says. "I think that's something as a lawn care operator, as they're selecting that piece of equipment, that should be considered."
He also believes intuitive operation is one of the main attractions when purchasing a new stand-on sprayer/spreader, especially when many landscape contractors are turning away work because they can't staff the projects.
Turfco's design platform with a steering wheel, hands-free speed control and hydrostatic transmission is based around the general concept productivity and ease in training. Kinkead says a new employee can be up and running on the equipment in under a week.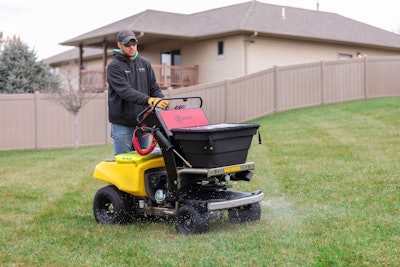 Beyond making the current generation of stand-on sprayers/spreaders easy to operate and maintain, manufacturers are also taking on other important initiatives to get operators on board. With the labor shortage continuing to cripple some landscaping companies' ability to expand, sprayer/spreader providers are striving to make their equipment easier on the operator's body.
"What we hear from operators is that they are not exhausted at the end of the day after doing a lot of properties on our equipment," Kinkead says. The more content your employees are at the end of each day, the likelier you are to retain them. If the contractor next door is offering the same wage, but with shoddier equipment, employees are going to opt for the company offering modern, comfortable equipment instead.
In addition to training, Chris Lemke, technical director of Weed Man says contractors need to also be aware of the higher flow rates required.
"Higher flow rates mean less square footage that can be treated thus you would need larger tanks," he says.
With that in mind, Lemke says another consideration is determining if you want to be able to do more than one type of liquid application so at one house? For example, you're using an herbicide, but you find a home that has disease, and you want to use a liquid fungicide which means having two tanks.
He says other considerations are whether products need constant agitation and if a sprayer provides the ability to ensure products do not settle over the course of a day.
In addition, Lemke says it is important to review the engine, pump, and reels on a spray system.
"With pumps I always suggest going high end, you pay at the start, but you will get many more years out of an expensive pump with fewer breakdowns," he says. "The same applies to the reels and with this you want to also think about how much hose you can put on the reel. If it can only handle a 200-foot hose, then that likely is not enough to service some larger residential properties."
Lemke says he always suggests carrying 300 feet or more of hose.
Teddy Mathis, national fleet manager, Graham Spray Equipment, says a sprayer must be capable of handling the overall workload for each day.
"You want to take into account its capacity, if you have multiple services you are going to need multiple setups, things of that nature," he says.
Lastly, safety is one of the biggest things to consider but often gets overlooked by lawn care professionals.
"You will want to have the ability to shut off and prevent leaks if anything goes wrong like a broken hose or intake line to the pump itself," Lemke says. "One of the most important things that Weed Man did early on is make the tanks in our trade marked spray systems from aluminum. This is awfully expensive compared to a plastic tank, but I have seen our systems hold up even after a major accident like a roll over."
Calibration is key
The biggest mistake that a lawn care applicator can make is not calibrating the sprayer/spreader and/or the technician every single day.
"It's our job as a manufacturer to try to minimize that as much as possible," Kinkead says.
With overapplication a common problem, a ride-on sprayer/spreader such as Turfco's T3100 or T5000 machines can help ensure operators match up with the next path. Kinkead notes that calibration is something they've spent a lot of time ensuring is an easy task.
"We train our franchisees to calibrate every single day," Lemke says. "When I was in operations, I never allowed a technician to go home until we knew what his calibration was."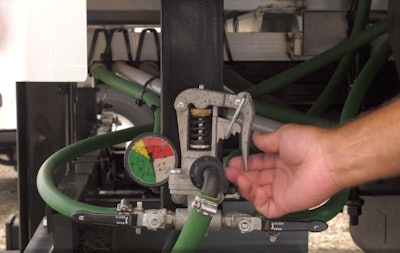 Ensuring calibration of equipment is vital from both a customer call-back standpoint and a legal/regulatory standpoint. "Without the proper calibration you cannot predict if you're putting the chemical out correctly or not," Mathis says.
Guarneri agrees that calibration is everything.
"A lot of the products lawn care professionals use have limits on the quantity that can be applied in a calendar year," says Jonathan Guarneri, product manager, Z Turf Equipment. "More isn't always a good thing. Some chemicals can only do so much, and if over-applied, they can actually do damage."
It's also a cost issue. Guarneri says if a contractor is over-applying materials, that can increase costs and decrease profitability.
"When products are cheap you can say oh well off by 10% will not cost me that much," Lemke says. "If you're applying over the label rate this can be an issue with the state enforcement but more so its money that comes directly out of your pocket. When your below calibration then this means you're not applying enough product and with pre-emergent this could be a major issue with breakthrough and then unhappy customers."
Outside of calibration, another common mistake is just general consistency of even coverage. "One of the more common mistakes we hear about is operators not knowing their overlap, so they either miss spots, or over apply material where there's overlap," Guarneri says.
Mathis says some contractors also fail to treat the edges of the grass with additional chemicals so weed outbreaks occur along the sidewalks, beds, and driveways where water collects.
Selecting the right equipment for the job is another key error for lawn care operators. For example, Guarneri says, using a backpack sprayer to cover a large lawn.
"It's always best to do it right the first time, because if a customer has to call you back out to fix an application problem, your profitability will suffer," he says.
Take a ride
When it comes to spraying and spreading, there aren't a lot of applications where an appropriately sized ride- or stand-on sprayer/spreader can't do anything a truck-mounted sprayer can do.
Sprayer/spreaders are increasingly becoming recognized as the most efficient way to distribute liquid or granular material across a property. It's common for lawn care providers to have a sprayer/spreader combination which are available in a variety of sizes like lawn mowers.
"Today, lawn care companies face more challenges than ever when it comes to labor. When a worker doesn't have to walk, but instead can ride on the machine, that's a big deal, both in terms of productivity, but also in terms of sustainability and employee morale," Guarneri says.
However, Guarneri explains that there are some situations, such as a hotel with a green space in a courtyard or rooftop. "In those situations, a ride-on machine is obviously not an option," he says. "You also need to consider the landscape architecture, and if there are elevated areas with limited access, a ride-on machine may not be the best choice."
Still, in his opinion, for most properties, a stand-on sprayer/spreader is the best, most productive option. Upgrading to a stand-on sprayer/spreader allows lawn care contractors to tackle several tasks at once, Guarneri says.
"We are seeing a lot of people trending away from the old style, where they're airing the hose off of a truck and then push spreading," he said. "They're moving to stand-on spreader/sprayers because they're obviously able to get multiple things done at once, as well as improve their application consistency."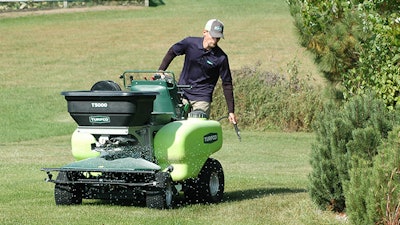 When riding sprayer/spreaders first hit the market years ago, contractors were initially concerned whether they would be as effective. As time has passed, more contractors are seeing some of the benefits.
"If you're moving to a ride on applicator, you're already trying to increase your productivity," he says Kinkead says. "You're saying I've gotten a lot of business out here and I don't want to walk anymore."
In addition, he suggests that the use of the ride-on sprayer/spreader promotes a more professional vibe on a jobsite.
"If you're driving on the property with a professional looking applicator, the homeowners also are less likely like to say 'Well, I could just do this myself,'" he says. "You're done before they even know you're there."
Another factor to consider is the versatility of route management. Most contractors have a mixture of residential and commercial properties on their client list.
"It's such a productivity killer to drive by a large site while doing a small property with one machine or spray system, and then three blocks away is a big property, but you need a different machine," Kinkead says. "You really don't want to be in a situation where you're where you're spraying the front yard with the with the ride-on applicator, and then you're back to dragging a hose for the backyard."
As opposed to having multiple different types of machines and all kinds of different operations, he says Turfco has two machines that cover literally every kind of property.
"We also find that the application consistency with a stand-on spreader sprayer is far better throughout the day," Guarneri says. "When you're walking, you might start the day walking three miles per hour, but by the end of the day, might only be walking two miles per hour. From an application standpoint, that's a big difference. The machine doesn't get tired."
Mathis adds that outside of the consistency, the biggest determining factor in a walking sprayer versus a ride-on unit is time. "On a small yard, just front and sides etc., it's quicker to spray by hand," he says.
Ultimately, it depends on size and density of properties involved.
For example, Mathis says he had one neighborhood where he serviced 17 yards on one street. "In that case the rider was golden since I got set up and never have to return to the truck between yards," he says.
Kinkead says the perception of the limitation of a property needing to be 10,000 square feet or more sometimes remains.
"What a lot of our customers have said after using our machine is, you know what, I use it all the time, unless the time it takes me longer to drive it off of the trailer is more than it would be if I just pushed a spreader," Kinkead says. "You can just do so many more properties and more effectively and again, grow your business and add on customers. I think that's a crucial piece of getting a ride-on applicator."
Conversely, Lemke, technical director for Weed Man, a lawn care company built on technicians walking on clients' properties admits to being the worst person to speak to any benefits of a ride-on sprayer/spreader.
"The only pro I have for a ride-on sprayer are using it for only anything over 40,000 square feet," Lemke quips. "Even then I am not too sure if I were still in operations that I would have one."
Comparing the two, he is confident he can do the job faster on the smaller residential lawns just using a regular spray system. "By the time a person unloads and fills the ride-on I have half the lawn done," he says.
For either residential or commercial properties, he would rather send additional technicians with spray units than use a ride-on machine.
His other arguments against ride-on machines relate to price and the potential for breakdowns or accidents. "I have been to many a business and seen a lot of them just sitting doing nothing because they are waiting for parts or after four years of use are literally not being used anymore," he says. "In most cases you must trailer them and bring water with you to fill them. You must mix quite often on site which is always a concern as well. That increases the likelihood of accidents especially related to the trailer."