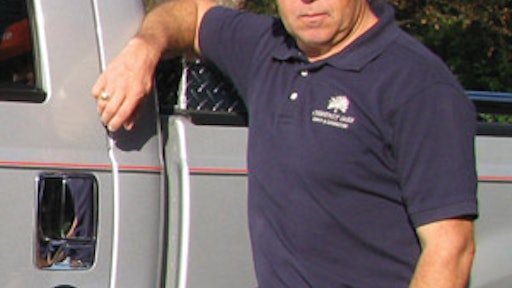 About 80 percent of our business is maintenance, and 90 percent of our customers are residential. We go after the high-end of the market: $900,000 to $2 million homes. To retain business from that type of customer, you have to be consistent. That's why, to me, there's nothing more important than employee retention.
High-end customers like this don't want to see dirty trucks and equipment on their lawns. And they don't want to see different employees every other week. More importantly, it would be very difficult for us to maintain our quality standard if we were replacing employees every season, much less in-season. The workmanship we've become known for rests largely on the shoulders of our employees.
Fortunately, employee turnover hasn't been an issue for us. But back in November, we'd lost our first employee in four years. He went to a grocery store chain that offered more benefits. At first I panicked. I went from feeling really good about our company—its growth and reputation—to this sense of uncertainty.
Luckily we were able to fill his position in no time at all. We got a guy who'd been working for another landscape company in the area. He'd actually applied for a job with us in the past, but we never had any room for him. Now we did, and he was happy to join us.
WORKMANSHIP CULTIVATES EMPLOYEE PRIDE
Our new hire did have to improve his quality to meet our standard. It wasn't that he was deficient or anything. He'd been in the industry for several years, so he knew the standard operating procedures. He just wasn't used to paying so much attention to detail.
When we get a new employee, the crewleader knows exactly what our standard is and what our customers expect. He takes a new hire to a property and shows him the detail we want with edges; straight up and down, not at a slant. Same thing with mowing. With the lush fescue down here in the spring, you can make a lawn look like a baseball field. It's more than keeping the lines straight. If you cut "down" on a dark stripe, you'll erase the pattern. If you cut "up" on a light stripe, you'll make the dark stripe even darker. We swap patterns every week so it creates a checkerboard appearance, while also helping keep ruts out of the yard.
We also leave grass about an inch over water mains. Our new hire was used to trimming around them, right down to the dirt, which makes them more visible. We just mow over the top of them, which keeps that grass level with the rest of the lawn, helping disguise the water main.
We also had to train our new hire on how to properly edge beds. We just want to take the edge of the grass off. It's easy to go at it real aggressively and knock a bunch of dirt out with the grass. I bet that in a year you can make a mulch bed a foot wider if you're not careful.
My son Brian, a crewleader, says they haven't missed a lick since hiring this new employee. He's been very receptive to this new expectation. In fact, he really enjoys it because he has so much more pride in what he does now.
ANNUAL CONTRACTS, PERENNIAL STAFF
We're proud of what he's doing, too, and are proud to have him on our team. We want to keep him, that's for sure. Pay is important. So is the way you treat your people. Our employees are part of our family, so we treat them like it. Little perks like Christmas bonuses and football tickets can go a long way.
I also pay my guys 40 hours a week, 52 weeks a year, helping me retain them from one season to the next. If we didn't have 12-month contracts, I probably couldn't do that.
With a 12-month contract, we charge a customer the same amount each month—whether we're on the property three hours a week or 10 minutes a week. While some months maybe aren't as profitable as they could be, other months are more profitable. The contract includes the basics like mowing and trimming. Also, fertilization is included in roughly 75 percent of our contracts. In the spring, add-ons include mulch change-outs. In the fall, it's services like aeration and re-seeding.
Customers are typically quite receptive to the 12-month contract, once we explain that it all evens out in the end. They like the fact that they know what their bill is going to be every month. It helps on our end, too. I've learned how to budget accordingly.
Most importantly, this consistency in billing and cash flow helps us maintain consistency in our staff, not to mention the quality of their workmanship. When it comes to the high-end residential maintenance business, I've found that there's nothing more critical.
I often get calls from companies saying, "We can reduce your overdue debt by 10 percent." I laugh and tell them, "Man, I don't have any overdue debt." We don't have late payers. In fact, we don't lose customers—period. And that's because we rarely lose employees. When we do, we find new ones who want to take some pride in their work.
If you're a contractor who has some valuable advice to share or a topic you'd like to read about, call Gregg Wartgow at 920-563-1614 or e-mail [email protected].