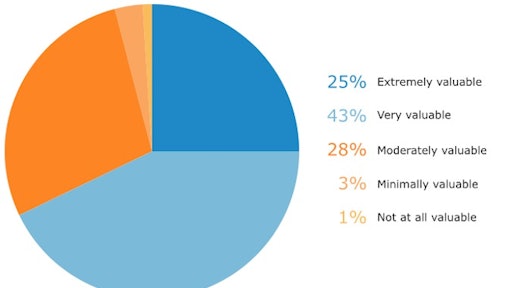 According to a study conducted by SoftwareAdvice.com, a digital resource for field service technology, 68% of consumers said online reviews are a very important factor in helping them select a residential service provider. Additionally, 86% said they'd be willing to pay more for services if a given provider had positive online reviews. (See image for more.)
Females are much more likely to be reliant on online reviews. Roughly 36% said online reviews are extremely valuable, compared to just 17% of males. Roughly the same percentage of females and males (41% and 44%) said online reviews are very valuable.
Consumers are looking for a few key bits of information when reading online reviews: Service Quality (87%), Price (78%), Quote Accuracy (55%), Punctuality (45%), and Availability (43%).
There are numerous websites that provide online reviews; almost too many to keep track of. When looking at lawn care specifically, three review sites stood out: Yelp (roughly 41% use), Angie's List (32%), and Google+ (31%). (See image for more.)
Listen to this podcast for tips on how to respond to negative online reviews.
Other insights into the importance of "online marketing" in general. The SoftwareAdvice.com study revealed some other eye-opening statistics for residential service providers.
Roughly 56% of survey respondents said they hired their last contractor based on online research, compared to 44% that used more traditional means such as referrals. This underscores a couple of things for lawn care and landscape contractors. First, you likely need a good mix of both traditional and digital advertising tools in order to maximize your lead-generation efforts. Secondly, you really need to be measuring where your leads are coming from so you can cut out what isn't working and invest more in what is.
With respect to just those respondents who said they used the internet to find their last service provider: 56% used a search engine such as Google, Yahoo or Bing … 38% looked to online reviews … 6% looked to Craigslist.
Visit Software Advice - Field Service for more software insights.