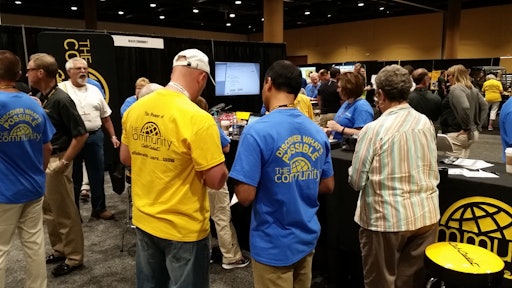 Cub Cadet's annual dealer convention, held September 21-23 in Orlando, FL, was attended by 920 dealership personnel from 440 dealerships. The nearly 1,200 total attendees, which also included Cub Cadet personnel and vendors, were able to get up close and personal with Cub Cadet's new professional-duty zero-turn mowers, as well as its new line of utility vehicles.
Jean Hlay, president and COO of Cub Cadet maker MTD Products, told the dealer audience that these new high-end product offerings are an example of the company's LAB approach: listen, act, build. "It's about putting people at the center of everything you do," Hlay said. "It's not always the easy thing to do, but it's the right thing to do."
That goes for how dealers service their customers, and also how manufacturers such as Cub Cadet service theirs—including the independent dealer. These new products, particularly the Pro Z Series Mowers, relied upon the input of dealers and dealers' landscape customers. Read Cub Cadet Completely Redesigns Pro Mowers for more on that.
New Community replaces legacy dealer portal, adds 'social media' feel
Aside from new product introductions, dealers were able to see the new Cub Cadet Community, a social media-like communications platform that is replacing the more traditional dealer portal later this fall.
Cub Cadet's Jason Belsito has spearheaded the Community initiative. "Ten years ago, our dealer portal was state of the art," Belsito relates. "But now people want real-time, two-way communication. People want mobile compatibility. They want it to be faster."
Those user benefits were all taken into consideration as the Community was developed over the past year. Cub Cadet partnered with Sundog, a technology-driven marketing company, on the development.
Traditional information will be posted on the community, such as product literature, marketing materials, pricing programs, service bulletins and other Cub Cadet news. Dealers and other members of the community, such as Cub Cadet engineers and other personnel, will also be able to post questions and provide feedback in real-time. Belsito says this will greatly enrich the collaborative process between Cub Cadet and its dealers, resulting in greater creativity, efficiency and problem-solving. Dealers aren't limited to just talking about Cub Cadet products and programs either. They can share best practices, business ideas, etc.
With all of this information flying around the Community, some dealers might feel overwhelmed. A helpful feature is the ability for dealers to customize. Dealers can select which navigation buttons are most important to them and place the buttons "front and center", so to speak. They can flag certain posts for quick reference later. They can filter "chatter" (similar to forum postings) so they can quickly see posts that are directed toward them, since people communicate by using each other's "handles" similar to Twitter. On that note, dealers can "follow" other Community members they are particularly interested in hearing from, not to mention various community "groups" such as IR Dealers (independent retail dealers).
"It's going to make a lot of sense to follow groups," Belsito points out. "It's easier to follow one group than 1,200 individuals." Groups will be created for not only dealership principals, but also parts department staff, technicians, sales, administrative, and so on. Some groups will be open to anyone while others will require permission to join.
If dealers don't want to go to the extent of customizing their personal Community interface, Belsito says the keyword search function is very reliable.
Dealers will also be able to track orders in the Community. They'll be able to see when items are shipped to them. Those items will be placed in their inventory and stay there until registrations are filed against the serial numbers. On that note, dealers can register units as they sell them. Then, Cub Cadet can later use this customer information to develop joint marketing campaigns.
Belsito says the longer-term vision is to bring other stakeholders into the Community, including end-users such as landscape contractors. But for now, the Cub Cadet Community is all about making it easier for dealers to do business with Cub Cadet. "It has been a huge investment, but is going to prove to be well, well worth it," Belsito says.
Companies in this article