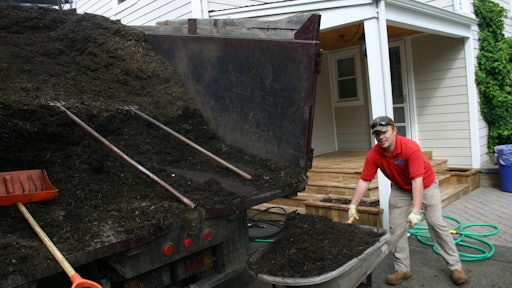 The key to building a "Raving Fans" reputation is understanding that good service is not about giving away things. Service is about the experience of doing business with you—from the first marketing touch through interacting with the sales force to dealing with the landscaping crew. When that total experience is positive again and again, you become "top of mind" with your market: the first company consumers think of when they need landscaping services.
If you want to develop a Raving Fans reputation in your market, here is what you need to know and do.
1. Decide What You Want. All great companies started with making a statement about who they are and how they will provide value. If you could create the perfect customer experience, what would it look like?
The first secret is to convert your vision and mission into a brand that creates a unique experience for the perfect customer:
Create a Vision and Mission Statement – what value do you provide to whom?
Make your Brand 3-Dimensional – the company, the products and services, and you.
Create a Picture of Perfection for all employees, not just the people in customer service.
Start with your Vision and Mission Statement. Decide what you want as the owner, i.e. where the company be in 5 or 10 years, and what value it will provide to whom. Use this to brand the company and make an emotional connection with consumers, brand your products and services to make a rational connection, and then brand you, the owner, to make a personal connection. (GreenMark Consulting Group has resources to help you develop a sound Vision and Mission Statement.)
2. Discover What the Customer Wants. Once you have defined your unique offer and brand, it is time to investigate how the customer will perceive the offer based on his or her needs. Remember, you can promote the value you provide all you want, but it is customer perception that you must manage. What is the customer's vision of the perfect experience?
The second secret is to understand how your perfect customer experiences your offer:
Assumed Level – identify what the customer simply assumes will happen, because you don't gain from providing it, you only lose if you don't.
Expected Level – identify the features the customer is using to make buying decisions, because in this case you gain from providing them and lose when you don't.
WOW Level – what does the customer not expect that would WOW them if provided?
Spend the money and do the research in order to find the answers to these questions. Understand your market and especially what is driving the buying decisions of your perfect customers, along with how your competitors are responding to the same information. Good market research is not expensive and is well worth the investment. Using this information, build a matrix for each offer to identify the assumed, expected and wow levels. (GreenMark Consulting Group has resources to help you with market research.)
3. Deliver at Plus-1. Since the management of customer expectations is critical in service, the idea of Plus-1 is simple. Deliver on your promise and then make the experience of doing business with you 1% better at every opportunity. If the customer deals with five people in your company every day, and each person Plus-1's the experience, at the end of the week you will raise the bar by 25%, which is a tremendous obstacle for competitors trying to steal the business.
The Third Secret is your when your customer contact people combine Secrets 1 and 2 to deliver what the customer assumes and expects, then adding 1% at every opportunity. How do you do this?
Customer contact people have the training and the authority to fix a problem on the spot
You develop a Recovery Plan that is delivered immediately by customer contact people whenever the company fails to deliver – making it a win for the customer.
This is the most difficult to execute. It requires having everybody on board and enabled to make it happen for customers. You must have competent people dealing with customers who have the authority to provide a Plus-1 experience, and can demonstrate empathy and appreciation for the customer's business in the process.
This article was written by one of the co-developers of the Raving Fans Process implemented by companies ranging from IBM to Ritz-Carlton to improve service delivery. It is part of GreenMark Consulting Group's unique three-pronged approach to coaching for landscape/snow companies of all shapes and sizes from around the country. Regardless of which phase your company is going through, GreenMark's offering of Business Toolkits & Virtual Coaching, Live Business Bootcamp Workshops, and Deep-Dive One-on-One Consulting can provide the insights and direction your company needs to thrive. Email GreenMark's Steven Cohen [email protected] to learn more. With 25 years of landscape/snow industry experience, he's eager to speak with you.
Companies in this article