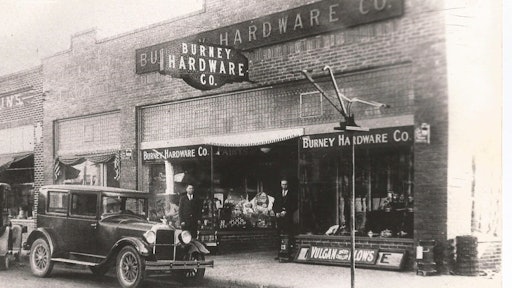 Gus Burney opened Burney True Value Hardware in 1921 and, upon wanting to exit the business, sold the shop to four of his employees. In the early '80s, however, an enterprising young man named S.R. Ransdell eventually bought out those four employees, so by the time his son, Jim Ransdell, graduated with a business major, he was all set to take over the business. In turn, Jim's son, Sam Ransdell, now operations manager of Burney True Value Hardware, followed in both his father's and grandfather's footsteps following college graduation.
While Burney True Value Hardware originated in a small location in downtown Aberdeen, North Carolina, the company ultimately expanded into an approximately 15,000-square-foot location in 1989, according to the third-generation Ransdell. There were some naysayers that warned the family that foot traffic would die down after moving further outside of town, but it was a positive maneuver. In fact, the town of Aberdeen seems to have spread right along with the business so the company can now meet the needs of the ever-growing population on the former outskirts of the town.
Transitioning to a Commercial Enterprise
The next obstacle Burney True Value Hardware wanted to tackle was the commercial landscape market. "Rather than expanding out into new locations and new ventures, we decided to make Burney Hardware the best we can, and add on equipment rental and power equipment," muses Ransdell, which the company did in 2016, adding both STIHL and Scag Power Equipment lines.
By altering its inventory to better match the demand of commercial landscape contractors, "We did an incredible amount of STIHL in the first year," Ransdell admits. "If you look at our history, at Burney Hardware, we don't do anything halfway." In fact, when the company brought on the STIHL and Scag commercial lines, it went all in, sending several employees to get trained to STIHL MasterWrench Service bronze and silver levels. One technician even completed the gold level.
Because Burney True Value Hardware is a smaller business—currently managing 23 employees—and because the business is quickly growing, Ransdell prefers to maintain a small number of what he considers superior product lines, such as STIHL and Scag. He believes it lets employees get intimately acquainted with each brand and piece of equipment, so they can better pass on their tribal knowledge to customers without getting overwhelmed by a bunch of dime-a-dozen brand names.
"STIHL and Scag were major players in helping us get to those commercial clients because before, looking back, there was little we had that the commercial guy would go out of his way to come and get. Like I mentioned, we are a little bit outside of town. But, as the community grew out our way, so have the commercial and residential landscapers. Now we offer the service and we offer the product."
According to Ransdell, while the big boxes have volume, Burney True Value Hardware earns its money through service and expertise. He says, "When people come to get their equipment serviced, our main goal is that it's done right the first time and done right quickly. That's what keeps people coming back. Like I said, we don't do anything halfway and that's why we got a good group of people trained. Burney employees really know what they're talking about and that's what helps us really make a difference, and that's what makes Burney True Value Hardware Burney True Value Hardware."
The iMow™ Opportunity
Burney's determination to go above and beyond in all aspects of its business didn't go unnoticed by STIHL. As a matter of fact, STIHL offered the company the opportunity to sell the iMow™, its first robotic lawn mower. At the time, there were only four dealerships in the entire country selling it. So employees underwent another training course and the company added another STIHL display to the hardware store.
Because the iMow™ venture is so new, Burney True Value Hardware finds education important and is still dispelling myths, such as robotic mowers compete with landscape contractors for business. To counter this last point, Ransdell says that landscapers in the UK purchase robotic mowers to set in customers' yards to take control of the mowing for as long as their contract lasts with that property owner. This practice permits them to devote their time to other tasks, such as edging or pruning.
"It's kind of like the Roomba [a robotic vacuum cleaner] for your lawn," Ransdell summarizes. "It charges itself and is simple to install." Burney True Value Hardware believes in the product so much it even put the iMow™ to the test against a zero-turn in its own yard, side by side. Ransdell claims that, after about a month, the iMow™ side was visibly healthier. "The grass was greener, it was plusher, it was just a healthier grass," he emphasizes.
And because of its novelty and his excitement, Ransdell can't help but list some of the iMow's™ many advantages, including:
It only cuts off about a 16th to an eighth of an inch of grass on each pass because it mows so often. This method encourages a healthier lawn, and thicker, taller and more uniformly cut turf because it's not scalping the grass by cutting off 2 to 3 inches at a time.
It literally mulches grass (and leaves and pine needles and so on) by mowing and cross-mowing in a random pattern, so there's nothing to bag (or blow or rake) and no need to dethatch. Additionally, any fertilizer or product that you use on the turf stays on the turf, instead of being rendered useless in a bag of debris.
It goes out on a weekly rotation and, because it knows whether it has an acre or half an acre to cut each week, an algorithm that's programmed inside it figures how long it must mow each day to satisfy the requirement for that day, and in turn, that week.
It compensates for any days lost due to rain, for example. If it rains one day, it makes up the cutting time later in the week.
It is able to avoid running in the rain due to the presence of a rain sensor, although this sensor can also be disabled to allow the iMow™ to continue running in the rain. Some users in Seattle disable this option, for example.
It knows when its batteries are getting low. In that case, it locates and follows a guide wire back to its charging cradle to charge itself up again.
Clearly, Burney True Value Hardware has a lot up its sleeve now and in the near future. And in addition to the energy surrounding the opportunity to sell the iMow™, the company just signed papers to open a second location called Seven Lakes True Value Hardware in Seven Lakes, North Carolina—about a 30-minute drive from its current location. The roughly 10,000-square-foot hardware store will not only sell STIHL power equipment, but maybe Scag mowers in the future as well. After all, if the business model isn't broke, why fix it?