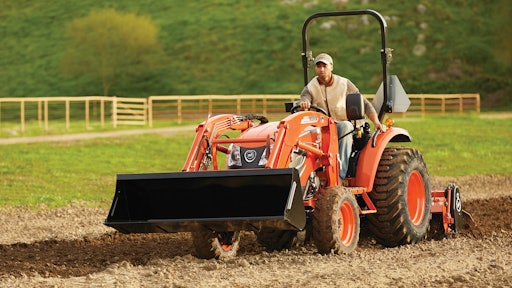 KIOTI
Through expertise and quality equipment offerings, a large parts inventory, and top notch customer service, The Tool Shack has demonstrated its commitment to customers since 2003.
Now found in both Pensacola and Gulf Breeze, Fla. The Tool Shack has spent the last sixteen years building a reputation among landscape contractors, arborists and homeowners alike for expertise in outdoor power equipment, a wide range of parts inventory and honesty.
"We are most proud of our ability to grow from a small single-store rental company to a multi-store equipment dealership in a relatively short period of time, while surviving the economic bust of 2008," owner Colten Wright said. "We've continued to grow, and The Tool Shack is now considered an integral part of our community and has a reputation for honesty and fairness."
Founded in 2003 by Wright and Jack Davis, the original Tool Shack store was opened in Gulf Breeze. The business relocated three times due to rapid growth, and by 2011 Davis retired, and Regina, Wright's wife, came on as an owner. The second location opened in Pensacola, Fla. in 2014.
According to owner Colten Wright, both stores are dealers for KIOTI Tractors, Avant articulated loaders, Hustler, Toro and Gravely mowers. Additionally, they carry handheld equipment by ECHO and STIHL, Titan implements, and Honda power equipment.
When selecting manufacturers and distributors, Wright places importance on the needs of his customers, who range from landscape contractors to homeowners.
"We believe we have to work together to achieve mutual goals and to solve the needs of our customers," he said. "We don't do business with companies who are just looking for a quick sale or have an interest in loading us up with inventory.  If a manufacturer wants a mutually beneficial, long-term relationship, that's who we partner with."
For his landscape contractor customers, commercial lawn mowers are among the top sellers. Wright specifically names the Hustler stand-on model as one equipment line that offers value. "We focused on demonstrating how they are more efficient and how they will save the landscape contractor time, money, and space," Wright stated. "Now, at least half of our landscape contractor customers are running at least one stand-on mower in their fleet."
Two additional lines The Tool Shack carries, KIOTI tractors and Avant loaders, help them stand out from other outdoor power equipment dealerships in the area.
"Our landscape contractors and homeowners with acreage have found that our partnership with KIOTI provides them with the best value for a tractor," Wright stated.
Avant articulated loaders are appealing to landscape contractors for their performance. Wright noted that these loaders have "provided a solution to landscape contractors and tree companies that need to access back yards through narrow gates and perform tasks like tree and shrub removal, while having minimal impact on the turf."
In addition to equipment lines Tool Shack carries, they also offer a large selection of rental equipment. According to its website, www.thetoolshack.com, rental equipment ranges from concrete and masonry, lawn and landscaping, earth moving and even power washing tools.
"We have a large inventory of rental equipment in addition to what we sell, which allows us to provide a solution for almost any project or job for most any customer that walks through our door," Wright said.
Along with a variety of rental equipment, The Tool Shack also boasts a large parts inventory. Thetoolshack.com "parts" page provides a search system to locate parts that customers may need.
"We've developed a reputation for knowing what is needed and where to find it, even if it's something we don't stock, so we are typically the first call a customer makes when looking for something," Wright stated. "We're happy to help and point them in the right direction."
While The Tool Shack services a variety of customers, they place a priority on landscape contractors.
"We believe in long-term relationships and loyalty," Wright said. "We try to find ways to help our landscape contractors become more efficient and profitable, so they operate a more successful business."
The Tool Shack provides landscape contractors with preferred pricing on parts and priority placement for service.
 "We believe in giving them honest answers and setting reasonable expectations. We hope that will help build loyalty and trust in The Tool Shack," Wright said.
He also believes that good customer service and recognition are also keys to maintaining solid  customer relationships. He often recruits individuals who have demonstrated excellent service skills.
"I'm always looking for good service, and if I get it, I'll try to recruit that person," he said. "I don't need someone with a lot of technical knowledge. I want someone with character, integrity, and a positive attitude; we can teach the rest."
According to Wright, new employees are taught "the rest" by learning about the different brands The Tool Shack carries, why those brands were selected and the purpose of the equipment. Additionally, employees shadow experienced members of the team to learn the ropes. 
Wright also builds loyalty with his customers by promoting specials or new equipment on social media. For example, The Tool Shack posts photos of customers and their new equipment on their Facebook page.
"When a KIOTI tractor is purchased, we post a photo of the customer and tell their story about what model they chose and why," he noted. "We like to show customers how the Tool Shack and KIOTI can make their life easier."